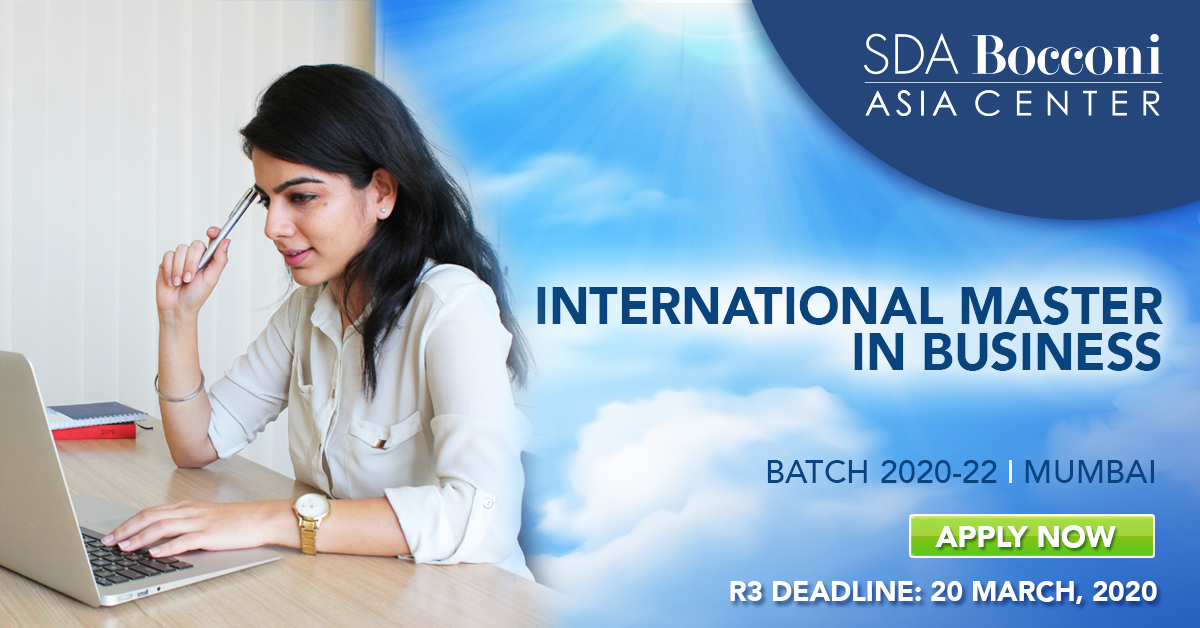 In this article, we will talk in detail about what it takes to get in the International Master in Business (IMB) programme at SDA Bocconi Asia Center Mumbai. The IMB program is a specialized master program fully equivalent to a postgraduate program that brings to India the expertise and the international standing of SDA Bocconi School of Management, Italy. With the rare exception of holding a triple crown accreditation (AACSB, AMBA, EQUIS), SDA Bocconi School of Management is currently ranked sixth best business school in Europe by Financial Times. 
The program is an amalgamation of solid theory-based academia, case-study methodology, international experiences, certifications & corporate exposure through live projects and internships. It extends over two 11-month modules, which includes a 4-month specialization semester spent at the SDA Bocconi main campus in Milan, Italy, where students have an option to choose their specialization subject from a pool of more than 70 subjects.  
That being said, securing a seat at SDA Bocconi Asia Center is a different ball game altogether as the college follows a profile-based approach while shortlisting the candidates for its IMB program. 
The process of shortlisting is based on an overall profile analysis of the below mentioned factors:
Academic Abilities
Unlike other B-schools where a major chuck of the population either hails from an engineering or a commerce background, SDA Bocconi Asia center believes in accommodating a diverse pool of talent ranging from hospitality, fine arts, psychology, commerce, pharmacy to name a few. A consistent academic background and a demonstrated ability to work under pressure will have an added advantage in the selection process. To be eligible to apply for the IMB program, applicants must have an undergraduate degree in any discipline or should be in their final year while applying. The eligibility criteria for academics is a minimum of 50% across 10th, 12th and under graduation and a minimum aggregate average of 65% combining 10th, 12th and under graduation scores.
Test Scores
For (IMB) International Master in Business, SDA Bocconi Asia Center is accepting the following Test Scores:
| | |
| --- | --- |
| Entrance Exam | Acceptable Exam Years |
| Bocconi Test | 2020 |
| CAT Scores | 2018/2019 |
| NMAT by GMAC | 2018/2019 |
| GMAT | Taken after January 1, 2017 |
| GRE | Taken after January 1, 2017 |
It is also expected that applicants must score well in various admission tests that SDA Bocconi Asia Center accepts. While the college does not indicate any "cut off" restriction, there are safe scores established by the same. Candidates scoring anything above the safe score range are encouraged to apply as the final selection is based on overall profile and not just the test scores. For students applying through CAT, a safe score of 90 percentile and above is considered favourable. Similarly, for GMAT- a score of 640 and above, for GRE -a score of 310 and above and for NMAT by GMAC -a score of 200 and above is considered favourable. Additionally, if the candidate does not have any of the above-mentioned score while applying or the scores available are not in the safe score range, the candidate can choose to sit for the Bocconi Test which is an internal exam held by the institute. It must also be noted that despite having other test scores, a candidate can still choose to sit for the Bocconi test. The best scores out of all available is taken into consideration while evaluating a candidate's profile. That being said, a high score definitely increases the chance of getting an interview call, but an average score could be compensated by the candidate's excellence in other areas.
Take the Bocconi Test, if you have Missed or are Not Satisfied with Other Entrance Exam Scores

Although SDA Bocconi Asia Centre accepts other test scores, they also conduct an internal test for admission – Bocconi Test. For the benefit of MBA aspirants, apart from accepting CAT, NMAT, GMAT, GRE test scores, will conduct its own Bocconi Test scores are also applicable for IMB Admission 2020. So, you need not worry if you have missed the CAT, NMAT or other exams. However, timely submission of application will make you eligible to appear in the Bocconi Test.
The Bocconi test is relatively different from its counterparts as it tests a candidate not just on hardcore aptitude concepts but also on workplace adaptability. It is a computer adaptive test that doesn't penalise a test taker for a wrong answer but will expect more from the candidate if he/she marks a right answer i.e. the test will adjust the level of difficulty according to the response provided by the candidate.
While evaluating the overall profile of the candidate, SDA Bocconi Asia Center takes into consideration a candidate's best test score. So, the Bocconi Test is a good shot for those who have not achieved a benchmark score in other tests.
A candidate can apply for the Bocconi test while filling up the application form at SDABAC's website. No additional fee is to be paid for taking up the Bocconi Test. The test is normally scheduled within two weeks of applying and results are declared within a week of taking the test.
Extra-Curricular & Soft skills
Extra-curriculars such as relevant work experience, leadership position held, entrepreneurial experience, communication skills, creativity, interest in sports or cultural arts, and involvement in community or social clubs are additional considerations to the profile of the candidate. A diverse and well-rounded application has better chances of selection. Also, while filling up the application form, the candidates are asked to submit three to four essay-type questions, a well-defined statement of purpose and two references. All this information combined with a high-test score and academic consistency makes up for a strong profile.  
Personal Interview
Interviews are conducted following an initial pre-selection based on the application submission. While freshers can expect domain specific questions, candidates with work experience are mostly checked upon industry related topics. When it comes to basic hygiene questions, it is advisable that the candidates be well prepared with these questions in advance. Identifying one's strengths, shortcomings, key challenges faced in personal and professional space and steps taken to overcome those challenges are some of the common questions asked in the interview. It would be an added advantage if the candidate can support his/her answers with real-life instances. The personal interview is extremely crucial when it comes to extending an admission offer to the candidate. Keeping that into consideration, SDA Bocconi Asia Center conducts webinars, info sessions, coffee sessions at various places to better equip the students with the admission process. One can check the college's website for any upcoming webinars or info sessions. 
This article is written by Arunima Lal and Milan Choudhury who are currently pursuing IMB at SDA Bocconi Asia Center & are a part of the Student Admission Committee.  
To apply – Click Here