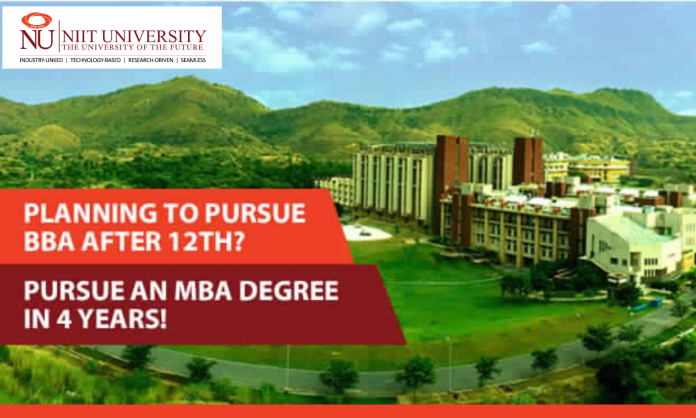 The 4-Year Integrated MBA programme is an innovatively designed degree programme meant for young students with managerial and leadership aspirations. The programme offers comprehensive management education combined with in-depth specialisation in a specific domain.
Research opportunities for Students
At NU, research is not restricted to postgraduate or doctoral programme but starts during the undergraduate programme and from the beginning of the Integrated Master's Programmes itself. Students are expected to do research work through a mandated R&D Project course which helps the students acquire research orientation and skills that can be applied in their future jobs where there is a critical need for creative problem solvers. Additionally, they work on two capstone project courses during the programme. Students can also work on research projects with Faculty during Summer Terms. Further, desirous students can opt for a full 6-month research engagement in any research institution or University in the last semester.
Minor Programmes at NU
Minor programmes at NIIT University are a separate optional certificate programmes for B.Tech, iMSc CS, I-M.Tech students that run parallel to the degree Programme and are offered in the area of study other than the discipline of degree Programme. Students opting for Minor Programme are required to do 12-16 additional credits over and above their degree Programme credits.  Student can opt for any one Minor Programme. The following Minor Programmes are currently offered
Finance
Business Analytics
Entrepreneurship
Credits through Co-Curricular Activities
NIIT University believes that the success of the individual is also dependent on many qualities like collaboration, planning, leadership, meeting deadlines, ability to work under time pressure, strategizing in real-time, etc. which cannot be taught in a classroom and so the university focuses on creating a holistic personality in the students. To create a holistic personality, academic credits are given to the co-curricular activities or activity-based courses at NIIT University. Undergraduate Students are offered the following one-credit Activity Oriented Courses (AOC) from which they can choose courses of their interest:
Community and Nature Connect
Dance and Music
Fine & Digital Arts
Organizing and managing University/ Students' activity or events
Photography
Health Exercises and Sports
Theatre
Swachh Bharat
Industry Practice (IP)
Industry Practice is a flagship course in the Bachelor's and Integrated Master's Programmes of NIIT University and is organized by Centre for Industry Collaboration. Every student of NIIT University has an opportunity to transfer learning from the classroom to the workplace in industry/research institution in a six-month semester of the Programme. During Industry Practice, a student works on a real-time project of an organization under direct mentoring by an industry professional. This 6-month period enables the transition from a student to a professional with work experience in a seamless manner.
During IP, students are guided by a Faculty Mentor from the campus, an off-campus Resident Mentor and a Research/Industry Mentor from the organization. Besides technical skills, this semester also helps build strong professional skills including planning, problem-solving, time management, written and verbal communication, cost management, teamwork, meeting deadlines, initiative, confidence to complete a task, integrity, customer and professional communication etc.
Entrepreneurship & Start-ups
NU provides the necessary ecosystem through the Centre for Innovation, Incubation and Entrepreneurship (CIIE) to encourage students to start their own business ventures. Several activities are conducted to encourage an entrepreneurial spirit in its students, by conducting seminars and workshops to individual mentoring by business leaders in business, technical and legal matters. NU students have risen to the occasion and launched some successful start-ups.
Summer Industry Internship
NU offers a two-month Industry Internship in the summer terms during the Programme. It is optional and students may seek support from Centre for Industry Collaboration (CIC) or may arrange it on their own. The internship is graded at the end of the Summer Term.