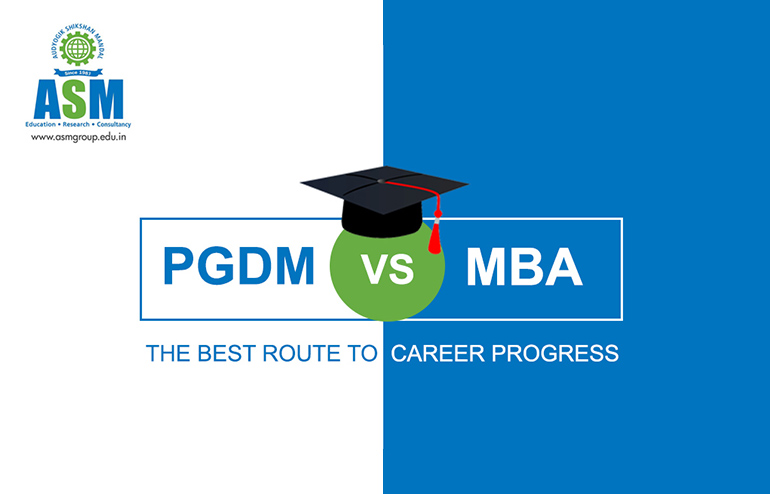 A common dilemma that almost every graduate has at the time to choose between MBA and PGDM courses. The basic difference between the two is that MBA is a degree course offered by universities and PGDM is a diploma program offered by the B-schools/colleges affiliated to All India Council for Technical Education (AICTE). However, the recruiters consider both PGDM and MBA degree holders equally qualified as B-schools offering PGDM courses are at par with IIMs. Now that we have cleared the confusion, let's discuss how PGDM courses can be helpful in getting the dream job you have always wanted. Every year thousands of graduates opt for either PGDM or MBA to propel their careers in the right direction and to a great extent pursuing these courses can give your career a flying start. 
So, as the test season is approaching fast, I would like to share a few insights that might help you prepare for the exams. The first question that needs to be answered is why management courses are so popular among the Indian youth and the answer is quite simple. Management programs are designed to turn amateurs into professionals. Any graduate having technical background can earn brownie points at the time of recruitment who possesses a certification from a management institute because of the simple reason that a management pass out has all the basic skills like leadership skill, time management skill, communication skill, crisis management, etc embedded into them that are required for any managerial job. So naturally, they get preference over candidates from any other background. Also, the range of specializations offered by the management programs gives the student the freedom to choose their career in accordance with their core interests.
The ever-evolving market dynamics have compelled the institutes to move from the traditional teaching processes and take the modern approach to suit the current industry demands. It has also been observed that even the freshers are expected to possess a certain level of proficiency. So, even before they have the chance of getting hands-on experience in a real job, they need to be prepared to perform. The only way to achieve that is to train them while they are still studying at the institutes. This is how industry integrated courses make their way to our education system and are in high demand. These courses actually helped the students to have a glimpse of the real-life challenges faced by the professionals and also provided them with the solutions. Country's biggest organizations are coming forward to help educational institutes to design the curricula and provide first-hand guidance to the students through in-class interactive sessions with experts. The interesting part is the experts share their real-life experiences which give them a foretaste of their life after they step out of the campuses and start their employments. However, it has been observed that the curriculum of PGDM courses is frequently altered according to the industry requirement as compared to the MBA degree courses.
At ASM we have integrated PGDM courses in different subjects such as logistics management, enterprise management, business analytics and big data, etc. We have been privileged to collaborate with market leaders like IBM, SAP, Safeducate to provide our student's industry-relevant courses and I am glad to share that our students who have opted for these courses have received an extremely positive response from the recruiters. The interactive sessions with the experts have proved to help build their confidence to face real-world challenges. It gives us immense pride to be able to transform ourselves with the changing dynamics of the employment needs of the varied industries. 
One trend that has recently piqued the fancy of Indian students is the international internships and short term courses by foreign universities and credit transfers to international universities. For example, ASM has tie-ups with global educational institutes like Harvard, CityU, Vistula University (Poland), CETYS University (Mexico) and University of Applied Sciences (Poland). Like these universities, many other international universities are collaborating with Indian counterparts to offer their exclusive courses to Indian students. ASM is the first Indian institute that offers Harvard Business online courses to its students. Certification from these global entities adds much value to the profiles than certificates from any homegrown universities. Recently ASM has announced its one plus one program with CityU University where students get to learn at the CityU's campus for one year as an exchange student. Needless to say, the exposure these students receive by studying at these foreign campuses is unimaginable and especially helpful for the students looking at a global career. 
Another field of management course that is gaining popularity rather rapidly is our Agri-Business Management course. The recent booster too the Agri sector provided by the Govt. of India has made the jobs related to this sector pretty drool-worthy. A job seeker holding an Agri management degree is eligible for numerous job profiles across sectors including food and beverage, crop production, animal husbandry and many more. Also, the lack of interest in the last few decades among the youth regarding agriculture has been one of the biggest reasons behind a large number of vacancies in almost every profile. Naturally, the possibility of getting a lucrative option in terms of position as well as remuneration is quite high. Though few things need immediate attention from the administration to bring due glory to this sector. The frequent news of struggles faced by farmers such as the low return of the produce, problems caused by the middlemen, unfavourable Govt. policies have been the pain points for the Agri sector for the longest period now. However, since the last budget Govt. has been working on many initiatives that have encouraged and steered many new-age entrepreneurs towards agriculture and a number of start-ups have come up which has added to the job opportunities.
At ASM we thrive to empower our students with the relevant and useful skill sets to ensure that they shine in their respective careers. The faculty at ASM is a rich blend of academicians and senior industry professionals. ASM is proud of its Excellence Driven Guaranteed Employability program or EDGE which is the result of our relentless efforts to enhance the employability of our graduates and I am glad to state that ASM has a stellar placement record – 69,000+ alumni working with top-notch MNCs in India and abroad. 
(This article has been written by Dr. Sandeep Pachpande, Chairman, ASM Group of Institutes)