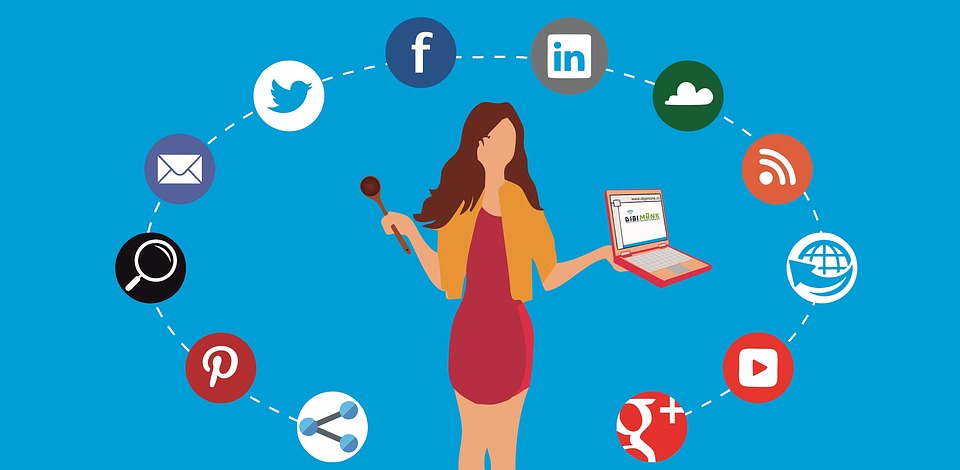 Digital Marketing is a profession of the 21st Century that has made a big bang entry into the big bad world of marketing in the recent years. With the dawn of the internet age and the shift of marketing to online modes, digital marketing has emerged as a champion of online marketing in the modern era. It has become a highly trending and sought after career, with the demand for Digital Marketers drastically increasing by the day. So here we are, presenting all the possible advantages of a career in digital marketing in 2019:
Career Options in Digital Marketing is unlimited:
What's absolutely fascinating about a Digital Marketing Career is that it does not confine you to a single job profile. Within Digital Marketing itself, there are many specialized and varied roles. You can be a digital marketer who specializes in e-mail marketing, or one who specializes in Facebook marketing, or simply someone whose specialty lies in Google ad-words, and so on, and so forth. You get the jest, don't you?
What we are trying to say here is that the scope in Digital Marketing is endless and you can cherry pick the ideal role for you. For instance, if you are someone whose life revolves around social media, then you can pick Facebook Marketing or Instagram Marketing.
Digital Marketing is for everyone:
There are many professions in this world that is dictated by the stream you choose in 11th grade. For instance, someone who chooses arts is likely to end up diving into the world of academia. Same goes for commerce students who are more likely to do their BBA or B-Com and get into the business and marketing line. Similarly, you have to have taken science in 11th and 12th if you are interested in pursuing a career as a medical specialist or an architect. What this does is, it limits the career choice of a student who may end up following their chosen stream.
But what is special about a Digital Marketing Career is that it is for everyone. Anyone and everyone can pick a career in digital marketing. You don't have to fulfill certain set of criteria or obligations to be a digital marketer. Any graduate, be it an engineering graduate, or a B.Com graduate, can pick this as a career by doing Certifications in Digital Marketing.
Great career scope in Digital Marketing:
Career Scope is a great determinant when it comes to deciding which career to choose. You most certainly do not want to end up in a career that has no scope or something that will become obsolete or redundant over time. This is where Digital Marketing comes in handy as a profession that is here to stay. The internet revolution and shifting of marketing and businesses to an online space is something that will not change. Gone are the days of door to door marketing. Online or internet marketing is here to stay, and it is here to stay for a long time. So if you want to get into a career that will live on, then Digital Marketing is the career for you
Work flexibility in Digital Marketing:
Digital Marketing is the one profession that is attracting a number of fan-following due to the kind of opportunities that come with it. Due to the online nature of this profession, it is a job that can be done from anywhere, anytime. Unlike other professions like Doctors, Lawyers, and Journalists, the profession does not demand that you show up to work and are physically present all the time
Many Freelancing Opportunities in Digital Marketing:
There are many freelancing opportunities in Digital Marketing. You can be an at-home mother, or a college going student, someone looking for work, or someone who is looking for a change in career; the beauty of digital marketing lies in its accessibility as a career that anyone and everyone can pursue irrespective of their educational or career background
Satisfactory compensation for Freshers in Digital Marketing:
Consider this. You probably took up a certification online. The certification provider may or may not assist you in finding jobs post the completion of your digital marketing certification. It doesn't matter. Digital Marketing stands a ground of its own as even a fresher in this field is satisfactorily compensated
Pursuing Digital Marketing is Cost Effective:
Surprisingly, a professional course like Digital Marketing is cost effective when it comes to the cost of pursuing a Digital Marketing Career, irrespective of where you pursue the course from. Unlike other professional courses like MBA, or law, a course in digital marketing is not only cheaper, but it is also quicker. An average certification in digital marketing will not be over 6 months. This means that you are ready to start your career within 6 months of completing your course in digital marketing.
Conclusion: 
We believe that Digital Marketing makes its mark as a vibrant career that is both fun and rewarding. We encourage you to check out our Certifications in Digital Marketing to advance your career in this marketing career.