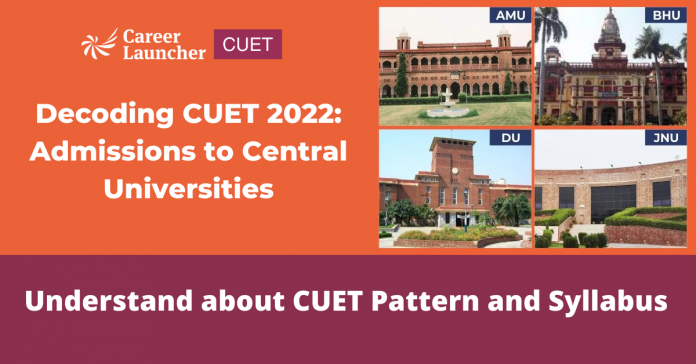 Admissions to Central Universities for graduation programs is set to undergo a massive change. Class XII scores will no longer be considered for admissions to undergraduate courses at Central Universities including Delhi University, BHU, JMI, JNU etc. Close to 1.8 lac seats are available for admissions in 42 Central Universities and their affiliated colleges and set to be part of Common University Entrance Test (CUET). CUET is the new avatar of CUCET which has been the talk of the town for some time now. 
As per the latest updates, CUET is likely to be conducted in the first week of July over a period of days. The exam will be a computer-based test and will be conducted in two slots. The test will be conducted by the National Testing Agency (NTA) in 13 different languages.
Exam Syllabus:
CUET will have three sections: Section 1 comprising of Language, Section 2 comprising subjects one has studied in class XII and Section 3 which will test one's aptitude and an optional language section in case one is looking forward to study language at the undergraduate level including some foreign languages.
Section A:
Section A will test one's understanding of language. A student may select any of the listed languages for this part of the test. The section will have comprehension, grammar, and vocabulary-based questions from the selected language. IT includes English, Hindi, Gujarati, Bengali, Assamese, Kannada, Tamil, Telugu, Malayalam, Marathi, Odia and Urdu.
Section B:
Section B will test one's understanding of the subjects studied in class XII and will be based on level of NCERT prescribed syllabus and difficulty for the subject. There are a total of 27 subjects from which a student can chose a maximum of six subjects. The list of subjects is comprehensive and includes:
Physics, Chemistry, Mathematics, Biology, Accountancy, Business Studies, Economics, Computer Sciences/Informatics Practices, History, Geography, Sociology, Political Science, Psychology, Geography, Home Science, Entrepreneurship, Anthropology, Engineering Graphics, Agriculture, Physical Education, Mass Media/Mass Communication, Legal Studies, Commercial Arts, Teaching Aptitude, Fine Arts/Visual Arts-Sculpture/Painting, Performing Arts-(a)Dance (Kathak/Bharatnatyam/Kathakali/Oddisi) (b) Drama/Theatre (c) Music (Hindustani/Carnatic/Rabindra Sangeet/Percussion/Non-Percussion) and Sanskrit
Section C:
Section C will comprise of a General Ability/Aptitude Test and an optional language test where another 19 languages in addition to the one's in Section A will be available. The languages include Chinese, German, French, Arabic, Italian, Japanese, Nepali, Russian, Spanish, Tibetan, Dogri, Bodo, Kashmiri, Konkani, Maithili, Manipuri, Santhali and Sindhi.
Exam Pattern:
CUET will be conducted in two slots. In slot 1, a candidate will be tested on one language from Section A, two subjects from Section B and General Ability Test from Section C. Students can select another 4 subjects in slot 2.
As multiple universities will accept CUET Scores with no common eligibility criteria, a candidate may be required to write papers in both the slots in case of specific program eligibility by a university. However, all the subjects chosen must be from the list of subjects one has appeared for in the Class XII board exams.
Counselling Process:
Once the result is declared, the Central Universities participating in CUET will conduct their own counselling process. Unlike the JEE or NEET, there will be no common counselling system. Central Universities will draw the merit list based on applications received from the candidates and their CUET scores.
A new era of admissions begins in July 2022 and students will no longer be under pressure to secure 99% marks in class XII which has been the cut-off for some most sought-after programs in top colleges, over the last few years.