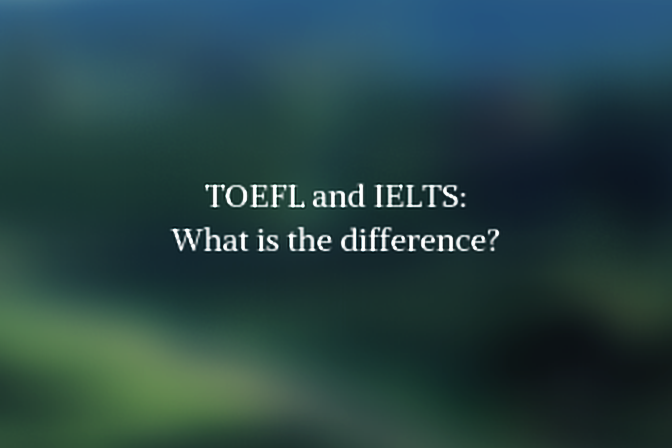 In order to study abroad in an English-speaking country for higher studies, one has to submit IELTS or TOEFL score. Both exams include the assessment of reading, writing, speaking and listening skills. However, the difference between IELTS and TOEFL is; the scoring pattern, the format, and more. This article is written in attempt to lay down the differences and help decide the right test is for you.
Bringing to stage TOEFL vs IELTS, because of the differences, one must understand both the exams well before making a decision.
What is IELTS?
IELTS stands for International English Language Testing System. There are two formats for the test; they are "IELTS Academic," and "IELTS General Training." While "IELTS Academic" is for individuals aiming for a higher education level abroad, 'IELTS General Training' concentrates on social skills and workplace contexts. IELTS academic is what we shall be focused on in this article.
IELTS is an English proficiency test to assess a person's writing, reading, listening and speaking proficiency in British English (but not limited). The exam runs for 2 hours and 45 minutes to complete, including break intervals. It is accepted by over 9,000 institutions in the Common Wealth Countries, United Kingdom and Australia.
What is TOEFL?
TOEFL stands for Test of English as a Foreign Language. TOEFL is an English proficiency test by ETS to assess a person's writing, reading, listening and speaking proficiency in American English. The exam has time frame of 4 hours to complete.
More than 900 universities in over 130 countries require TOEFL for the consideration of admissions. TOEFL exam can be taken both online and offline mode. The offline mode is called TOEFL PBT and the online based is called TOEFL IBT. Between the two, the online mode is more preferred. The exam registration is done at designated centers. TOEFL is accepted in UK, US, Australia. However, most American institutions accept TOEFL scores instead of IELTS scores.
IELTS vs TOEFL
• Both IELTS and TOEFL consist of four sections-
o These sections are designed to assess the speaking, listening, writing and reading ability of the exam-taker.
• While IELTS have a combination of short answers and questions on essay, TOEFL offers only MCQs (multiple choice questions).
• IELTS is held at test centers which can be found on the official website, whereas TOEFL is held over 50 times a year in both online or offline mode.
• The charges for both the exams vary from USD 200-300 depending on the locations.
• TOEFL exam can be taken via paper-based or internet-based; IELTS is limited to paper-based alone.
• TOEFL exam lasts for 4 hours; IELTS lasts for 2 hours and 45 minutes.
Now that you know the basic differences that define the two tests individually, the decision rests upon you. The exam that best suits your comfort zone/needs is always the right way to go. Good luck with TOEFL/IELTS!