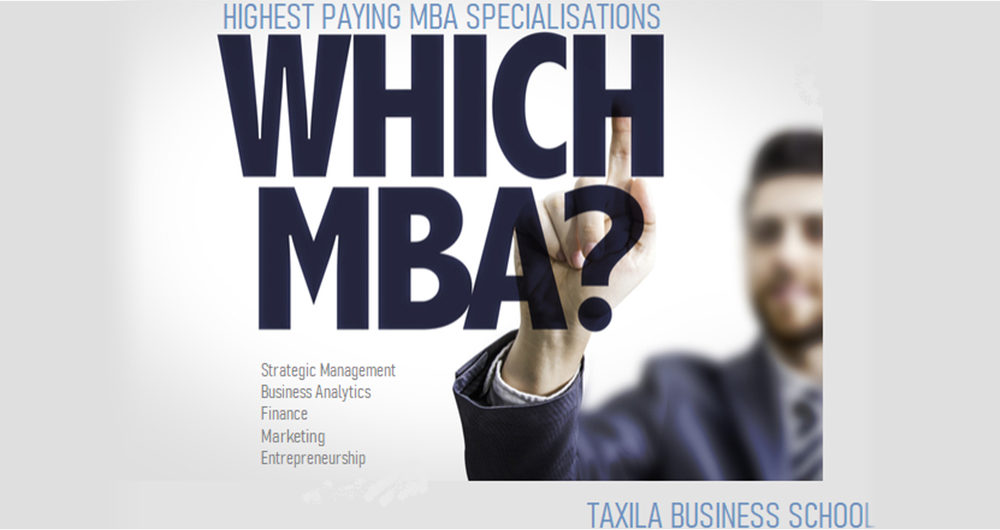 In general, PGDM/MBA common specializations have more or less the same value and are equally paying. Just one needs to become the best in his/her field. And if you target to reach the level of a CEO, you need to know everything about business and its operations. And if you want to know some tips and tricks to perform outstandingly in MBA specialization then visit this article:- Survive and Succeed in any MBA Specialization.
Some top tier Business Schools like Taxila Business School offers dual specializations during the PGDM course apart from Business Analytics which is compulsory for all its students.
But still in general if you wish your PGDM or MBA to pay off with a high salary, then you need to choose your MBA specialization as per your interest and background carefully.
After reading this article you will get answers to these questions.
Which is the best MBA specialization?
Which MBA specialization will provide me with the highest salary package?
Which MBA stream is better?
Best paying MBA Specialisations in India?
But, before we deep dive into the above questions, let us understand what is MBA and it's payouts.
What is an MBA?
An MBA is a Master of Business Administration, a graduate-level degree given to a student who graduates from a business school.
Gaining a postgraduate degree is not always a win, so one must need to be aware of the difference between what is common and what is wanted in that field.
In a few fields, like finance, Marketing, HR an MBA/PGDM is virtually a requirement, even for entry-level jobs. In spaces like technology, though, experience in the field may be more significant.
Whereas the average mid-career pay for all MBAs, regardless of speciality, is Rs 15-20 Lac, you can make a lot more by choosing the right concentration.
We have identified five common, high-paying MBA specializations ranked by graduates' typical mid-career earnings.
Read here which MBA specializations pay the best as well as the top jobs associated with each MBA speciality.
Written down are the top 5 Best-paying MBA specializations:
1. Strategic management:
Strategic management is centred on a company's perfect understanding of its mission, or the purpose for existence, its vision for where it desires to be in the future; and the standards that will monitor its actions. It needs a commitment to strategic planning, the subdivision of business management that includes an organization's ability to set both short and long term goals and plan the strategic decisions, activities and resource distribution required to accomplish these goals.
The process for managing an organization's strategies helps companies make logical decisions and create new goals fast so as to keep pace with evolving technology, market, and business environments. Strategic management can, therefore, help an organization get a competitive advantage, improve market share and design for its future.
The above reasons set this MBA specialization differently from the rest. This the reason why this is the top paying MBA stream in our list. It requires a deep knowledge of business theory. Teaching students how to think 'BIG' about management decisions that affect a business's success.
What you'd make at Mid-level?
This MBA specialization will provide you with the highest salary package for MBAs with a strategy specialization at Mid-level:
Management consultant: Rs 24.0 to Rs.60.0 lac per year
2. Business Analytics:
This specialization will help you grow as a better leader as you move up the career ladder.
How do businesses make decisions with Business Analytics?
On using a factual, real-time, singular form of the truth, business houses are now empowered to attain and retain a competitive edge through the use of industry-specific business intelligence. Managers have instant access to decisive information to make fast and informed decisions.
Terra bytes of data are available across core business processes such as industry trends, customer behaviour, productivity, inventory, and complete financial analysis. Through B. I. software one can extracts the data, transforming it into clear understandings to enable actionable and strategic decision making to cheerfully achieve the goals.
Through Business Analytics you can take:
Better sales decisions
Better marketing strategy
Better business decisions
Better inventory decisions
Better financial decisions
On analyzing data and observing critical business operations, a business is well placed for successful strategic decision making based on factual insights.
What you'd make at Mid-level?
Common jobs and salaries for MBAs with Business Analytics as a Specialisation:
Data Analyst: Rs 24 to Rs. 60.0 Lac per year.
3. Finance
Finance Manager of a business should have the correct skill and training to solve and take crucial financial management decisions. The key features of the financial decision-making process relate to investments, financing dividends, and asset management.
Financial management talks about the acquisition, financing, and management of assets. This is a very sensitive and decision-making process that must be under the control of a skilled Financial Manager who can analyze external and internal variables that would affect the regular development of the business process.
In the investment area, the Financial Manager is responsible for defining the best size of the company. For this, it is significant to have a market study in place and be clear on the objectives that the company desires to meet. It is vital to have correctly calculated the demand, technology and equipment, financing methods and human resources available and required.
Asset management is one of the main features for a company to sufficiently meet its obligations and in turn to position itself to meet the objectives and growth targets that have been set out. Financial Manager must instruct and assure that the existing assets are managed in the most efficient way possible. The Finance Manager must prioritize current asset management before fixed asset management.
The important decisions that a Financial Manager needs to make are related to the company's dividend policy. That means FM need to decide how much of the company's earnings will be paid out to shareholders and how much to be kept for the investments.
Finance is also called a Management-heavy field, even at junior/entry-level.
What you'd make at Mid-level?
This is one of the highest paying MBA programs. Jobs and salaries for MBAs with finance in mid-level:
Finance manager: Chief financial officer: Rs.24 to Rs. 60.0 Lac per year.
4. Marketing
Nothing happens anywhere until someone sells something.
The core of business success remains in its marketing methods. The business depends on successful marketing. Marketing management streamlines the activities and functions which are involved in the sales of goods and services.
Marketing management is a practice by which a product or service is presented and promoted to potential customers. This covers advertising, public relations, promotions, and sales. It denotes the road map to achieve greater results, like sales growth, brand recognition, higher market categorization, and much more.
Marketing Management is important to meet cut-throat competition and the need for established strategies of distribution to reduce cost and to increase profits. Marketing Management is very important for the transfer, exchange, and movement of goods. This is today the most significant function in a business enterprise.
The following factors may help to understand why marketing management is important in today's time:
Introduce new products
Understanding the customer needs
Improving the product or service to gratify customer needs
Innovate the methods to reach potential customers
Saves the organization's time and money by concentrating the resources
Boost the Sale
Build Company Reputation
Source of New Ideas
In short words, marketing management is the only thing for decoding the company's vision, mission, and objectives, to transform it into reality.
Marketing is not an area that requires an MBA for entry-level jobs, it has become very prevalent for executives to get MBAs in this field, particularly at higher job levels. That's for the reason that an MBA in marketing trains one in mathematics, communications, analytics, and management which can be applied across industries.
This is another highest paying sector in MBA specialization. What you'd make at Mid-level?
Rs.24.0 Lac to Rs.60.0 Lac per annum
5. Entrepreneurship
You have a great idea, but don't know what to do with it? An entrepreneurship MBA specialization can help you develop the skills, resources, and connections you need to build a business successfully.
Conclusion
You must be thinking that each MBA stream has its own advantage and salary package. so, which one you should opt or which is the highest paying MBA concentrations. The answer is very simple: you can choose the one in which you are interested.
Do not just focus on the salary package or easy academic studies. The major aspect is to know the area of interest you love or you want to be in.
If you want to become a CEO then opt Entrepreneurship rather than finance or strategic management. if you work hard then this MBA specialization will be the highest paying sector for you, compared to others. This is applied to all of the above specializations.
Do your research work. don't follow someone blindly.
Finally, you need to focus on some other aspects like
Accreditation/Accreditation authority
Faculty profile.
Financial ai / Education loan etc.
Infrastructure and sports available.
Business school or college you opt
placement history of the institutions
additional aspects offered by institutions.
Reviews posted by aluminies
take a review from current students.
check the ranking of college.
Hope you find answers to all your queries.