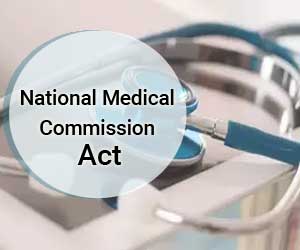 WHY NMC?
Expert group headed by Professor Ranjit Roy Choudhury studied the problems of the medical education sector.
Expert group found that the Medical Council of India (MCI) had
Failed in almost all spheres and
Became a highly corrupt and ineffective body.
Expert group recommended that independent regulators selected through a transparent process should replace the elected regulators.
The National Medical Commission (NMC) seeks to achieve this, by having eminent medical personalities who will be appointed for only one term of four years without any further extension.
To ensure probity and integrity of the highest order Appointed Persons will have to
Declare their assets at the time of being appointed and again while demitting office
Professional and commercial engagement or involvement which will be published on the website of the Commission.
It has been further provided that Chairperson / member on ceasing to hold office will not accept for a period of two years any employment in any capacity in a private medical institution whose matter has been dealt with them either directly or indirectly.
STATEMENT OF OBJECT AND REASON
Provision for a medical education system that improves access to quality and affordable medical education
Ensure availability of adequate and high quality medical professionals
Promote equitable and universal healthcare that encourages community health perspective
Making services of medical professionals accessible to all the citizens
Promote national health goals
Encourage medical professionals to adopt latest medical research in their work and to contribute to research;
Objective, periodic and transparent assessment of medical institutions
Facilitates maintenance of a medical register for India and enforces high ethical standards in all aspects of medical services that is flexible to adapt to changing needs and
Effective grievance redressal mechanism
SALIENT FEATURES OF THE ACT
The bill provides for the constitution of four autonomous boards. These boards are:
The Under-Graduate Medical Education Board (UGMEB)
the Post-Graduate Medical Education Board (PGMEB
The Medical Assessment and Rating Board (MARB)
The Ethics and Medical Registration Board
Composition of National Medical Commission: The NMC will consist of 25 members which include five elected doctors from State Medical Councils and six representatives of State Health Universities. A committee chaired by the Cabinet Secretary, and consisting of four nominated experts, one elected doctor, and Secretary (Health) would select the chairperson of NMC and other members in a transparent manner. A Search Committee will recommend names for the post of Chairperson, and part-time members.  The term of the members of the NMC will be a maximum of four years, with no reappointment.
National Medical Commission (NMC), can dictate guidelines for fees up to 50% of seats in private medical colleges.
Common entrance exam and Licentiate (exit) exam that medical graduates have to pass before practicing or pursuing PG courses. For MBBS, students have to clear NEET, and before they step into practice, they must pass the exit exam.
Recognized medical institutions don't need the regulator's permission to add more seats or start PG course. This mechanism is to reduce the discretionary powers of the regulator.
Earlier, medical colleges required the MCI's approval for establishment, recognition, renewal of the yearly permission or recognition of degrees, and even increase the number of students they admitted. Under the new bill, the powers of the regulator are reduced to establishment and recognition. This means less red tape, but also less scrutiny of medical colleges.
CONCERNS RAISED
A bridge course allows alternative-medicine by practitioners of medicines which may lead to unscientific mixing of systems and empowering of other practitioners through bridge courses.
Indian Medical Association (IMA) opposed the bill that it will cripple the functioning of medical professionals by making them completely answerable to the bureaucracy and non-medical administrators.
NMC will become subservient to the health ministry, given that the representation of the medical profession in the new regulatory framework is minimal.
The bill takes away the voting right of every doctor in India to elect their medical council.
The bill allows private medical colleges to charge at will, nullifying whatever solace the NEET brought.
GOVERNMENT'S RESPONSE
Separation of functions by creating four boards would lead to more focussed attention to curriculum reforms, increase in number of PG seats, and assessment and rating of colleges.
Creation of a separate board for ethics which will have one member with a background of quality assurance, public health, law or patient advocacy will lead to a greater attention to the enforcement of medical ethics which has been a somewhat neglected area so far.
For a long time it has been felt that allied health professional from modern medicine can be utilised to provide preventive and primary healthcare and, thus, to reduce the workload on doctors.
The NMC Bill has a provision for creating a separate National Register for adequately qualified allopathic allied health workers to address this need. This measure is expected to make available a large number of community health providers from modern medicine for implementing National Disease Control Programmes.
MCI Act had no provision for prescribing the fee to be charged by private medical colleges. The NMC Bill has a provision of laying guidelines for fee fixation of 50 per cent seats in all private and deemed-to-be universities. Moreover, this provision is not confined to fees alone and covers all charges of any kind that can be levied by such colleges.
The system of penalties on medical colleges has been converted to a graded one.
The penalty for quacks has been enhanced. Increase of UP/PG seats will now require MARB approval.
There is no separate licenciate examination. And NEXT will serve as entrance examination for PG courses also.
In conclusion, the NMC Bill is a progressive legislation that will help address the challenges in the medical education sector, major reform for the medical education of the country and for the future of healthcare in this country, for the future of the medical community, for the future of medical students.