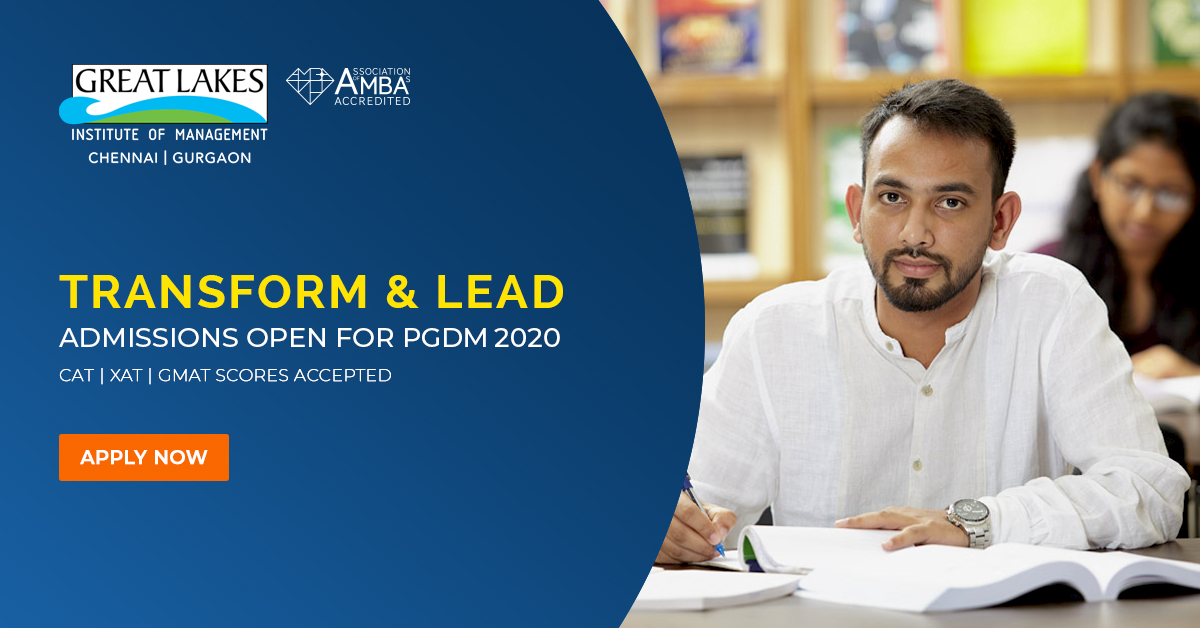 Largest recruiters include Accenture, HCL, Deloitte and ZS Associates. Highest domestic offer of 28.6 lakhs made by multinational consulting firm.
Chennai, January 2020:  Great Lakes Institute of Management, one of the premier management institutes in the country had an excellent placement season for its One Year PGPM class of 2020. Over 95% of the students are already placed within 9 months of the commencement of the program receiving offers from top recruiters like Ab-Inbev, Accenture Strategy, Aditya Birla Capital, ADP, Amazon, Cognizant, Dell, Deloitte, Decathlon, EY, Gartner, HCL, HSBC, HTC Global, Infosys, ITC Infotech, L&T Infotech, Magicbricks, Societe Generale, TCS, Zee Entertainment, ZoloStays, ZS Associates to name a few. The Avg. CTC increased to 13.6 lakhs p.a. while the highest domestic CTC was 28.6 Lakhs p.a. offered by a multinational consulting firm.
"Apart from the participation of top companies offering excellent roles, I am glad to see participation in some niche areas as well. We look forward to attracting more organizations from across the board, in-line with our new diversity initiatives, in the years to come", said Dr. Suresh Ramanathan, Dean & Principal, Great Lakes Institute of Management, Chennai.
Students were offered various coveted roles in Analytics, BFSI, IT/ITES, Consulting, E-commerce, Technology Consulting, FMCG and Product. Consulting was the dominant area of recruitment with Tech Consulting (29%) and Business Consulting (21%) firms contributing to a majority of the offers. IT/ITES (29%) services firms also contributed to a significant number of the offers while Product and Analytics were among the other major recruiting areas.
"We are delighted with the placement outcome and the response received from the corporates. This is a testament to the confidence of our corporate partners in the quality of our graduates and we look forward to serving their talent needs in the future", said, Mr. M. Balaji, Group Director – Corporate & Career Services of Great Lakes Institute of Management.
Key Highlights:
Large no. of offers by sought after Consulting firms like Accenture Strategy, Deloitte, EY, ZS
Associates.
CTC increased to 13.6 lakhs p.a. while the highest domestic CTC was 28.6 Lakhs p.a.
Average post-MBA CTC was 64 times the pre-MBA CTC for PGPM Class of 2020.
Learn more at – Greatlakes.edu.in/Chennai
About Great Lakes Institute of Management
Great Lakes Institute of Management, founded in 2004 by Padma Shri Awardee Dr. Bala V Balachandran is one of the premier B-schools in India. Great Lakes has, within a short span of 15 years emerged as a top-ranked business school. Great Lakes has 50+ full time faculty and 150+ visiting faculty including over 25+ international faculty from top global schools like Yale, Kellogg, Stanford and Harvard. Further collaborations with world's leading institutions like University of Houston, University of Bordeaux, Hongkong University of Science & Technology (HKUST), University of Missouri, Kansas, Illinois Institute of Technology, Chicago and Babson College etc., have helped Great Lakes in globally benchmarking its programs.
Great Lakes, Chennai, was accredited by Association of MBAs (AMBA), UK in 2014 and became the youngest B-school in India to receive this prestigious international accreditation. In 2015, Great Lakes, Chennai also received international SAQS accreditation and in 2017, its two year PGDM program was accredited by National Board of Accreditation (NBA). For the years 2018 -2019, Great Lakes was ranked No.1 in India by Analytics India for its Analytics program. Great Lakes, Chennai was ranked 5th by Outlook India among top private MBA institutions, 9th by Business India, 15th by Business Today and 18th by NIRF among top 10 Indian B-Schools. It was also placed in Super League 2 category by Business Standard in the year 2019.
Led by exceptional academic faculty, steered by an outstanding advisory council and buoyed by the international collaborations, Great Lakes has been constantly innovating to stay ahead of the needs of our businesses and community. It is the first B-school in India to offer full time specialization in Analytics and also first to introduce AI and Machine Learning specialization. Great Lakes has a 30 acre LEED Platinum rated green campus in Chennai and a second campus in Delhi-NCR. In the year 2019, Great Lakes Gurgaon campus received the prestigious AMBA accreditation and was also ranked among the top 5 emerging business schools by the National HRD Network (NHRDN) for the year 2018-2019. Great Lakes Gurgaon was also ranked 13th by Business World for its one year program in the year 2019.
Great Lakes offers One Year full time MBA (PGPM) for experienced professionals, Two year MBA (PGDM), Part Time Executive MBA for senior managers, and Weekend Executive MBA Program. Great Lakes alumni currently numbering 8800+, work at world renowned organizations both in India and overseas across 30 countries.