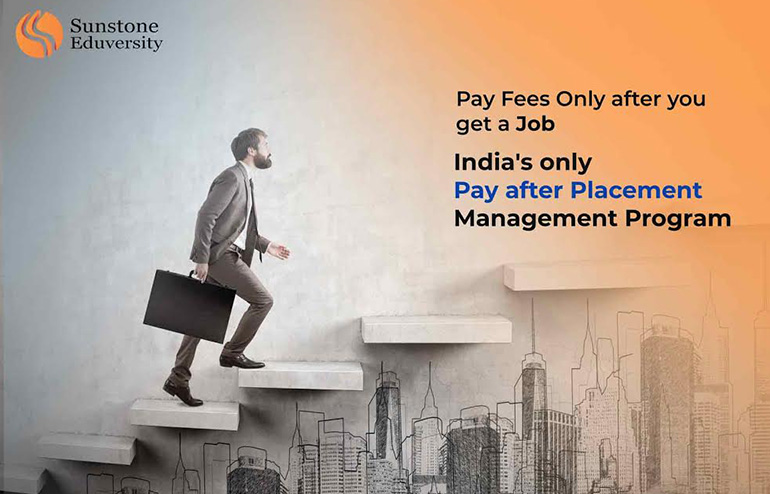 Want to get the MBA tag but cannot think of the reasons to do an MBA? Let us tell you there are not one but many plus points of having an MBA. We are now in a time where everyone from fresh graduates to working professionals want an MBA tag. Even though that may make it sound like an MBA is some kind of trend, but it is definitely more than that. Most of the time people make the decision of doing an MBA without really knowing how the MBA can help them. Your reasons to do an MBA could be different but should also be apt as per the time we are in. With so many changes around us daily, learning the skills necessary for the 21st century is important to help us be on top of our game.
'Why an MBA?" is very short, but also one of the most important questions in the industry. If the Return on Investment is what you are worried about, an MBA graduate gets a higher package compared to any other professional degree graduate. Having this degree on your CV opens up career opportunities like no other and the MBA becomes the golden ticket to success. When we know our reasons to do an MBA and why doing an MBA is a good decision to thrive in the business field.
In this article, we will help you find your reasons to do an MBA in 2020.
Top 5 Reasons To Do An MBA
Become at par with Today's Market & Industry needs
We all know that everyday we make many advancements in every field, especially technology and for one to be successful, one has to keep updated. Many companies and employers ask 'why Graduates struggle to perform in the corporate environment? A reason to do the MBA is to develop 21st Century skills, that will help sustain what has already been built. An MBA helps develop one's personality as per what's needed in the corporate field.
This will increase your confidence and develops your personality. An MBA degree will help you become industry-ready. One of the reasons to do an MBA is to develop a personality and leadership skills in a way that is necessary for this industry. These also include technical skills like having basic knowledge about technology like how to use the computer, internet, basic programmes for a start.
The manner in which the program is taught should be state of the art, with the idea of helping a person become more confident and diverse. These methods cater to how an adult learns as compared to a child. Discussions, cases studies and field trips helps individuals connect theory to real-life and increase their analytical skills.
Learn the Core Business skills
Do you think having a great idea and entrepreneurial skills are enough to open your own business? An MBA will help you gain the knowledge and skills required to understand how businesses are run. A management curriculum should be made keeping in mind the present industry demands and needs and help prepare suitable graduates for those roles. Having an industry integrated curriculum and specialisations taught at a B school prepare you for what the industry is expecting out of you.
If you see yourself in the business world, this could be one of your reasons to do an MBA. The management course content will give you a broad understanding of the current market status and the skills required. This is valid in the case you want to start your own business and have an overall understanding of how a business works.
Pay your MBA/PGDM course fee only after you get a job –
Apply Here 
Progress in your Career or Make a Career Shift
If we are hardworking, goal-oriented and a good decision-maker, it is easy to be recognised and rise to a mid-level managerial position. The issue is that from there on, everyone is equally equipped to handle tasks and a promotion could be tricky. Here making sure your employers know that you have what it takes to succeed is important. This is a big reason to do an MBA, as the degree shows that you have the core business skills required to be in the business field.
A saturation in a field is one of the reasons to do an MBA nowadays for even working professionals is to change the field they are in. It is seen that many graduates with prior work experience make a shift career fields during the placement season, right after graduating. It goes to show why an MBA is a great option if you are looking for an opportunity to make the switch. For some companies, an MBA is essential to get recruited and having this shiny tag helps.
An MBA Increases your Earning Potential
It is no secret that the present industry is highly competitive. In this fast-changing world, we need to be on top of our game when comes to our career. When you make good progress in your career and gain recognition in your field, you automatically get a higher salary. In fact, one of the many reasons to do an MBA is the increase in post-MBA salary packages. It shows that you have the knowledge and skills required by the corporate world and this is why MBA jobs are highest paying. This credential serves as a gateway to business leadership positions and management roles typically involve higher pay packages compared to non-management degrees.
This is also where the Return on Investment also plays a huge role. The MBA is a costly degree, but still, that fact does not seem to deter the increasing number of students who want to get this degree. It is because of the high salary packages that these students get a high ROI after graduating.
Net-Worth will Set your Network
Networking is what you build when you get to interact with thousands of people. When you are part of a B school, you will get the chance to connect with many students, alumni and faculty, who could turn out to be a great help even after you graduate. A study done on MBA alumni stated that a high 93 per cent agreed that if given an option, they would offer a job to an alumni. All of us somewhere want to be associated with a group of high achievers and successful people. In the business world, these associations and networks help a lot.
Whether it is a career shift or a higher pay package, whatever your reason to do an MBA maybe, having this qualification is a necessity. This degree will not only enhance your professional self but also help you grow into a better individual. So take that leap and apply to a college that gives you the necessary knowledge and skills required as per today's market scenario.
We hope this article helped you find your reason to do an MBA.
All the Best!
About Sunstone Eduversity
Sunstone Eduversity offers industry-integrated MBA/PGDM programs with a Pay after Placement fee structure, where we take the course fee only after placing our students in well-paying jobs. Our strength lies in developing intellectuals through our innovative technology-led student-oriented teaching which is strongly backed-up by industry linkages having experience in cross-cultural management areas.
How Pay after Placement works?
With Sunstone Eduversity Pay after Placement model, we have aligned our success to our students' success. The fee structure model follows the steps below:
Enrol for the 2-year full-time program by paying a nominal registration fee of INR 65000
Become a corporate professional by learning from the industry experts at no cost for these 2 years
On completion of the course and only after getting a job, pay the course fee equal to 12 times of your monthly salary