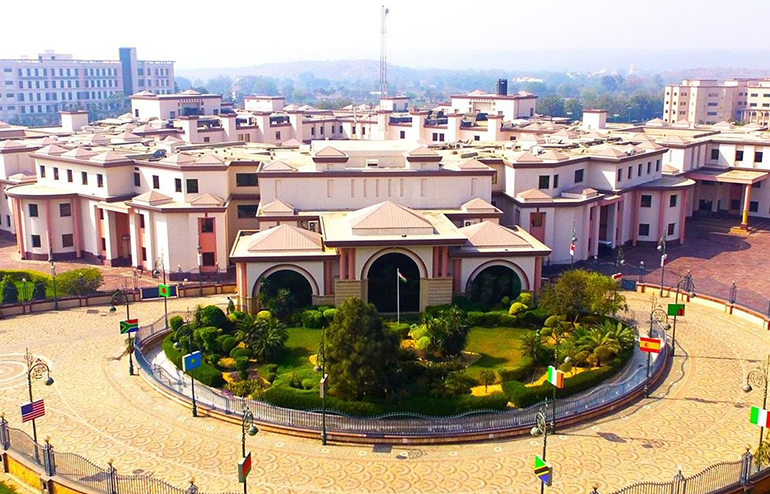 Recruiters often cite "skill gap" as the biggest obstacle in hiring fresher's, the new age B-Schools should prepare the students keeping this objective in mind as there is a direct relation between management education and employability. The School of Management under the aegis of GD Goenka University has already emerged as an institution to reckon with in terms of producing professional business leaders for tomorrow with 21st century skills. 'Making Students Corporate Ready' and to develop 'leaders who work with a spirit of service, integrity, professionalism and accountability leaving a positive and lasting impact on people, firms and society' is the principle closely followed by the school.
The School has collaboration with British Standards Institution (BSI), a leading global independent business services organization that develop standards to help business and industry for the delivery of specialized courses in Management Systems and Business Performance Programmes. It also has collaborations with other several national and international organizations to give students different exposure. The School also has collaborations with ACCA, the global body for professional accountants; ICA Edu Skills Pvt. Ltd., India's best vocational training institute and CIMA, Chartered Institute of Management Accountants which is world's leading and largest professional body of management accountants. These collaborations facilitate in establishing partnership and formulating strategies for possible collaborations on areas of mutual interest covering collaborative teaching, case study writing, research etc. To strengthen and create more value for the students in the domain of finance, the University has collaboration with NSE, National Stock Exchange, India. School also awards generous scholarships to encourage meritorious students and has a record of high placements. Some of the prominent recruiters are Godrej & Boyce, WNS, Airtel, Genpact, Asahi Glass Limited, Tommy Hilfiger, Reliance, ITC, PayTM, Protiviti, LG, Wipro, Deloitte, ICICI Bank, HDFC Bank, Sapient Technologies, Concentrix and Aditya Birla, to name a few.
With the state of art infrastructure, facilities and highly qualified faculty members, the GD Goenka School of Management boasts of an exceptional teaching-learning environment where students can fulfill their potential. All the faculty members are highly qualified with exceptional qualifications and industry exposure. They firmly believe that learning should always be holistic and should involve various pedagogical tools to accomplish it. With this objective, the school follows a highly industry oriented curriculum and frequently organizes industrial visits and guest lectures every semester for the students. These visits and lectures play a pivotal role in enhancing students overall learning, understanding industry needs, imbibing the required skill set and preparing them for their future roles. Variety of pedagogical tools such as real life scenarios and situations are shared through videos, audios, role plays, simulations, tutorials, and group work are used from time to time. Emphasis is laid on practical work which is simulated through case studies, actual projects, learning by doing, inter-disciplinary approach, projects, dissertations and internships. The knowledge and skills of students are assessed by innovative techniques. The parameters for assessment are professionally developed for each competency. The students are also encouraged to take live research projects from the industry. The students also take part in Auto Expo and exhibitions to understand the industry and market, besides learning critical business communication skills.  In order to prepare Industry leaders with a strong connect with community and an inclination towards societal development, a compulsory course, as per international patterns, on 'Community Development' is offered to all the students.  In order to turn young minds into successful global business leaders, the School offers exclusive personality enhancement sessions in order to hone the soft skills of the students, make them industry ready and stimulate them to face the real challenges of the professional world. The school also organizes many curricular, co-curricular and extra-curricular activities from time to time for the holistic development of the students.
The faculty members at School of Management undertake rigorous psychological assessments of the students by means of certain tests to ascertain the degree to which the students believe that they have control over the outcome of events in their lives. There is a specific time slot assigned for mentorship every week, where the mentor and mentees interact and discuss on career, personal and behavioral issues. The School lays great focus on research and development and facilitates the students to undertake Industry Internships, Inter-disciplinary and trans-disciplinary projects. To enhance the entrepreneurial skill of the students, the school encourages them to convert their innovative ideas into startups. It has also established the GD Goenka Technology Business Incubator Cell which encourages the students to display their entrepreneurial skills. The cell also provides infrastructure, strong network of technical guidance, mentorship and opportunities to the budding entrepreneurs at the University to network with the flourishing start-ups.
Aligning academics along with these goals, the School of Management organizes events such as HR Summit, Marketing Meet, International Conference and International Case Conclave on a regular basis. The recently organized HR Summit on the title "HR practices for Harnessing the Potential of a Millennial Workforce" attracted many senior HR professionals from leading companies such as Welspun Group, Vodafone Idea Limited, Mars Wrigley, Amazon India, Huawei, Positive Vibes Consulting, Algol, Barclays India, Skills Enablement, HMD Global, VFN Group, Terumo Global, and Crowne Plaza Hotels. These professionals addressed extremely pertinent diverse issues affecting the millennial such as skill-employability gap and retention and engagement strategies.
There are variety of programs offered by the School of Management including Bachelor of Business Administration (BBA) with specialization in General Management/ Marketing/ Accounting & Finance/ International Business), Bachelor of Business Administration (BBA) Entrepreneurship, Bachelor of Business Administration (BBA) Aviation Management, Bachelor of Commerce Honors /B.Com (Hons.) in collaboration with ACCA, B.Com (Hons.) in collaboration with ICA, MBA – Agribusiness Management, MBA with specialization in Entrepreneurship/ Accounting & Finance/ Marketing/ General Management/ Retail Management/ International Business/ Human Resource/ Operations & Supply Chain, Executive MBA (EMBA), Part Time-MBA (PT – MBA), Master of Science (M.Sc.) Supply Chain, Master of Science (M.Sc.) Financial Engineering, Post Graduate Diploma (PGD) Accounting & Finance, Post Graduate Diploma (PGD) Healthcare Supply Chain Management, Post Graduate Diploma (PGD) Online Business, Post Graduate Diploma (PGD) Supply Chain Management, Post Graduate Diploma (PGD) Leadership & Governance, Post Graduate Diploma (PGD) Sports Management, Post Graduate Diploma in Operations Management and Post Graduate Diploma in HRM. Apart from offering variety of programmes including popular ones like BBA, B.Com, PG Diploma and MBA, the School has about 90 research scholars pursuing their Ph.D. programmes in all streams of management studies. All the programmes offered embody the drive for sustainable knowledge superiority and are benchmarked as per global educational practices.
In a span of nearly six years, the School has created a significant position for itself and has become a preferred destination for students and scholars from across India and abroad.  The School was awarded as the 3rd Best BBA Institute by Times B School Survey in 2017 and conferred as the 2nd Best Management Institution by Times B School Survey (2018) for "Driving change in Management Education."
The GD Goenka University, a UGC recognized University offering varied programmes for undergraduate, post graduate and doctorate level in areas like Management, Engineering, Law, Architecture & Planning, Agricultural Sciences, Basic & Applied Sciences, Fashion & Design, Fine Arts, Hospitality, Education, Humanities & Social Sciences, Communication, Physiotherapy, Nutrition and Pharmacy, has been ranked as best emerging University and conferred Rajeev Gandhi Excellence Award, the Education Post-ASSOCHAM Excellence Award, Edutainment Award and Skill-Tree Great Place to Study Award at the House of Commons in London. The University has also been profiled as the Thought Leader in Higher Education by Forbes magazine.