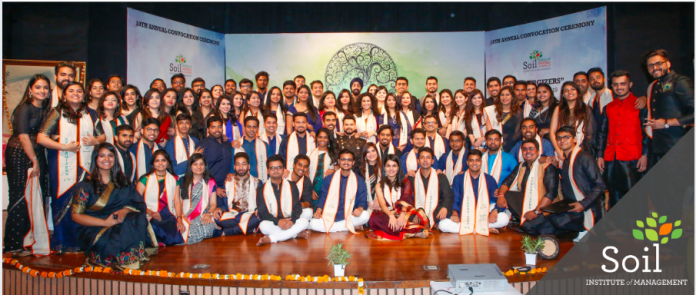 SOIL Institute of Management started its journey 10 years ago and is based out of the start-up & innovation hub of India – Gurgaon. Co-created with 32 partner companies (Indian and International) the institute has a legacy of more than 1000 alumni. SOIL ranks as one of the top 20 B Schools in India.
The institutes leadership curriculum is based on traditional Indian vedic & spiritual principles and it is the best example of blending the wisdom of traditional India with the business practices of the New India.
SOIL offers 3 full time programs:
1-year PGPM Business Leadership
1-year PGPM Human Resources
2-year AICTE Approved PGDM in Business Design
Offering specializations in Analytics, Marketing, Finance and HR, SOIL transformational programs are number 1 in India for accelerated career growth. The Institute also offers the best ROIs in the industry, the average CTC for the institute is currently INR 10.7 Lacs.
SOIL Institute of Management is now accepting applications for admission for the Class of 2020 for all its courses.
WHAT IS MBA 2.0?
SOIL's two-year transformative program is India's first Government & AICTE Approved PGDM programme that offers management education based on Design Thinking.  Inspired by the requirements of startup and new age companies in India the curriculum of this New MBA program i.e. MBA 2.0 provides students with a multidisciplinary approach to management subjects using Design thinking and Liberal Arts
With a multidisciplinary focus on Business, Creativity and leadership, the program offers world class faculty, great peer learning, nonprofit social immersions and a great focus on learning from innovation led organizations and leaders. The classroom experience is entwined with many opportunities for practical application as well. With over 1200+ Alumni and 1200 hours of curriculum delivery specializations are offered in Digital, Marketing, Data Analytics, Finance & HR.
The average class salary for SOIL 1-year PGPM after graduation currently is 10.7 Lacs and Highest salary over the last 3 years has been 16 Lacs
SOIL KEY DIFFERENTIATORS
Unlearning Orientation Program:
The program is directed to break traditional school of thought and discard outdated principles. Students improve their knowledge, understand the world, and be open to new perspectives and ideas.
Business Curriculum Inspired by Design Thinking + Liberal Arts:
By integrating design thinking and management, students acquire the creative confidence to lead contemporary businesses. Graduates will bring solutions with innovative approaches backed by analytical and coordination skills.
Global Immersion Tour:
You will be part of an international study tour at a global business capital that consists of lecture series in a diverse set of industries and interactions with iconic business leaders.
Rural immersion Program + Community Building Program:
Learn from communities at the grassroots level. By sensitizing budding managers and entrepreneurs towards various rural development policies, we inculcate a humanistic approach to problem solving in businesses.
Himalayan Learning Retreat:
Learn through self-reflection and introspection guided by appreciative methodologies under the humbling Himalayan peaks. Create memories that will last a lifetime with fellow classmates while participating in treks, meditation bootcamps, and adventure trails.
Curated Faculty & Teaching Pedagogy:
Courses are led by an experienced faculty who use global curriculum templates and case study methods inspired from Harvard and Stanford.
ELIGIBILITY CRITERIA
Graduate from any discipline or in the final year of college with expected graduation date no later than July, 2020 can apply to the course
We accept CAT/GMAT/XAT scores
Minimum 60% in X, XII, Graduation
Detailed application form – http://application.schoolofbusinessdesign.com/
ADMISSIONS PROCESS
SOIL evaluates the candidate's overall profile looking to Academic ability, test scores, extra-curricular activities and results from the personal interview
The admissions process focusses on multiple intelligences of each student and not just their academics or exam score. Post application, each applicant gets a chance to attend the Design Thinking Workshop (a half day immersion where they will solve real-life problems) It is designed to help SOIL appreciate candidates better and provide a glimpse of our innovative approach to teaching and learning.
The admissions team evaluates each candidature before sending out the final offers.
Admission process for the Class of 2020 has begun and the upcoming deadline for PGDM is 2nd Feb 2020.
To know more about SOIL's two-year PGDM programs, visit
https://www.soilindia.net/2-yr-pgp/school-of-business-design
THE SOIL ADVANTAGE
Co-created by 32 companies
Mentorship from CXOs who are 'servant leaders'
ROI – among the best in industry
Transformational pedagogy involving yoga, theatre and a journey to the Himalayas
Social Innovation program – one day a week with NGOs
Curriculum & Learning Design based on multiple intelligences
Gurgaon Advantage – the hub of start- ups and Innovation
Global 1000+ Alumni Network
Live Projects in Industry – one day a week
Individual Development Plan based on leveraging your true strengths
State of the Art Campus – Newly built campus designed by internationally renowned architects, situated in the center of New Gurgaon. Equipped with state-of-the-art technology in classroom and facilities.