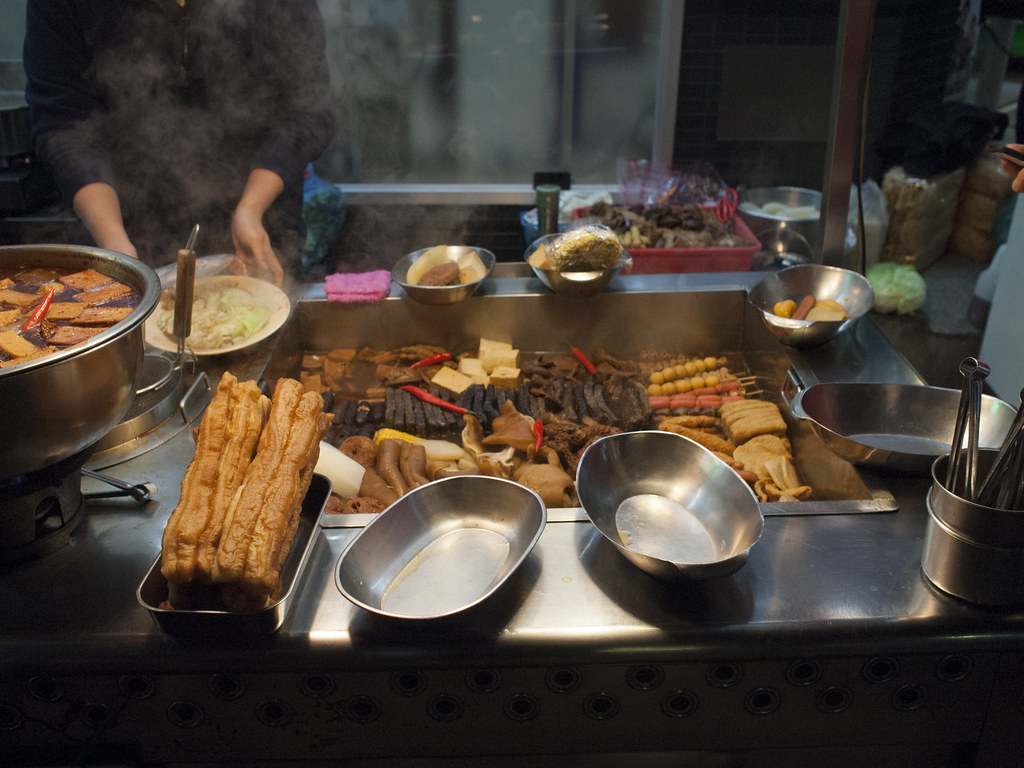 If you are reading this but don't know what a Night Market is, please read our previous post. In this blog post, we have listed down all the famous region-wise night markets in Taiwan. This blog is for wanderlusts, food enthusiasts and people who are interested in traveling to Taiwan.
Northern Taiwan
The famous area-wise night markets in North Taiwan are listed below
Raohe Street Night Market
Located in Taipei's Songshan District on Raohe Street, the Raohe Street Night Market was the second Night Market to be considered a tourist destination.
Shilin Night Market
Located in Taipei, the Shilin Night Market is one of the most famous and largest night markets in Taiwan. The night market first opened in 1899, and is famous for its authentic Taiwanese snacks.
Famous snacks include deep-fried chicken breasts, kebabs, spring onion pancakes, pan-fried dumplings, grilled Taiwanese sausages, small sausage in large sausage, hot pot, oyster omelets, fresh squid, and pork or fish thick soups. Popular drinks include pearl milk tea, Chinese herbal teas, and juices made with fresh local fruits and vegetables.
Locals often come with family and friends to eat, browse and look for bargains. The market is along the route to the National Palace Museum, making it a good next stop for museum visitors.
Linjiang Night Market
The name, Linjiang Night is unfamiliar to some Taipei residents who know the Night Market as Tonghua Street Night Market. It is located in Da'an District near Taipei 101 and the neighboring Xinyi District.
This night market is a popular destination for cheap meals and has been known for some time as a popular shopping area.
Shida Night Market
Known to the locals as "Shida", the Shida Night Market is located near National Taiwan Normal University. The student presence gives this night market a casual and trendy aura which gives off a very youthful vibe to the market.
Beyond the usual selection of street food, shopping in Shida Night Market is notably more boutique-oriented in comparison to other popular spots.
Unfortunately, the night market has shrunk in recent years due to neighborhood complaints and rezoning of the area and is now mostly a place for locals.
Keelung Temple Night Market
Originally started to serve the needs of worshipers flocking in to the popular Dianji Temple, the Keelung Temple Night Market is located in the port city of Keelung. It has over sixty registered food stalls here where worshippers and tourists come here for a light snack and shopping. Because Keelung is a port city, fresh seafood is a major attraction of this night market.
A famous snack here is Dingbiancuo: A rice noodle soup made with mushrooms, bamboo shoots, dried tiger lilies, dried shrimp, oysters and shredded pork. Other famous snacks include butter crabs, eel stew and Taiwanese tempura.
Another Keelung specialty and a particularly popular drink is Paopao Ice: ice shaved and beaten up into fine, smooth, snow-like texture and then flavored with fruity jams and nuts.
Central Taiwan
The famous area-wise night markets in Central Taiwan are listed below:
Fengjia Night Market
Fengjia Night Market is located in Xitun District, Taichung. Due to its close proximity with Feng Chia University and Chinese Institute of Technology, students make up a good part of the customer base in this night market.
Feng Chia Night Market is best known for its prices and variety. The night market hosts an estimated total of 15,000 shops, restaurants and stalls. All kinds of fashionable clothing, accessories, toys, electronic products and the latest music CDs and DVDs are sold in shops or stalls.
Food stalls and restaurants in this market offer snacks from around the world.
A lot of innovative snacks that you will find in other night markets in Taiwan were originally created in Feng Chia Night Market. This includes deep-fried salty and crispy chicken ribs, cheese potatoes, pearl milk tea, 4-in-1 combo juice and Japanese-style chicken ribs.
Tunghai Night Market
Located on the edge of Taichung and about twenty minutes from the city center, this Night Market has grown from just a few shops to a whole commercial district that extends from the Tunghai University. This Night Market is known as one of the most prosperous night markets in Taiwan.
Fengyuan Myaudung Night Market
The Fengyuan Myaudung Night Marketwas formed on the side of the local Tzu-Chi Temple as a result of an expansion project which was leased out to vendors.
Today, it serves the residents and tourists of Taiwan.
Ching Cheng Night Market
Ching Cheng Night Market is located in Changhua near Ching Cheng High School. In the past, the owners tend to park their stands on the Lin Sen Road, and there is a famous traditional Chinese physician live around the corner,who called Gao Sai. Thus, ChingCheng Night Market also known as GaoSai Night Market.
Southern Taiwan
The famous area-wise night markets in SouthernTaiwan are listed below:
Liouhe Night Market
Formerly known as the Dagangpu Night Market, the Liouhe Night Market was started as early as the 1950s and is best known for its numerous eateries.
A mere thoroughfare in the daytime, this night market transforms into a big open-air shopping arcade in the evenings.
Kaohsiung is located in the tropical zone near the sea, as a result, stalls and shops selling all kinds of ice lollies, flavored crushed ice, and cold drinks are very popular here. Fresh seafood and mouthwatering steak from the steak houses you will find here is a major attraction.
Ruifeng Night Market
Situated in northern Kaohsiung, Ruifeng Night Market is known for its low priced within-budget and wide variety of tantalizing snacks that is characteristic of this particular night market. The night market is considered the most popular night market among locals.
Kaisyuan and Jinzuan Night Markets
The two adjacent night markets, Jin-Zuan Night Market and Kaisyuan Night Market opened in 2013, and were said to be the two largest in Taiwan, but has since shrank 60% in size. They feature eateries more commonly found in restaurants, such as teppanyaki and conveyor belt sushi, as well as unique designs like road signs and a fancy restroom.
HuaYuan Night Market
Situated in Northern District Tainan, at the Junction of He-Wei Road and Hai-An Road; it is also voted one of the best night markets in Taiwan. Open on evening of Thursday, Saturday and Sunday. Varieties of local and foreign hawker food, attire, entertainment were among the market's attraction.

Eastern Taiwan
The famous area-wise night markets in Eastern Taiwan are listed below:
Nanbin Night Market
The Nanbin Night Market is located in Nanbin Park. During the day, the night market is crowded with beach goers, but at night, it turns into an active Night Market.
Luodong Night Market
Luodong Night Market is one of the busiest and most popular night markets in Taiwan. It is popular for its food. Vendors gather around Chong Shan Park and sell goods to the masses.
Dongmen Night Market
The Dongmen Night Market is located under the Yilan Donggang Bridge alongside Hemu and Shenghou Road. Once a small area, this night market has beautifully transformed into a key tourist destination.
If you have enjoyed this post, share it with your friends on social media.
To read about the Top 5 reasons that makes Taiwan a great study destination, click here.
To know how to get an international MBA from Taiwan in under 5 Lacs, click here.