A program exclusively focusing on 'CRC – Compliance, Regulatory and Contracts Management" in Infrastructure Sector
Laws have been with us for centuries. Laws have governed modern societies to ensure an equitable system. Do you know that India has over 1200 laws? Add to it countless rules, notifications, interpretations, and alterations! In this scenario, how do we learn about the Law for business? At AIIM, we have found an effective way.
For over a decade now, we have successfully been teaching AICTE-approved 2-year full-time PGDM (Infrastructure Management) program. While teaching the complexities of infrastructure from a management perspective, we developed enormous insights into the legal & regulatory aspects of the infrastructure sector. We also realized that managing these regulatory aspects requires a different program by itself!
So, here we are – with India's first and only AICTE approved 2-year full-time Post- Graduate Diploma in Management (Law) – PGDM (Law) – Program exclusively focusing on 'legal & regulatory' expertise in infrastructure management!
Introduced in 2019, it is a revolutionary program that focuses on 'CRC – Compliance, Regulatory and Contracts Management' in the Infrastructure Sector.
We have carefully designed this interdisciplinary program with extensive learnings from our parent organization Adani Group's large infrastructure businesses, valuable inputs from industry and law practitioners and insightful contributions from policy makers.
In two years, students are exposed to core management functions in the areas of economics & finance, people management & communication, and strategy & operations. They get deep understanding of major infrastructure sectors and their complexities, such as ports, power, renewables, real estate, urban infrastructure, oil & gas, mines & minerals, shipping, airports, public systems, etc. We then weave the threads of legal and regulatory learnings and teach laws from a real-world perspective.
The students get intense exposure and application-oriented learnings of Property & Land Laws, Maritime Laws, Energy Laws, Real Estate Laws, Rail, Road & Air Laws, Mining Laws, Banking & Insurance Laws, Competition Law, Economic Offences, Insolvency and Bankruptcy Law, IPR Laws, Cyber Laws & AI, Data Privacy & Protection Laws, Disaster Management Laws, E-Commerce Laws, International Trade Laws, etc. At the end of the program, students go through a rigorous 3 month's long Apprenticeship Training in a real corporate environment. Not to mention a 2 month's Summer Internship Training at the end of 1st year!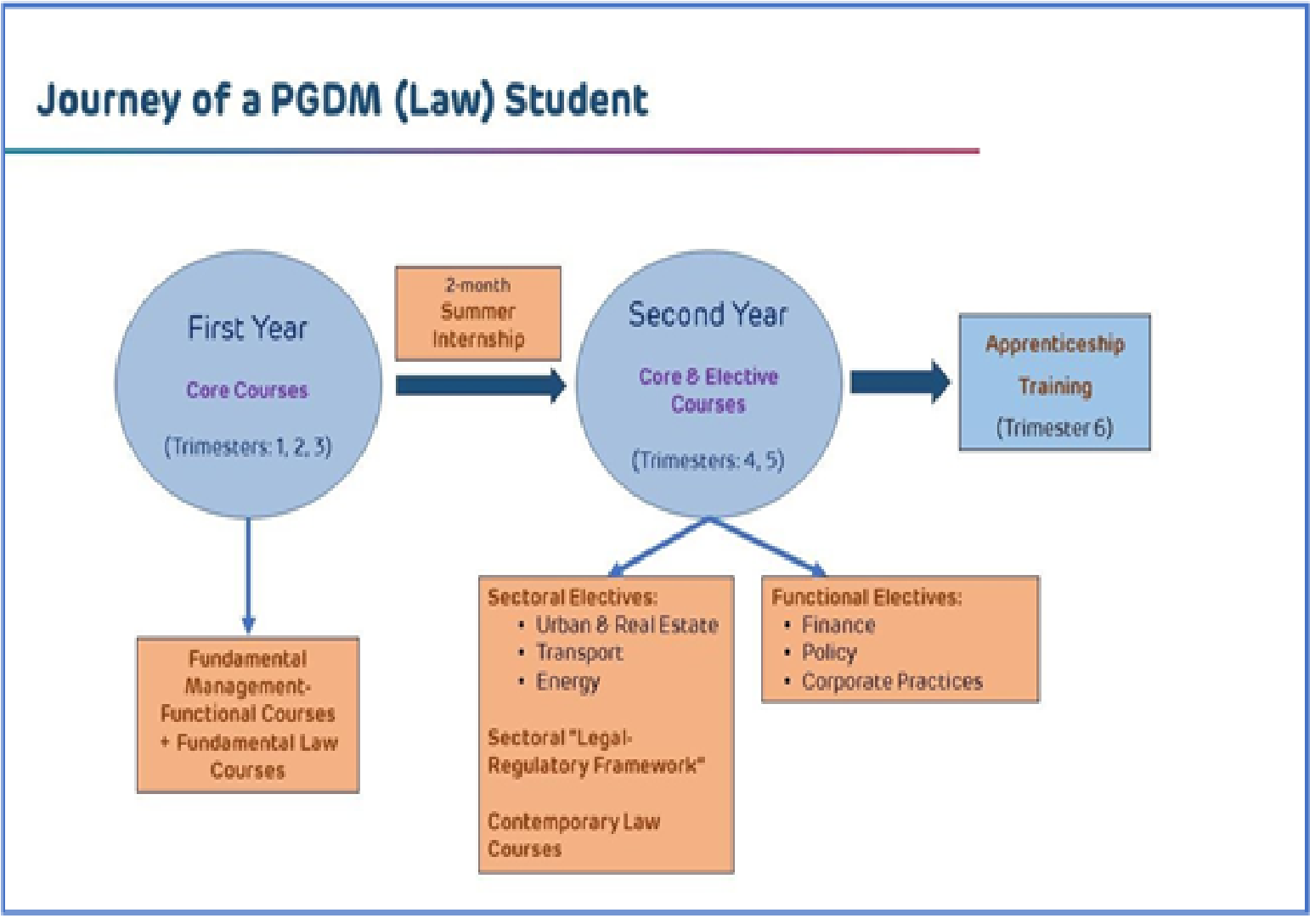 The mentors for this program are eminent academicians and experienced practitioners from legal and business fraternity. Students go through intense training in corporates and consultancy firms and get hands-on experience to Legal & Regulatory transactions.
The themes at the forefront are legal frameworks, interpretations, managerial evaluations, policy interventions and community impacts. The program provides expertise in the areas of commercial bidding, Mergers & Acquisitions, restructurings, resource mobilization and complex project management in the global environment.
Who can apply?
Graduates (incl. final-year degree students) from any discipline such as inter-CA, inter-CS, B.Com., BBA, BCA, BE/B.Tech., B.Sc., LLB, etc. are eligible to join this program. Experienced professionals wishing to attain greater heights in their careers are also highly encouraged to join this program. You may further discuss your eligibility as per AICTE norms as well as Institute's selection process with Admission Office representatives.
What are the Career Opportunities?
The scope is endless. The program will enhance a student's capabilities for better employment in today's highly competitive world. PGDM (Law) graduates have wide- ranging career opportunities in Corporates, Consultancy and Law Firms in the areas of Techno-Commercials, Regulatory & Corporate Governance, Securities & Capital Markets, Mergers & Acquisitions, Commercial Bidding and Contracts, Legal Departments, Business Development, and Project Management.
PGDM (Law) program is extensively supported by the Career Development Cell (CDC) at AIIM. Many national and global corporates participate in Campus Recruitment Program every year. Industry-ready curriculum, AIIM's extensive linkages with the industry, Adani Group eco-system and legacy of AIIM alumni – comprehensively ensure excellent placements of AIIM Graduates year after year. We are proud of the performance of all our batches so far!
AIIM has the enthusiasm and resources to match your passion and inclination to excel in your careers! We invite your application to this program for 2021 intake! You may visit www.aii.ac.in/aiim for more information.
Hiren Mandaliya, Head – Admissions, AIIM