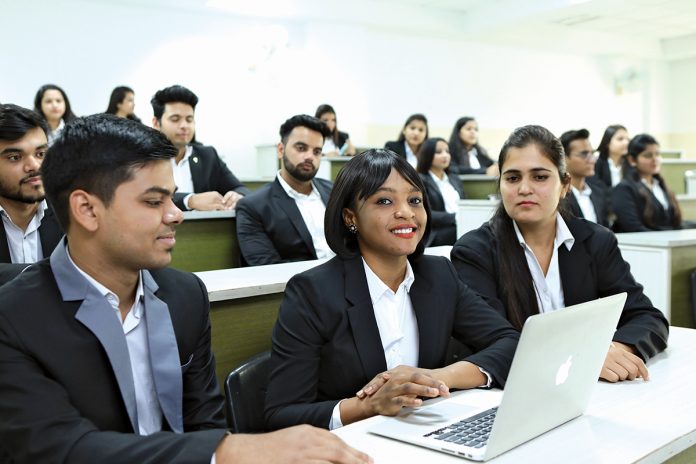 A versatile programme designed to meet the industry requirements and is highly flexible due to its industry-led and new-age curriculum, MBA contributes a lot to build the leaders of tomorrow. NEP 2020 aims at building a transformational educational system having curriculum that is highly experiential and nurtures the young minds. 
Faculty of Management Studies (FMS) at Manav Rachna International Institute of Research and Studies (MRIIRS) has demonstrated the success of its future-proof curriculum through many of its alumni who are placed at leadership positions across top corporate houses of the country and abroad. 
The Faculty of Management Studies offers AICTE approved Master of Business Administration (MBA) Dual Specialization in 13 specializations: Finance, Events and Media, Marketing, Human Resource Management and Organizational Behavior, International Business, Aviation Management, Management Information Systems, Business Analytics, Entrepreneurship and Small Business Management, Operations Management, Waste Management, Banking & Insurance, and Healthcare Management. FMS has aligned its curriculum as per the industry requirements to allow students to choose the preferred specialization and gain domain knowledge of two subjects which provides them an edge over others. 
This is strengthened by a dedicated Placement and Training Cell wherein students are prepared to lead job interviews through structured pre-placement talks, soft skills and employability training.
The Management program at Manav Rachna integrates the right proportion of industry-academia collaboration, global immersions, capstone projects, industry-led curriculum and skill development to hone cutting-edge management capabilities among the students. FMS comprises distinguished faculty members with rich corporate and academic experience. Pedagogy includes international student exchange programs, extensive life skills and personality development sessions. Along with this, MBA Alumni are very closely involved in training and empowering students to prepare for a successful career in the corporate world. 
Since its inception, Manav Rachna has been ensuring academic excellence coupled with the best in-class infrastructure for students. MBA students at the University are given access to the state-of-the-art Manav Rachna Business Incubator. Accelerating entrepreneurship development at the University; students with entrepreneurial ideas are provided with seed funding, office space at the campus, business planning support and mentorship by corporate leaders. 
The MBA programme of Manav Rachna owes its global touch to the regular interaction of international experts with students and faculty members. The same has been recognized as MRIIRS is rated QS 5-Star for Teaching, Employability, Academic Development, Facilities, Social Responsibility and Inclusiveness. MRIIRS is also the Founder member of the prestigious "College Board's Indian Global Higher Education Alliance". 
FMS comprises distinguished faculty members with rich corporate and academic experience. Pedagogy includes international student exchange programs, extensive life skills and personality development sessions. FMS has a large pool of highly competent faculty members who hold years of experience in the industry as well as education sector. 
The institution offers ample opportunities to a student to take on management opportunities to enhance the aspect of 'learning by doing'. It ensures the development of strategic decision-making skills that benefits a student in the professional career. It also runs an entrepreneurship cell – UDYAM (E- Cell) to encourage students to pursue the rewarding path of entrepreneurship and follow their dreams. Such culture at Manav Rachna helps students to grow with competency, skills and responsibility that will transform them into complete professionals. 
FMS offers a 4-tier mentoring program (peer/ industry/ faculty/ alumni) to prepare the students to be both 'mentees' and 'mentors'. To accelerate industry interaction and understanding of the industry dynamics among the students, students are given an opportunity to work on more than 120+ case studies. Industry veterans also interact with the students of Manav Rachna under the 'CEO Talk' series. The programme is based on the in-demand skill set required by the industry and focuses on inculcating application skills among the students.  
A Strategic Mentoring Board comprising visionary academicians and some of the most well-known industry leaders give an overall direction in curriculum development, capacity building, partnerships, and quality assurance. At Manav Rachna, management education is customized to develop globally competitive professional managers who could contribute to building up strong global industrial and business portfolios.
Holistic student development is of paramount importance for which Manav Rachna Corporate Relations and Career Management Centre offers unique programs including Persona Workshop, Personality Development and others. Manav Rachna focuses on building eight leadership skills among students which include business savvy, driving execution, financial acumen, compelling communications, driving for results, entrepreneurship, influence and inspiring excellence.
Ranked among the Top 7 B-Schools in North India as per the Times B-School Survey 2021, Manav Rachna has carved a niche for itself in the corporate and academic circles by offering an industry-aligned curriculum and producing industry-ready professionals. Associations with industry bodies like ASSOCHAM, FICCI, AIMA, NIESBUD, NSDC, NHRDN give the Faculty of Management Studies an added edge. NIRF India Rankings 2021 by MHRD, Government of India has also rated Manav Rachna International Institute of Research and Studies (MRIIRS) in the 'University' Category (Rank Band- 101 to 150). These recognitions and awards strengthen the belief in the quality of management education and the overall development of the students. 
Keeping the glorious legacy of academic excellence alive, the MBA programme at Manav Rachna has been consistently bestowed with top accreditations, awards, ratings and ranking by apex bodies including NHRDN, Times of India, Business World, Business India, Careers360, India Today, Outlook, The Week and others. These recognitions are a testimony to the world-class and advanced management education being offered to students in a conducive environment.
MBA students of Manav Rachna have been placed with the giant industry leaders at a package as high as 15 Lakhs per annum. The illustrious alumni of FMS, Manav Rachna have been placed with Amazon, IBM, EY, ICICI Bank, Airtel, Indiabulls, American Express, HT Media, KPMG, Fortis, Copal Partners, Bank of America, BYJU's, Zomato, Business World, and Ericsson. 
Manav Rachna offers up to 100% scholarships to merit holders on the basis of score in CAT/MAT/ATMA/CMAT and other equivalent exams. 
For more details about the B-School, visit www.manavrachna.edu.in