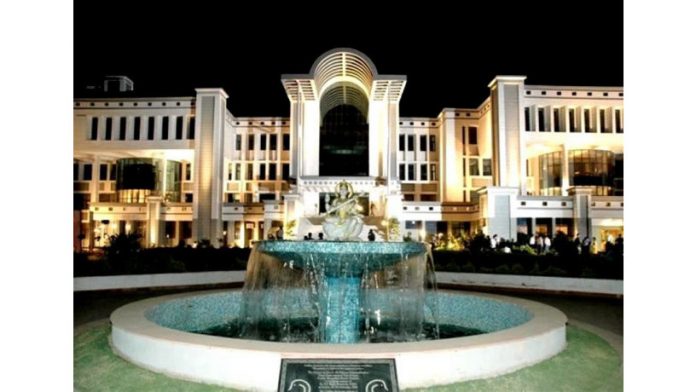 A well-rounded management programme with a new-age curriculum in alignment with the industry trends is what the young professionals need in the ever-transforming business world. MBA is not a degree but a tool that equips the upcoming leaders with future-proof skills to shape their careers.  
Faculty of Management Studies (FMS) at Manav Rachna International Institute of Research and Studies (MRIIRS) offers a versatile industry-led curriculum that has bolstered the professional growth of its alumni, showcasing their talents in varied leadership roles across distinct industry verticals around the globe. 
Backed by the finest knowledge partners in the industry, FMS offers AICTE approved Master of Business Administration (MBA) Dual Specialization in 13 key areas: Marketing, Finance, International Business, Events and Media, Business Analytics, Human Resource Management and Organizational Behavior, Aviation Management, Operations Management, Management Information Systems, Healthcare Management, Entrepreneurship and Small Business Management, Banking & Insurance and Waste Management. 
With a curriculum that is built on creative pedagogy, thought leadership, industry exposure and capstone projects, the MBA programme at FMS nurtures the business leaders of tomorrow by giving them the opportunity to gain domain knowledge in two core subjects. No wonder, FMS has been ranked 1st amongst the prominent B-Schools of India by the Competition Success Review 2021. It is among the Top 5 Private B-Schools of India, Top 7 among the B-Schools in North India, and Top 16 among the Top 150 B-Schools of India as per the Times B-School Survey 2022. 
With a stellar infrastructure, fully-equipped libraries and a well-seasoned team of professionals & academicians, FMS focuses on the holistic development of students by facilitating case studies, experiential learning and interaction with industry stalwarts along with a strong alumni network. 
To acknowledge the strong foundation and focus on research and development, the UGC has granted the 12 B status to MRIIRS, which is a true testimony to the value it adds in the lives of the management graduates. IIRF 2022 Best Business Schools Ranking has also placed FMS at No. 11 in National Capital Region, 13 in North India, and 40 among the Top 100 Private B-Schools of India.
Striving For Academic Excellence 
In alignment with NEP 2020, MRIIRS aims to build a transformational education system with a curriculum that encourages innovation and experiential learning to help students become competent professionals ready to ace the consistently progressive business landscape. 
The MBA programme at Manav Rachna is packed with academic excellence combined with a pedagogy that incorporates personality development sessions, international student exchange programs and wide-ranging life skills to shape the future of the upcoming generation of industry leaders. 
The course of study is designed to engineer a strong foundation with industry collaborations, global immersions, skill development, and real-time projects to help the young professionals in improving their credibility in different market sectors. 
Shaping The Future 
A well devised placement and training cell at the University offers placement support through well-structured pre-placement sessions, soft skills and employability training. The cutting edge Manav Rachna Business Incubator further encourages and strengthens the entrepreneurial ideas through seed funding, business planning support, corporate mentorship and even on-campus office spaces.  
MBA graduates from Manav Rachna have carved out their career roadmap in Start-ups, MNC's, service industry, FMCG, Financial Institutions, Consumer Durables and some of them are successful Entrepreneurs. Owing to the standards of academic excellence and industry exposure provided to the management students here, the talented professionals are acquired by the top recruiters from around the country like American Express, Ernst & Young, Reliance Jio, ICICI Bank, Jaro Education, Ericsson, J. Walter Thompson(JWT), BYJU'S, Wacom India, Infoedge Ltd, Zomato, HT Media, Times, KPMG, Fortis, India Bulls, Grofers, Axis Bank, Paytm, Oyo Rooms, RBS, Lenskart and several other industry leaders.
Manav Rachna has recorded the highest placement percentages even during the times when placements at Colleges and Universities were suffering the direct impact of Covid on the global hiring scenario. 
Feeding the Entrepreneurial Minds 
Manav Rachna has set up the New Generation Innovation and Entrepreneurship Development Centre, New Gen IEDC to support the national initiative for developing and channeling innovation. This initiative is funded by the Department of Science & Technology, GoI with a support grant of Rs 2.87 Crore. 
The 4-Tier mentorship programme (Peer/Industry/Faculty/Alumni) offered at FMS works on accelerating the industry interaction with 120+ real life case studies to develop a strong understanding of the industry dynamics. A special program called the 'CEO TALK' offers consistent interaction between students and industry leaders to help them learn how to achieve success as business leaders. 
The MBA programme at Manav Rachna is associated with recognized industry standards like  NHRDN, FICCI, AIMA, ASSOCHAM, FSIA and MSME. A well-rounded mentoring board at FMS comprises visionary academicians, well-known industry experts and leaders that play a crucial role in the success of their management programmes by strategically designing curriculum development, partnerships, quality assurance and strength building processes. 
Inclusive Education
Students can enroll for the MBA programmes at Manav Rachna on the basis of their score in MBA MRNAT or through CAT/MAT/XAT/GMAT/ATMA/CMAT scores, and avail upo 100% Scholarship.
To ensure that students from all backgrounds find their ways to succeed in their careers through professional degrees, Manav Rachna offers merit-based and special category scholarships. 
The QS 5-star rating for Teaching, Employability, Academic Development, Facilities, Social Responsibility and Inclusiveness is a strong evidence of the efforts and intentions of the leaders at Manav Rachna for building a holistic framework for education. 
The Management programme at Manav Rachna imparts industry-oriented 'Experiential Learning Based Curriculum' to inculcate decision making and problem solving skills, domain knowledge, global perspective, leadership mindset, entrepreneurial and  communication skills along with implementation of ICT to leverage technology for effective and efficient functioning through collaboration and information sharing.