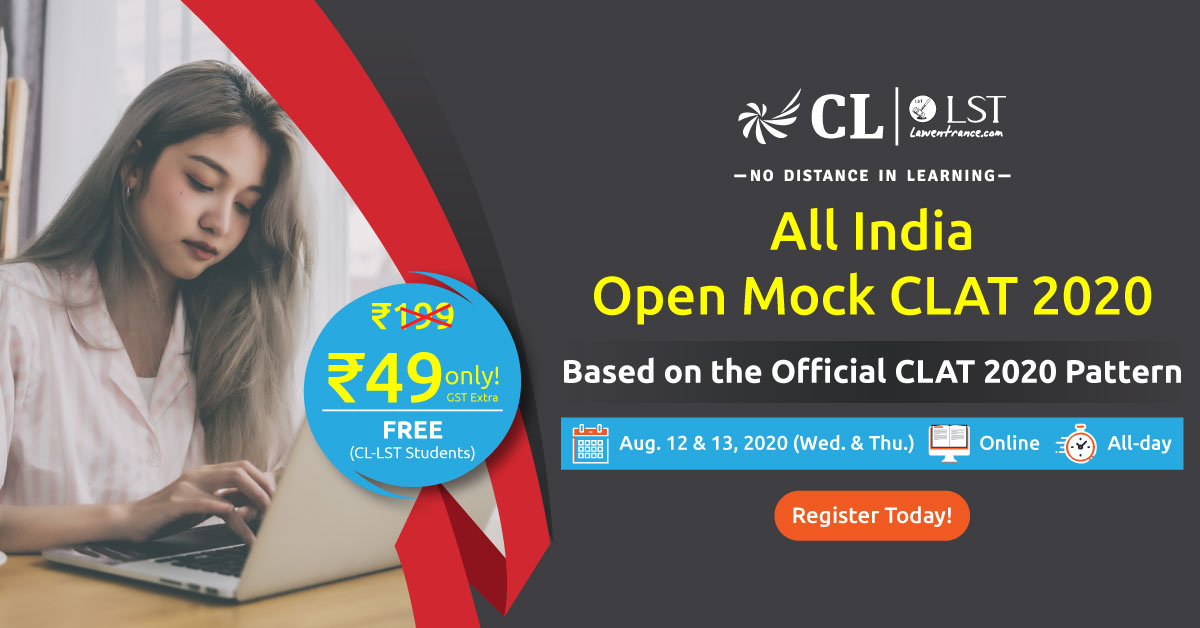 Appearing for CLAT 2020 exam? Is this your first attempt at any online exam?
CLAT '20 is just around the corner, with the exam on August 22, 2020. It is apparent for you to get nervous during these last 20-25 days. But stop biting nails and dreading CLAT 2020 exam. We are here to handhold you out of this stressful situation to prepare for your first online exam. We are back with CL LST AIMCLAT – a mock test just like the actual CLAT exam.
About AIMCLAT:
A good preparation is incomplete when you are clueless of the ground realities. CL LST's AIMCLAT is All India Mock CLAT organized by Career Launcher. The aim of AIMCLAT is to provide you with a real-time but simulated experience of CLAT exam on August 12 and 13 before you appear for the actual CLAT 2020 exam on August 22.
Advantages of AIMCLAT:
Simulates the experience once before you appear for the actual exam
Video analysis by CL LST experts
In-depth analysis of your test papers
Time management and strategy to attempt questions in lesser time
Online exam experience for first time takers
Benchmark your performance against 15000+ aspirants
Develop an understanding of the changes introduced in CLAT
Nothing is better to beat CLAT 2020 than CL LST's AIMCLAT. Accelerate your preparation and enroll for CL's AIMCLAT now. To enroll, click here.
Why you need to take the AIMCLAT:
Any competitive entrance exam including CLAT is predicated by the effectiveness of the candidate on the day of the exam. Some of the most qualities that you need to have to succeed in the CLAT Exam are:
Well thought out Exam Strategy
Time Management
Calmness under pressure
This is where the AIMCLAT comes into play. It will allow you to establish your best Exam Day strategy while working on your time management and calmness under pressure to some extent.
The other major advantage of appearing for the AIMCLAT Exam is that it will allow you to scope out your competition and narrow down the areas where you need some extra efforts.
So, don't wait! Appear for the AIMCLAT by registering here.
All the Best