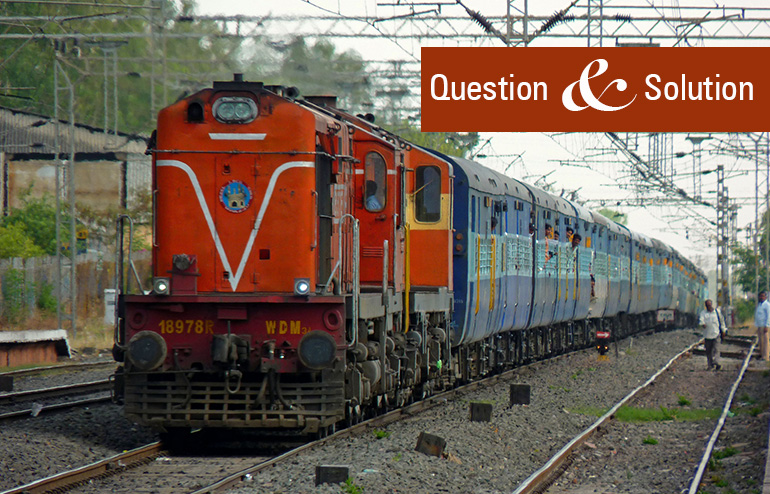 Did you appear for the RRB 2016?
As you all know that Railway Recruitment Board (RRB) has started conducting the all India entrance exam from 28th March 2016. We have compiled RRB 2016 Questions from various shifts reported by students. The solutions to the questions in RRB 2016 have also been highlighted for your reference.
Hope it will help you gauge your performance in RRB 2016…
1. Which is the basic unit of life- ?
Gene
Tissue
Cell

*

Organ
2. Who gave the nomenclature to chemical symbols
Antoine Lavoisier

*

Gregor John Mendlief
Newton
Aryabhatt
3. Which of the following is a noble metal?
Iron
Aluminium
Copper
Silver

*
4. Robert Galbraith is more commonly known as –
Agatha Christie
Robert Moller Gilbreth

*

Sidney Sheldon
J.K. Rowling
5. Octopus' blood color is ?
Red
Pink
Purple
Blue

*
6. Chanakya's real name is?
Kautilya
Vishnu Gupta

*

kutil
Vishnu Dev
7. Which of the following is an architecturally planned city?
Bengaluru
Gandhinagar
Delhi
Chandigarh

*
8. Who among the following is an Indian mathematician?
Bana
Bhaskara

*

Bharata
Bhavbhuti
9. Smallest bone in human body is
Tibia
Stepiz

*

Femeur
d.Tibia
10. 2nd most spoken language in the world is?
Mandarin
Spanish

*

English
Hindi
11. Which of the following games have been recently dropped from Olympics?
Basketball
Baseball
Wrestling

*

Boxing
12. Where is Indian Institute of Science located?
Kolkata
Mumbai
New Delhi
Bengaluru

*
13. Which part of a plant is responsible for transportation of water and minerals?
Root
Stem
Phloem

*

Xylem
14. Who gave the concept of ecosystem?
C.B.Bernard
Toshiko Kurohito
T.V.Barkley
Arther Tansley

*
15. Which river originates from western ghats in India?
Ghaggar
Sone
Krishna

*

Narmada
16. The new name of Bharatpur Bird Sanctuary is
Parvati Orang
Bakhira Bird Sanctuary
Salim Ali Bird Sanctuary
Keoladeo Bird Sanctuary

*
17. Best animated movie in Oscars 2015 is
Song of the Sea
The Big Heroes

*

Logo Movie
the five years
18. Which of the following is responsible for earth's water cycle?
Water
Wind
Sun

*

Earth
19. ONGC Headquarter is located at –
Dibrugarh
Kandla
Vishakhapatnam
Dehradun

*
20. Type of Chemical reaction taking place in producing energy in Sun?
Nuclear Fusion

*

Nuclear Fission
Electro-Magnetic Reaction
d.Photovoltoic Effect
21. Brahmo Samaj was founded by –
Raja Ram Mohan Roy

*

Dayanand Saraswati
Debendranath Tagore
d.Keshav Chandra Sen
22. Mariana Trench is located in which of the following Oceans?
Pacific Ocean

*

Indian Ocean
South Ocean
Atlantic Ocean
23. Equinox is?
Equal duration of day and night

*

Equal duration of winter and summer
Equal duration of all seasons
equal distribution of month
24. Who won Miss Universe Pageant award in 2015?
Pia Wurtzbach

*

palina beg
carolin
Ariadna Gutierrez
25. Who won the first Dada Saheb Phalke Award?
Prithvi Raj Kapoor
Satyajit Ray
Devika Rani

*

Manoj Kumar
26. Which of the following is least porous soil?
Sandy soi

*

l
Silty Soil
Clay Soil
Laterite Soil
27. Who gave the theory of evolution?
Charles Darwin

*

Charles Dickens
Lamarck
Gregor Mendel
28. Who was awarded the Dronacharya award for Boxing
Gurucharan Singh
Swatantra raj Singh

*

Gurubachan Singh
Satyapal Yadav
29. Thomas Cup is associated with which sport
Tennis
Table Tennis
Badminton

*

Hockey
30. Which of the following is a type of chemical change
Sublimation
Condensation
Evaporation
Neutralization

*
31. Most Dense city in Australia is?
Melbourne
Sydney

*

Perth
Canberra
32. Who is Chief Justice of India
T.S. Thakur

*

H.L.Dattu
H.S.Kaparia
H.S.Kania
33. Largest Mammal in the world is
African Elephant
Blue Whale

*

Chimpanzie
Gibbon
34. Real is the currency of
Saudi Arabia
South Africa
Russia
Brazil

*
35. Titanic Ship belonged to which country?
US
UK

*

France
Canada
 
36. The only bird which can fly backwards is –
Albatross
Hummingbird

*

Seagull
Eagle
37. Who was the father of Subhash Chandra Bose?
Janakinath Bose

*

Devendra Nath Bose
Ram Nath Bose
S.N. Bose
About Railway Recruitment Board (RRB)
Railway Recruitment Board is an organisation of Government of India, which works for the appointment of new employees to work in Indian railways. Railway Recruitment boards have several boards working for the appointment new employees and they are situated in different parts of India. There are 21 RRB's and they are RRB Ahemadabad, RRB Ajmer, RRB Allahabad, RRB Banglore, RRB Bhopal, RRB Bhubaneswar, RRB Bilaspur, RRB Chandigarh, RRB Chennai, RRB Gorakhpur, RRB Guwahati, RRB Jammu and Kashmir, RRB Kolkata, RRB Malda, RRB Mumbai, RRB Muzaffarpur, RRB Patna, RRB Ranchi, RRB Secunderabad, RRB Siliguri and RRB Thiruvantha-puram.