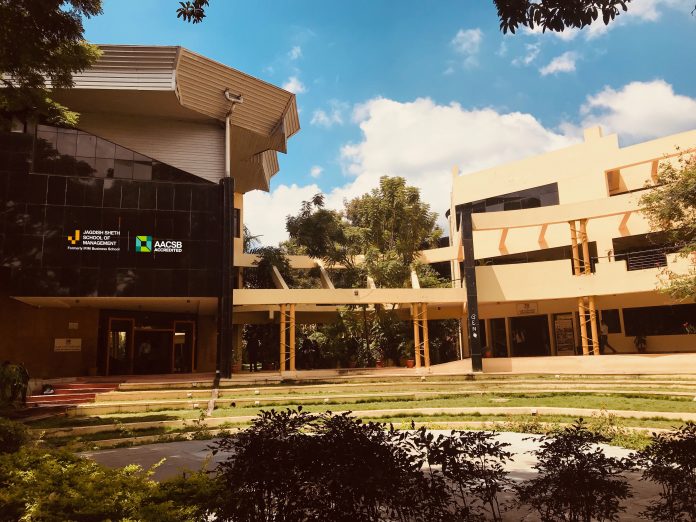 Bengaluru, December 28, 2020: Jagdish Sheth School of Management (JAGSOM, formerly IFIM Business School), the sixth school to be accredited by AACSB in India, has successfully completed the campus placements of Post Graduate Diploma Programme (PGDM), securing 100% placements for its graduating batch of May 2021.
2020 has been phenomenal for JAGSOM. The Institute, which is celebrating its Silver Jubilee, made its debut in the QS World University rankings figuring in the 51+ band in the Specialized Masters in Marketing and 101+ band in Finance Masters Program. Conducted virtually, more than 70 companies recruited from the campus this year. The year witnessed an increased participation from both marquee and a sizeable number of new recruiters, primarily comprising the new age companies. Maintaining its pole position when it comes to new age companies, JAGSOM witnessed a variety of new age roles like product management for AI enabled human resource engagement software, Fintech applications, Digital HR, Martech to name a few.
Besides the marquee logos like Oracle, KPMG, Grant Thornton, Dell, HDFC, BNY Mellon, E&Y, Hexaware that came for recruitment this year; JAGSOM has emerged as a preferred destination for the new age companies, like Numly, OSG, Arcesium, NoPaperForm, Cuemath, Jaro, MetricStream, Scaler, SmartKnower many of whom are headquartered in the US. The highest package on offer was INR 1.6 Million per annum, with an average salary of more than INR 1 Million per annum. Similarly, the average internship stipend has been INR 33.50 thousand per month with the highest stipend being INR 133 thousand per month. The institute is engaging an authorized agency to audit the placement report as per the IPRS (Indian Placement Reporting Standards).
Speaking on the occasion, Dr Asit K Barma, Professor-Marketing, and Chairperson, Corporate Relations group observed, "This year's placement highlight is the significant interest shown by the new-age companies in our students. This goes to prove how JAGSOM has leveraged the locational dividend of being in the Silicon Valley of India. We are perhaps one of the first B Schools in the country to introduce a new age curriculum in digital business and getting on board practitioners as faculty to train our students. This year's placement success stands testimony to the relevance of our engagement driven pedagogy and curriculum. Our award-winning programs like Research Incubation, 4 1/2 months long Industry Internship Program; and initiatives like 'Request For Problems', where our students solve real life business problems in corporates, Super Specializations programs in Sales and Services, Martech, Fintech, Digital Transformation, Business Analytics, Capital markets, helped our students to remain the most contemporary in their knowledge and applications. The messianic zeal and efforts of our faculty and leadership made this possible during this tough phase of the year".
CA Priyanka Saraswat, Head of Student Placement Committee commented, "Our super-specialization program sets us apart in the race today. I am a hard core finance professional and never had any orientation to technology. I specialized in both Capital Market and Business Analytics in our super specialisation program. This helped me crack the interview with Arcesium, a sought-after new age Fintech company. Besides, the institute's personality enhancement program helped us to bring out our best."
About Jagdish Sheth School of Management (JAGSOM)
Bangalore and Greater Mumbai
Jagdish Sheth School of Management (formerly IFIM Business School) is amongst the first 6 Business Schools in India to have been awarded the AACSB accreditation. Recently, IFIM Business School, now, Jagdish Sheth School of Management (JAGSOM), has been ranked by QS Masters in Marketing Ranking 2021 amongst the Top 100 such programs (in 51-100 band) in the World for its PGDM (Marketing) program. It has also been ranked in the 101-150 Band Globally in the QS Masters in Finance Rankings for its PGDM (Finance) Program.
Various programs at JAGSOM include (1) PGDM/MBA : 2 Year residential Post Graduate Diploma in Management /MBA with international super-specializations in Martech, Fintech, Big Data Analytics, Digital Transformation & HR (2) SpecX – offering experiential specializations for new age roles: PGDM (Marketing), PGDM (Finance) and PGDM (Business Analytics)  (3) PGDM IB: Dual Degree Pathway Program in association with State University of New York (Albany) and Sydney Business School (UOW) (4) PGDM LFH: A unique learn from home program which brings in the experience of learning from a campus while at home and  (5) BBA  at Vijaybhoomi University, Greater Mumbai, having pathway options with ESCP Europe, ESC Rennes and UOW Australia.
Actively engaged in research and consulting, JAGSOM hosts several Centers of Excellence such as AIM-Parasuraman Centre of Service Excellence. JAGSOM has an elite set of international academic partners including leading institutes such as ESCP-London, Darden School of Business (University of Virginia) and McCombs Business School (University of Texas at Austin).
JAGSOM has four distinct anchors that support its overall educational philosophy:
Grooming T shaped professionals with a unique curriculum aligned to the needs of industry 4.0
A mix of scholars with PhD and experienced practice-oriented best-in-class faculty
Global connects through partnerships with world-renowned business schools offering super-specializations in new-age areas.
Industry connect programs to groom "Beyond Tomorrow" professionals.
For more information, visit www.ifimbschool.com or www.jagsom.com