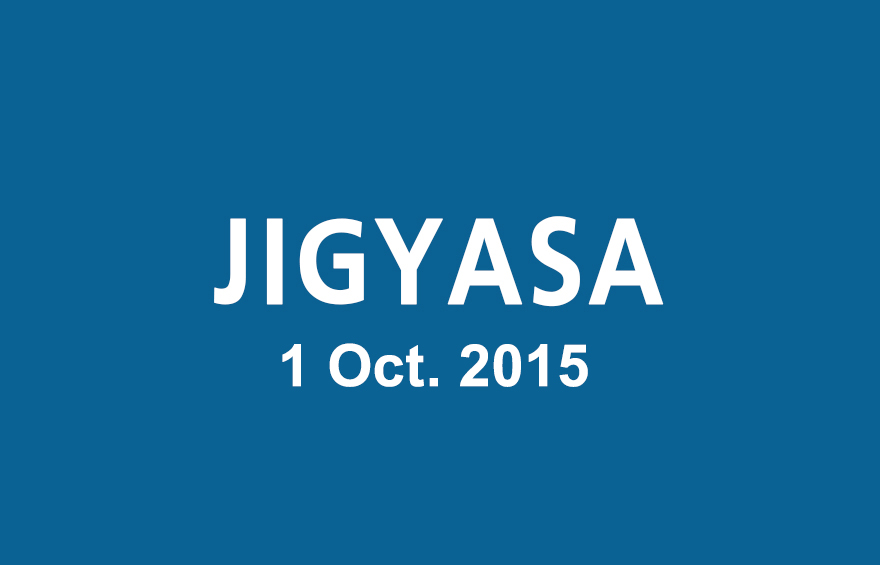 Dear Aspirants,
Here is the Jigyasa: Daily Current Affairs Quiz of Oct. 21, 2015 for you!
Recently in October a IMS Health Skill Development Centre was launched under the aegis of:
1) VAYU
2) UDAAN
3) INDRADHANUSH
4) KARMA
Answer: 2
2.The aim of UDAAN is  empowering the youth of which state with active support and assistance from central government?
1) Rajasthan
2) Tripura
3) Manipur
4)Jammu & Kashmir
Answer: 4
India-Africa summit is starting on October 26, 2015.It is going to be held in:
1) Jaipur
2) New Delhi
3) Lucknow
4) Chennai
Answer: 2
A single window funding clearance mechanism backed with a Rs 1,000-crore kitty to get Indian technical institutions to conduct original research in areas where the country is heavily dependent on foreign technology is to be launch in November 2015. The name of the mechanism is:
1) IMPLAST
2) IMPRINT
3) EVERLAST
4) RESOLVE IN
Answer: 2
5.The name of the New Prime Minister of Canada is:
1) Stephen Harper
2) Justin Trudeau
3) Pierre Trudeau
4) Marcus Henry Jister
Answer:2
Recently Russia build massive military base in northern Arctic region, The name of this base is:
1) Arctic Trefoil
2) Arctic Juss
3) Arctic Heaven
4) Arctic Tedon
Answer:1
Microsoft nominated Padmasree Warrior to its board. She is associated with:
1) Cisco System
2) Johnson & Johnson
3) Oracle
4) Apple
Answer:1
MUDRA Bank was established as a subsidiary of which among the following?
1) NABARD
2) SIDBI
3) RBI
4) Finance & Agriculture Ministry
Answer: 2
Who among the following is appointed as new All India Council of Sports (AICS) Chief?
1) Matang Singh
2) V.K. Malhotra
3) Menakshi Lekhi
4) Brij Bhushan Saran Singh
Answer: 2
10.Who among the following is appointed as new Lokayukta of Delhi?
1) Reva Khetrapal
2) Shanti Bhatnagar
3) Amrita Shahni
4) Reema Distri
Answer:1
 Happy reading!!
TEAM CL