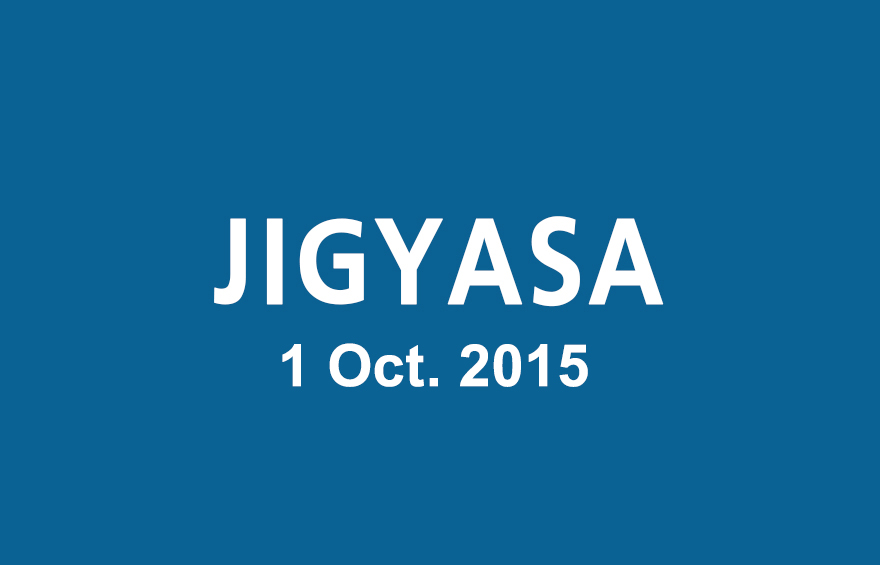 Dear Aspirants ,
Here is the Jigyasa: Daily Current Affairs of Oct.20, 2015 for you!
United States and Spain agreed to clean up land contaminated by radiation from undetonated nuclear bombs that accidentally fell on a site in Spain in 1966. Name the site.
Alcanar
Nevada
Palomares
Grupo Zeta
Answer: 3
The Reserve Bank of India on 19th October, 2015 has signed an information sharing pact with the Central Bank of one of the following Banks on Supervisory Cooperation and Exchange of Supervisory Information. Identify the country from the given options.
UAE
Malaysia
Singapore
China
Answer: 1
Name the multinational technology company which has been ordered by a U.S. jury on 16th October, 2015 to pay the University of Wisconsin-Madison's patent licensing arm more than $234 million in damages for incorporating its microchip technology into some of the company's iPhones and iPads without permission.
Intel
Apple Inc
Microsoft
Hewlett-Packard
Answer: 2
Prime Minister Narendra Modi Inaugrated the IDFC Bank in New Delhi on 19th October, 2015. Its Head Quarter is located at…
Delhi
Kolkata
Mumbai
Chennai
Answer: 3
Who is the Present Managing Director & CEO of the IDFC Bank Launched in October, 2015?
Deepak Parakh
Praveen Kumar
Rajiv B. Lall
Amitabh Chaudhry
Answer: 3
Name the US-based Consulting firm acquired by Global software major Infosys for $70 million (Rs. 454 crores) on 19th October, 2015.
InvaGen and Exelan
Noah Consulting firm
Marsh & McLennan
None of the above
Answer: 2
Name the Kerala Based Company that has developed the Chillr application?
Lekha Wireless Solutions
Integrated Wireless Solutions
Mobme Wireless solutions
Unitelworks Wireless Solutions
Answer: 3
Name the Indian Tennis Player who has clinched the Vietnam Open trophy, single title in October, 2015?
Saketh Myneni
Rohan Bopanna
Somdev Devvarman
Ramanathan Krishnan
Answer: 1
Name the bank which has become the second bank after HDFC to join Chillr mobile application?
IDFC
Canara Bank
Bank of India
Bank of Baroda
Answer: 4
Who among the following is the present chairperson of National commission for Women?
Mamta Sharma
Lalita Devi
Durga Shanti
Lalitha Kumaramangalam
Answer: 4
Happy reading!!
TEAM CL