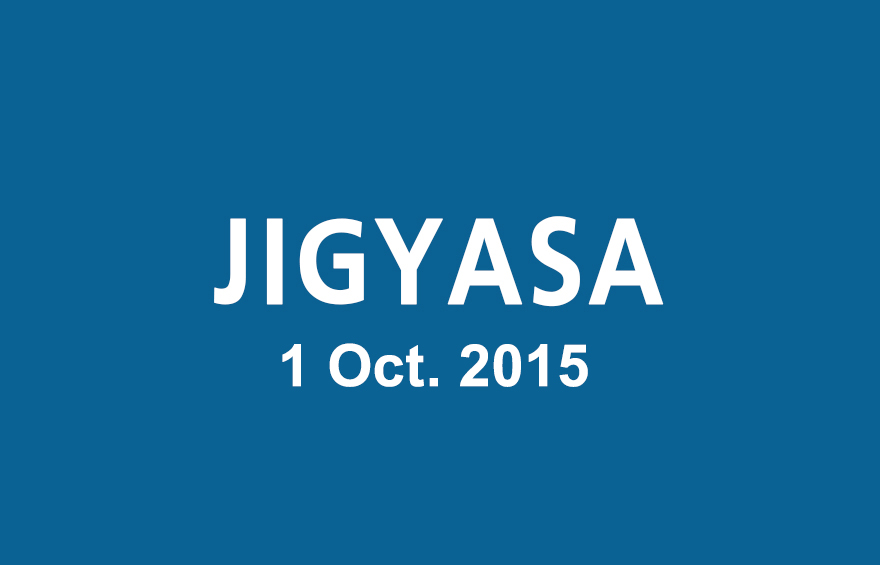 Dear Aspirants,
Here is the the Jigyasa: Daily Current Affairs of Oct.22 , 2015 for you!
With which of the following countries United Kingdom has signed deal in October, 2015 to build the United Kingdom's first nuclear power plant since the 1980?
Answer: 1
Who among the following has been appointed as the Chief Marketing Officer of Flipkart in October, 2015?
Aditya Agarwal
Samardeep Subandh
Sachin Bansal
Sujeet Kumar
Answer: 2
Who is the author of the book "Dreaming Big: My Journey to Connect India"?
Rajiv Gandhi
Maneka Gandhi
Sam Pitroda
Nayudu
Answer: 3
Which of the following Indian Cities has been ranked 11th among the best value destinations in the world in October, 2015?
Delhi
Mumbai
Bengaluru
Chennai
Answer: 2
Which of the following banks inks partnership with Snapdeal and Blue Dart in October, 2015?
Yes Bank
IDFC Bank
HDFC Bank
Dena Bank
Answer: 1
Which of the following Countries is going to launch six Singapore-made satellites in December, 2015?
Answer: 1
According to a Grant Thornton's International Business Report India has been ranked … Position on global business optimism Index in the July-September quarter.
Answer: 2
Name the China's first high-resolution stereo mapping satellite for civilian use, which has sent back visual data covering 69.45 million square kilometres of the globe in October, 2015.
CZ-3B(A)
Ziyuan III
Kaituozhe-2
Kaituozhe-1
Answer: 2
With an aim at encouraging people to use public transport, the First car-free day was celebrated in Delhi on…., 2015?
20th October
21st October
22nd October
23rd October
Answer: 3
Name the First Indian professional tennis player to enter top-100 of ATP (Association of Tennis Professionals) rankings in October, 2015, since 2010.
Akhtar Ali
Yuki Bhambri
Vijay Amritraj
Prakash Amritraj
Answer: 2
Happy reading !!
TEAM CL