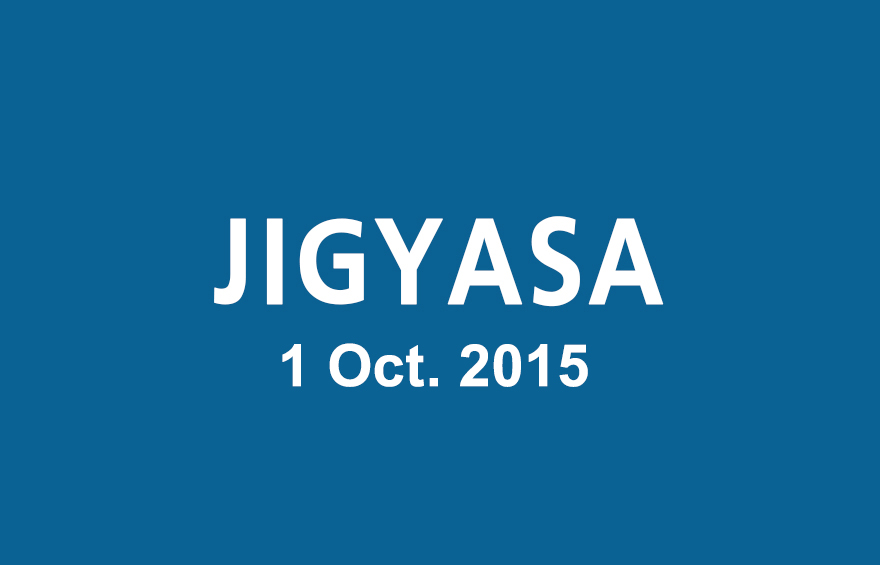 Dear Aspirants,
Here is the JIGYASA: Daily Current Affairs Quiz of November 29, 2015 for you!!
Fortis Healthcare announced on 26th November, 2015 that it has set out to purchase one of the following companies for $ 14.9 million through a share purchase agreement. Identify the company from the given options.
Max Healthcare
Apollo Hospitals
Saket Medicare & Research Center
Religare Health Trust Trustee Manager
Answer: 4
Name the first non-Congress chief minister of Madhya Pradesh to complete 10 years in office.
Uma Bharti
Babulal Gaur
Digvijaya Singh
Shivraj Singh Chouhan
Answer: 4
Who among the following has been elected as the first ever female Secretary General of the Commonwealth CHOGM 2015?
Bernard Membe
Angelo Farrugia
Patricia Scotland
Masire-Mwamba
Answer: 3
Who among the following has won women's singles title the Macau Open Grand Prix Gold on 29th November, 2015?
Sun Yu
P V Sindhu
Wang Yihan
Minatsu Mitani
Answer: 2
Name the, the Indian-American billionaire philanthropist who in November, 2015, has unveiled a stationary bicycle that can generate electricity.
John Kapoor
Manoj Bhargava
Romesh Wadhwani
Kavitark Ram Shriram
Answer: 2
Name the West Indies cricketer who has been suspended from international cricket after his bowling action was found 'illegal' by the International Cricket Council (ICC) on 29th November, 2015.
Chris Gayle
Sunil Narine
Jason Holder
Dwayne Bravo
Answer: 2
Name the only Indian bank to be featured in the top 100 brands conducted by Nielsen survey in November, 2015.
State Bank of India
Union Bank of India
United Bank of India
Punjab National Bank
Answer: 1
Who among the following has been elected as Vice-President of the Paris-based International Fertilizer Industry Association (IFA) for two years?
Borgas
Ahmed
Kapil Mehan
Rakesh Kapur
Answer: 4
The International Day of Solidarity with the Palestinian People is observed on…
11th November
25th November
29th November
30th November
Answer: 3
Which of the following countries will host the Commonwealth Heads of Government Meeting (CHOGM) in 2018?
Answer: 4
Happy reading!
TEAM CL