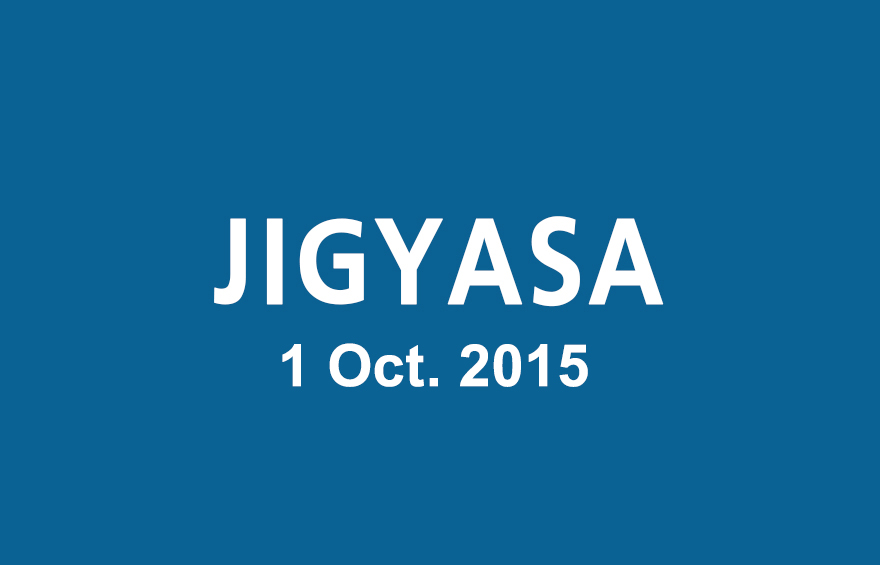 Dear Aspirants ,
Here is the JIGYASA: Daily Current Affairs Quiz of November 28, 2015Â  for you!!
Who among the following former athlete has been appointed as the president of the Kerala State Sports Council (KSSC)?
1) PT Usha
2) Anju Bobby George
3) Poornima Kumari
4) Rahi Nammgarhi
Answer: 2
In November 2015 which state government of India has planned to build up a replica of Eiffel Tower?
1) Uttar Pradesh
2) West Bengal
3) Karnataka
4) Gujarat
Answer: 2
Who has been elected life-time chief of Hurriyat faction of Jammu & Kashmir?
1) Syed Ali Shah Geelani
2) Yasir Shah
3) Raheel Khan
4) Mir Waiz Ashraf
Answer: 1
Recently the Indian Government has planned to close down two more sick state-owned companies. Which one is among the following is included in it?
1) TCIL
2) Bharat Bhari Udyog Nigam
3) Creda HPCL Biofuel
4) Hindustan Antibiotics
Answer:1
According to International Energy Agency (IEA) which country is to be the largest contributor of energy to the global demand by year 2040?
1) China
2) Japan
3) USA
4) India
Answer: 4
Which International bank has planned to wind up private banking business in India in 2016?
1) HSBC
2) Abu Dhabi Commercial Bank Ltd.
3) Royal Bank of Scotland
4) Deutsche Bank
Answer: 1
Which country has decided to fund Ahmedabad metro rail project in November 2015?
1) China
2) South Korea
3) Vietnam
4) Japan
Answer: 4
Recently which country has decided to build the world's first salt lake data center to serve domestic resource planning and provide technical support to other countries?
1) Japan
2) USA
3) Russia
4) China
Answer: 4
Which of the following days will be celebrated as Constitution Day in India now?
1) 5th November
2) 7th November
3) 11th November
4) 26th November
Answer:4
Recently Chief Minister of West Bengal Mamata Banerjee announced that the Sundarbans region would become a separate district by year:
1) 2016
2) 2017
3) 2018
4) 2019
Answer: 1
Happy reading!
TEAM CL