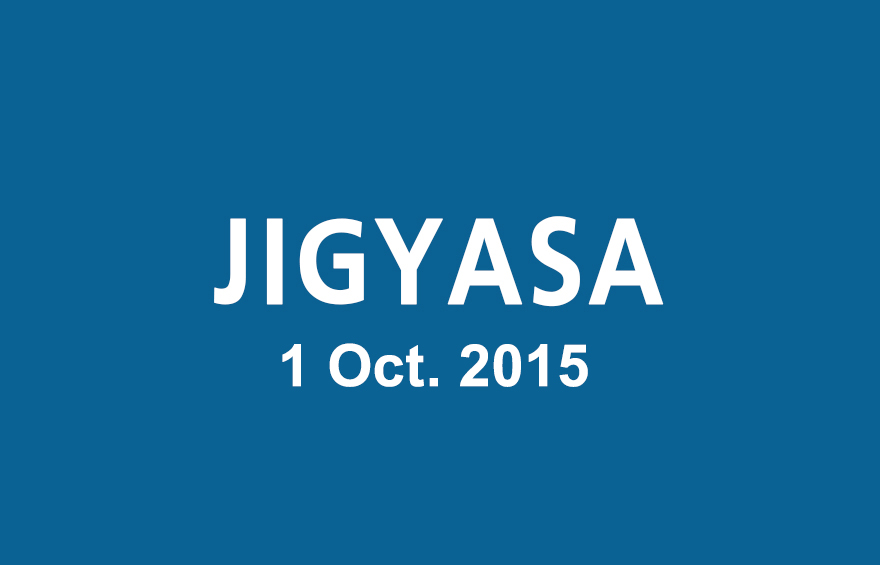 Dear Aspirants,
Here is the JIGYASA: Daily Current Affairs Quiz of December 27, 2015 for you!!
1.Prime Minister Narendra Modi inaugurated the parliament building of one of the following countries on 25th December, 2015 that was constructed by India at a cost of USD 90 million. identify it from the given options.
Iraq
Russia
Pakistan
Afghanistan
Answer: 4
Which of the following IT entity launched its mobile wallet called 'MoboMoney' in December 2015?
Wipro
Infosys
Tech Mahindra Ltd
Tata Consultancy Services
Answer: 3
Union Minister for Health & Family Welfare launched the AIIMS OPD Transformation Project which envisages the use of IT to provide ease to patients and citizens while accessing services at AIIMS. This is being supported by the one of the following Indian multinational information technology company as part of their CSR initiative. Identify it from the given options.
Wipro
Infosys
Tech Mahindra Ltd
Tata Consultancy Services
Answer: 4
Name the umbrella scheme initiated by the government in December, 2015 which aimed at boosting annual growth in the fisheries sector to six-eight per cent in the 12 Five-Year Plan against four per cent in the 11th Plan with an out lay of Rs. 3,000 Crore.
Jal Kranti
Blue Revolution
Green Revolution
Marine Revolution
Answer: 2
Name the vaccine produced by French pharmaceutical company Sanofi Pasteur and approved by WHO in December, 2015, which could be extremely effective at addressing the rampant spread of dengue in tropical countries.
Dengvaxia
Dengue Immune
Dengue vaccination
Dengue Immunization
Answer: 1
Which of the following state government has passed Metro Rail project's proposal in December, 2015 with an estimated cost of Rs. 14,000 crore?
Bihar
Kerala
Rajasthan
Telangana
Answer: 1
The head of the United Nations Office for Disaster Risk Reduction on 23rd December, 2015 welcomed the resolution adopted by the General Assembly recognizing …. as World Tsunami Awareness Day.
5th November
5th December
10th November
10th December
Answer: 1
Name the Indian-origin software engineer who has won a prestigious award in the UK in December, 2015 for creating an innovative electronic smart key system which enables the creation and management of keys and locks that cannot be copied or picked.
Vijay K. Dhir
Jamshed Bharucha
Kumble R. Subbaswamy
Nandagopal Lakshminarayanan
Answer: 4
Good Governance Day is observed on the birth anniversary of former Prime Minister Atal Bihari Vajpayee on …
25th November
25th December
28th November
28th December
Answer: 2
Which of the foreign universities has announced the opening of a centre in Mumbai?
Oxford University
Harvard University
Alberta University
London School of Business
Answer: 2
Happy learning!
TEAM CL