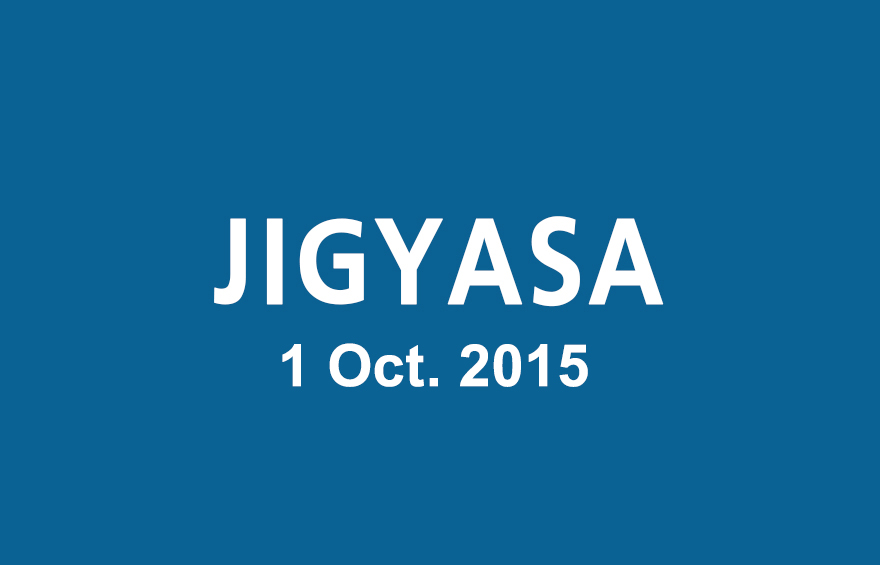 Dear Aspirants,
Here is the JIGYASA: Daily Current Affairs Quiz of December 28, 2015 for you!!
In which of the following state a Three-day National Veda Convention and Vedic Conference begins on 28th December, 2015?
Kerala
Odisha
Telangana
Maharashtra
Answer: 3
Name the country where thousands of people forced to flee their homes hit by unprecedented floods in December, 2015.
USA
Spain
Russia
United Kingdom
Answer: 4
Which of the following counties have reached a historic deal in December, 2015 to settle the issue of comfort women, forced to work in Japanese brothels during World War Two?

Japan and China
Japan and USA
Japan and India
Japan and South Korea
Answer:4
Which of the following countries has adopted its first counter-terrorism law that grants overarching powers to security agencies and allows the military to venture overseas on counter-terror operations in December, 2015?
China
Japan
Russia
France
Answer: 1
Microsoft chief executive officer Satya Nadella on 28th December, 2015 said Microsoft would like to work with India's largest incubator to develop accelerators and startups. Name the India's largest incubator.
T-Hub
TLabs
The Hatch
com
Answer: 1
Which among the following states became the second state to set up Zoroastrian Jury in the country in December 2015 to aid the settlement of marriage and divorce issues?
Kerala
Sikkim
Mizoram
Telangana
Answer: 4
Tata Power Company has entered in a memorandum of understanding with one of the following countries in December, 2015 in an effort to explore and develop investment opportunities in the energy sector. Identify the country from the given options.
France
Russia
Pakistan
Afghanistan
Answer: 2
Name the Indian luger who won a silver medal at the Asian Championship which concluded in Nagano in December, 2015.
Atish Patel
Anand Patel
Shiva Keshavan
Namita keshavan
Answer: 3
With which of the following Indian companies Russia's AlmazAntey entered into a partnership to supply Air Defence Missile Systems for Indian Armed Forces in December, 2015?
Reliance Defence
Tata Motors Defence
Bharat Electronics Limited
Hindustan Aeronautics Limited
Answer: 1
National Consumers Right Day in India is observed on…?
22nd December
24th December
25th December
27th December
Answer: 2
Happy learning!
TEAM CL