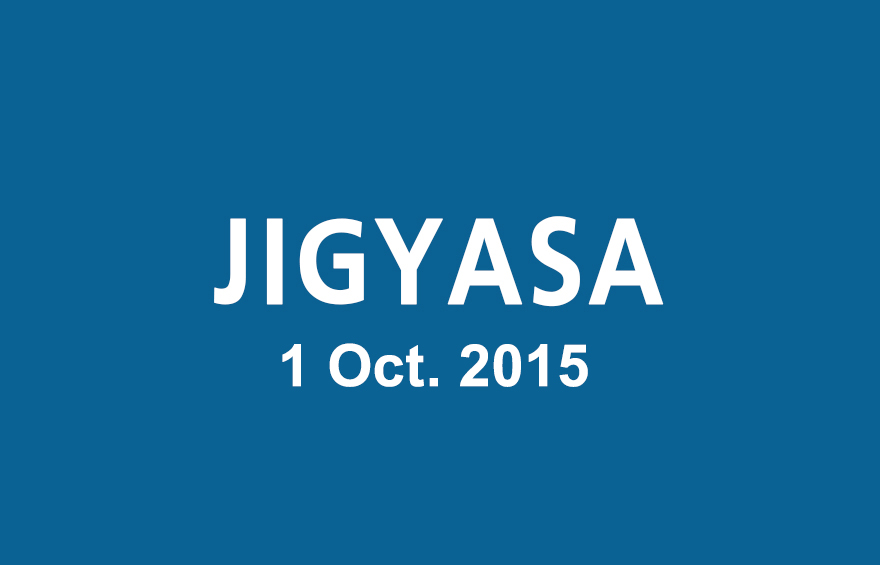 Dear Aspirants,

Here is the JIGYASA: Daily Current Affairs Quiz of December 26, 2015 for you!!

Which of among the following BRICS countries Prime Minister Narendra Modi visited in December 2015?
South Africa
Russia
China
Brazil
Answer: 2
Name the Bollywood icon, who defined elegance and grace for Bollywood and its fans of the 1960s and beyond, died on Christmas Day, 2015 in Mumbai.
Sadhana Shivdasani
Devi Varma
Suchitra Sen
Zohra Sehgal
Answer: 1
Name the SAARC country, which was visited by Prime Minister Narendra Modi on Christmas day,2015.
Nepal
Bhutan
Bangladesh
Pakistan
Answer: 4
4.Good Governance Day is a day of national importance in India observed annually on the twenty-fifth day of December, the birth anniversary of
Jaya Prakash Narayanan
Atal Bihari Vajpayee
Shyam Prasad Mukherjee
Keshav Baliram Hedgewar
Answer: 2
Which among the following countries has asked UN to allocate more resources for responding to emergencies like Ebola and other humanitarian and natural disasters as the world body adopted a budget of $5.4 billion to carry out its vital work during 2016-2017?
UK
Singapore
France
India
Answer: 4
WTO was recently in the news, the headquarter of WTO situated in which among the following countries?
Geneva, Switzerland
Paris, France
New york, USA
London, UK
Answer: 1
Alibaba Group Holding Ltd. has agreed to invest $1.25 billion in which among the following countries online food delivery service Ele.me?
Answer: 3
Which of the following is/are reasons for third straight year of downtrend, gold in India has lost further sheen in 2015 with a fall of over Rs.1,000 per ten grams in its prices?
Extreme volatility in the rupee value
Uncertainty around the long-pending rate hike in the USA
Government's ambitious gold monetisation scheme
All of the above
Answer: 4
Initial public offering (IPO) or stock market launch is a type of
Public offering
Private offering
4P Offering
All of the above
Answer: 1
10. Who among the following famous cricketers was   unanimously nominated by the BCCI for the Lifetime Achievement Award 2015 ?
Sachin Tendulkar
Syed Kirmani
Kapil Dev
Sunil Gavaskar
Answer: 2
Happy learning!
TEAM CL