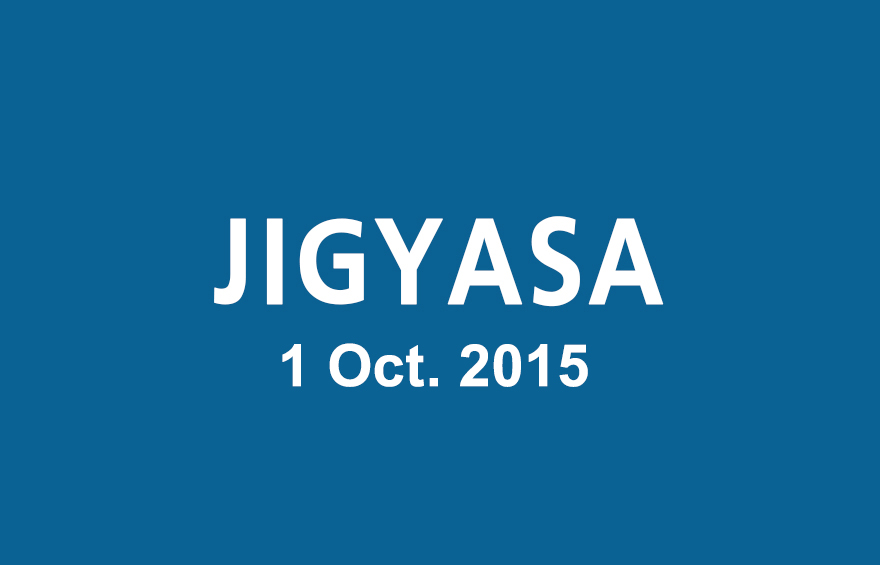 Dear Aspirants, 

Here is the JIGYASA: Daily Current Affairs Quiz of December 25, 2015 for you!!
Which among the following states of India was first to set up Zoroastrian jury?
Telangana
Maharashtra
Uttar Pradesh
Bihar
Answer: 2
In which among following states of India with incidence of yellow rust disease spotted on the wheat crop?
Jharkhand
Madhya Pradesh
Karnataka
Punjab
Answer: 4
 
Name the Indian-American doctor, who has been named the first Poet Laureate by the U.S. State of Ohio for showcasing a variety of styles in his poetry.
Amit Majmudar
Ashok Sinha
Bhanu Prakash
Venkataraman ghosh
Answer: 1
 
Who is the current Prime Minister of Russia?
Vladimir Putin
Igor Shuvalov
Dmitry Medvedev
Sergei Ivanov
Answer: 3
Operation Green Hunt was the name used by the Indian media to describe the "all-out offensive" by government of India's paramilitary forces and the state's forces against
Terrorists
Naxalites
Smugglers
All of the above
Answer: 2
The final of the Indian Crossword League (IXL) 2015 was held in…
Bengaluru
New Delhi
Hyderabad
Bhopal
Answer: 1
 
Name the Indian Olympian cyclist, who passed away following a heart attack in December 2015?
Thomas Jain
Bob Breedlove
Suprabhat Chakrabarty
Peter Khurana
Answer: 3
 
Which among the following North –Eastern states of India does not share its border with Bangladesh?
Tripura
Meghalaya
Mizoram
Nagaland
Answer: 4
Name the Bank, which started "Saral-Rural Housing Loan "for weaker sections in the country?
SBI
ICICI Bank
Bank of Baroda
HDFC Bank
Answer: 2
 
Name the mission, to revamp functioning of Public Sector Banks (PSB's)
Pahal
Muskan
Indradhanush
Dhanush
Answer: 3
Happy learning!
TEAM CL