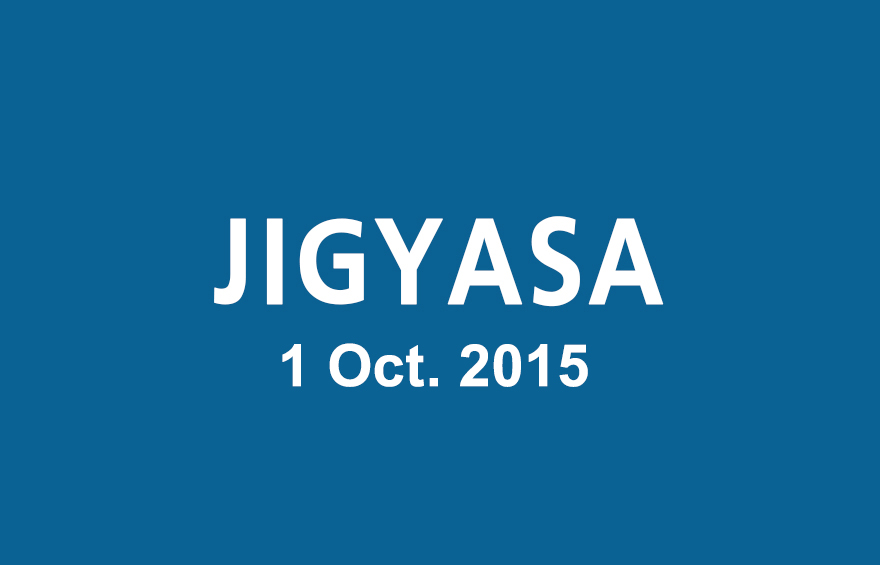 Dear Aspirants,
Here is the JIGYASA: Daily Current Affairs Quiz of December 24, 2015 for you!!

Which among the following mobile apps has been launched by the Agriculture Minister Radha Mohan Singh for farmers in New Delhi on 23rd December, 2015?
e-kishan
Crop Insurance
AgriMarket Mobile
Both B and C
Answer: 4
Defence Minister Manohar Parrikar will dedicate to the nation, the first cable-stayed bridge of North India in December, 2015. It will be constructed in…
Punjab
New Delhi
Himachal Pradesh
Jammu and Kashmir
Answer: 4
Name the Indian-American tumour scientist, who has won US National Science Medal in December, 2015.
Rakesh Jain
Paul Shrivastava
Manjul Bhargava
Chandrashekhar Khare
Answer: 1
Amazon India unit signs MoU with one of the following organizations in December, 2015 to encourage online growth of small businesses. Identify it from the given options.
National Skill Development Corporation
ICONIC Skill Development Training Centre
Ministry of Micro Small and Medium Enterprises
The National Institute for Entrepreneurship and Small Business Development
Answer: 4
Which among the following Banks has tied up with railway's e-ticketing platform IRCTC to sell rail tickets through its website in December, 2015?
Axis Bank
IDBI Bank
ICICI Bank
HDFC Bank
Answer: 3
Who among the following cricketers has been named Cricketer of the Year for 2015 at the ICC Awards ceremony in Dubai in December, 2015?
Steve Smith
AB de Villiers
Michael Clarke
Josh Hazlewood
Answer: 1
In Badminton, India's men's doubles pair has ended the season on a high by claiming their maiden Grand Prix title in December, 2015. Identify the pair from the given options.
Tarun Kona and Arun Vishnu
Manu Attri and B Sumeeth Reddy
Rupesh Kumar and Sanave Thomas
Pranaav Jerry Chopra and Akshay Dewalkar
Answer: 2
Which of the following formidable pair has been named as Women's Doubles World Champions by the International Tennis Federation (ITF) in December, 2015?
Sania Mirza and Martina Hingis
Martina Hingis and Leander Paes
Bethanie Mattek-Sands and Mike Bryan
Bethanie Mattek-Sands and Lucie Šafářová
Answer: 1
Uttarakhand Governor Krishna Kant Paul on 23rd December, 2015 released a commemorative stamp on renowned Hindi poet….
Tulsidas
Mahadevi Varma
Sumitranandan Pant
Suryakant Tripathi 'Nirala'
Answer: 3
To commemorate the birth anniversary of one of the following great mathematician India celebrates National Mathematics Day on 22nd December 2015. Identify the Mathematician from the given options.
Harish Chandra
Srinivasa Ramanujan
Satyendranath Bose
Calyampudi Radhakrishna Rao
Answer: 2
Happy learning!
TEAM CL