Author: Asish K Bhattacharyya
Distinguished Professor, Shiv Nadar Institution of Eminence Deemed to be University, Delhi NCR (Formerly Shiv Nadar University)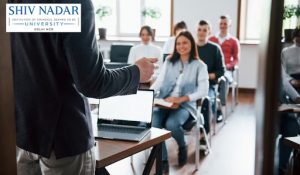 Companies throng on B-school campuses during placement season to recruit management graduates because they find that MBA graduates perform managerial tasks more efficiently and effectively than graduates from other disciplines. Every year, bright young men and women compete to secure admission to their dream B-school. Management education is valuable to society as it trains youth to manage Business that creates wealth making productive use of resources. There is no 'one best way' to manage; it all depends on the situation. The business environment changes fast, leading to changes in business models. To keep management education relevant, B-schools have changed their programme structure and pedagogy to keep pace with the changes in how firms manage their business.
Management is a blend of science, art, and craft. Knowledge of science can be imparted in the classroom. Business simulations, business games and case studies endeavour to provide a holistic view of how business is managed and how managers handled situations they faced in the past in different business environments. Those are valuable techniques for imparting knowledge. But they need to teach the art and craft of management. Therefore, B-schools encourage students to participate in extracurricular activities. Almost all B-schools encourage students to form clubs, organize events, participate in sports etc., to enable students to learn the art and craft of management by managing different situations while working in teams. Summer internship also provides an opportunity for active learning. However, most B-schools focus too much on classroom learning, leaving little time to learn the art and craft of management.
This is high time to reform management education.  The time the students spend in the classroom should be reduced. More time should be allocated to active learning. Analytical skills are essential for entry-level jobs. The growth in a career depends on the emotional quotient – emotional intelligence. Success in a professional career and other social activities depend on the individual's ability to manage his own emotion and understand and manage others' emotion. Too much focus on imparting analytical skills, many of which are likely to become redundant due to technological innovations like AI and IoT, undermines the need to build on emotional intelligence. The structure of management education and the pedagogy need transformation. Management faculty should spend time innovating new courses and appropriate pedagogy to facilitate active learning. B-schools should provide an ecosystem that helps students to sharpen their emotional intelligence through community activities outside the B-school boundary, such as providing solutions to problems faced by neighborhood firms. In SNU (institution of eminence), faculty continuously innovate pedagogy to facilitate active learning.
Companies reduce search costs by recruiting management graduates from B-school campuses. Good B-schools have rigorous processes for selecting candidates for admission to their graduate management programmes like MBA. They sketch the ideal profile of a management graduate and then select those who can be groomed to match that profile.
What should be the profile of an ideal manager managing a twenty-first-century corporation? Twenty-first-century corporations are facing challenges from various sources. Examples are disruptions from geo-political tensions because its supply chain partners, assets and customers are located across the globe; disruptions caused by the emergence of start-ups with new business models and innovative products and services; a significant increase in the climate change risks; huge pressure from investors, vendors, customers and other stakeholders for contributing towards the global sustainability goals; and changing world view, attitude and behaviour of the new generation (millennials and Generation Z) who are both customers and employees. Technological innovations and the availability of massive data throw both opportunities and challenges – improved total productivity associated with cyber security risks and challenges of protecting data privacy. In this environment, only a resilient company survive. Strategy literature says that competitive advantage flows from institutional knowledge and relationship capital and not from efficient and effective use of technology.
A company is as resilient as its managers. Therefore, they need resilient managers who can see disruptions early, manage those and cause disruptions, manage relationships with all stakeholders, hold ethical values in a crisis, and have the motivation and ability to unlearn old skills and learn new skills quickly.
A decade back, B-schools assigned significant weight to the performance in national admission tests like CAT. In the last couple of years, B-schools realized that admission tests are designed to evaluate verbal, analytical and quantitative skills. Those skills are necessary, but more is needed to become a good manager.  Therefore, they have reduced the weight on the admission test performance.  They assign significant importance to performance in personal interaction (PI). The PI assesses a candidate's traits, ability to think clearly and articulate ideas, conviction and commitment to her goals and worldview, curiosity to learn in-depth about important happenings around the globe, and ethical values (like honesty, integrity, and respect for human dignity).
It is not necessary to answer all the questions asked by the panel interacting with you correctly. What is important is that you do not beat around the bush and confess honestly that you do not know the answer to a particular question. If you want to guess, seek permission, and say that you do not know the answer but want to guess. Demonstrate confidence and conviction at every opportunity during the discussion. Panels may raise an issue for which no right or wrong answers exist. You should share your honest views in addressing those issues. A little bit of wit helps.
The best way to prepare for the PI is to revise the fundamental concepts you learned in the UG programme. Those should be in your blood. Take a pencil and paper and write clearly what you want to achieve, your career goals, and why you want to study MBA. You should also write narratives of important incidents shaping your worldview and helped understand your emotional strengths and weaknesses. Writing and revising the same multiple times allow you to understand yourself. Learn current affairs.
A bright future awaits only those who believe they can achieve their goals against all odds.