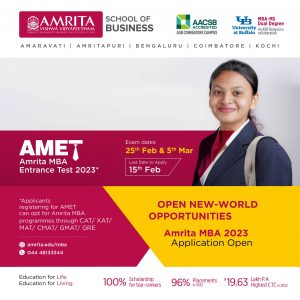 Amrita Vishwa Vidya Peetham will be conducting AMET – Amrita MBA Entrance Test 2023 for admission to MBA programs offered on February 25th and March 5th across 40 plus Indian cities. The computer-based test (CBT) is timed precisely for 150 minutes (two-and-half hours), and the students will be giving their exam in the following sections:
Verbal Reasoning & Language Comprehension
Data Interpretation & Analysis
General Knowledge on Indian & Global Scenarios
Quantitative Aptitude
Each section carries 25 questions bringing the total number of questions to 100. The students will be awarded 3 marks for each correct answer and -1 mark for each incorrect answer.
Clinching a rank in AMET, one of India's prestigious entrance exams means you would be securing a seat in the MBA programs offered at any five Amrita Vishwa Vidyapeetham. These campuses, located in Amaravati (Andhra Pradesh), Amritapuri (Kerala), Bengaluru (Karnataka) and Coimbatore (Tamil Nadu), and Kochi (Kerala), rank top on the list of best B schools in the country.
Established in 1996, Amrita School of Business is one of the top 27 B-Schools in India. ASB is under the canopy of Amrita University, accredited with the highest NAAC Grade of A++ and one among the top 5 Universities in India (NIRF Ranking). The Coimbatore Campus is accredited by The Association to Advance Collegiate Schools of Business (AACSB) and is the 11th school in India to reach the benchmark. AACSB (USA) recognizes the global standards for B Schools and is awarded only the top 5% of business schools worldwide.
At Amrita, the curriculum is crafted to meet the standards of future managers and entrepreneurs, aligning with the fast-changing trends and scenarios in marketing, finance, and HR, helmed by world-class faculty members with rich industry experience and impressive academic backgrounds.
The MBA students during the two-year program at ASB gain critical, analytical insights into the world of Global corporates. The regular and extensive industry interactions with management gurus and business leaders, including Management colloquia, MDPs, Consultancy, and customized company programs, form an integral part of the curriculum.
The Course Work at ASB:
The full-time MBA curriculum consists of core and elective courses. Each calendar year is divided into three standard terms and a summer term. To graduate, students must complete 30 core courses and 10 electives (or 11 based on their CGPA) among the 60 electives offered.
Dual Degree Program:
ASB provides Dual Degree MBA–MS Program at our Bengaluru campus in collaboration with the University at Buffalo (SUNY), New York. It also provides an MBA-MSc program at the Coimbatore campus in collaboration with Télécom École de Management, Paris, France. Student Exchange programs at Groningen, Netherlands (BBM & MBA Students only) TU Munich, School of Management, University of Mannheim – Business Informatics and Mathematics, UNM, New Mexico – the USA, Télécom École de Management, University of Twente, Netherland, Northern Illinois University, Singapore University of Technology & Design, Vrije University Amsterdam, Aalto University.
How To Get a Scholarship?
Amrita Vishwa Vidya Peetham believes in providing all help and guidance to its students. Accordingly, we offer a significant scholarship program to qualifying students up to 100%.
Amrita MBA Entrance Test is a vast platform to avail scholarships and admission into MBA at Amrita University. Meritorious students have an opportunity to help with scholarships up to 100%. Top Meritorious students can benefit from Scholarships from 25% to 100% as per the score in Amrita MET/CAT/MAT/CMAT/XAT/KMAT.
 Campus Placements After MBA At ASB:
With a steady 100% placements over the past years, the footprint of ASB's Alma Mater is traced to top managerial positions – CEOs, VPs, Managements Executives, and Managing Directors in blue chip multinationals like Apple, Google, TCS, Microsoft, Deloitte, PayPal, AOL, Ernst & Young, Jones, Lang LaSalle, to name a few.
ASB continues to leave an indelible mark in the placement drives conducted by some of the best-known MNCs and Indian Corporates. The consistency and quality in placement make the program highly desirable and the most sought-after in the country. Our in-house Corporate & Industry Relations (CIR) team provides the best job opportunities to students in companies worldwide. It also grooms and prepares the students to fit into the best career path.
ASB has long promoted knowledge growth by offering regular coursework, live projects, and case studies in various industry sectors and verticals. The global exposure in our classrooms, interactions, field trips, and hands-on training prepares students to confidently confront the ever-increasing difficulties of today's advanced business world.
 In 2022, the highest CTC of­­ 19.63 LPA, and an average CTC of 10.32 LPA.
The last date is approaching. More details:
http://amrita.edu/mba?utm_source=CL&utm_medium=article
Queries: 044-48133344| mba@amrita.edu