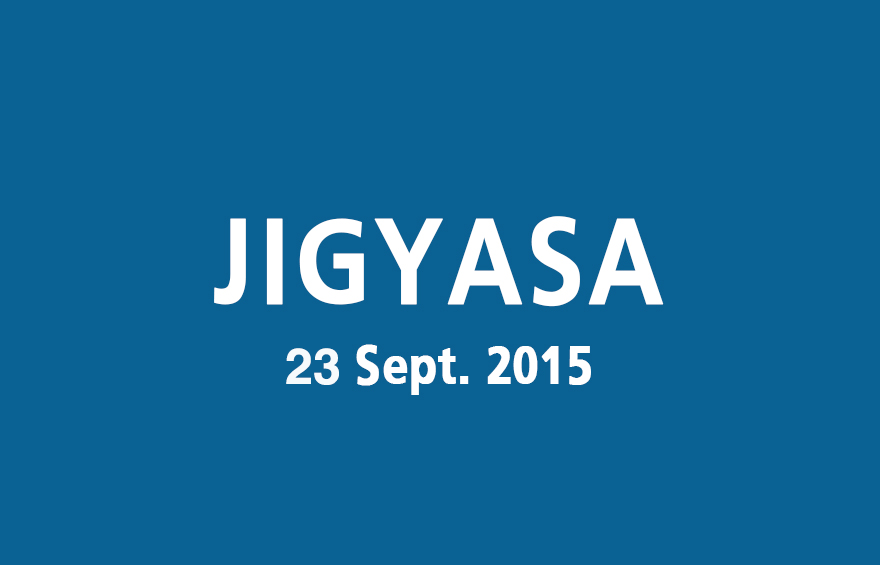 Dear Aspirants,
Here are the answers of the yesterday's quiz.
(4)
(2)
(2)
(3)
We are delighted to increase the number of questions in the quiz from existing 4 to 10!! in our endeavor to serve you better. Hope you would like it.
Here is Jigyasa: Daily Current Affairs Quiz- September 23-2015
Q1.Union Cabinet has cleared multi-billion dollar deal for the purchase of two types of helicopters with the Boeing Co. of the United States on 22 September 2015. Name the types of helicopters.
(a) Comanche and Arapaho
(b)Apache and Chinook
(c)Kellett and Sikorsky
(d)Piasecki and Vertol
Q2.Which among the following has announced the launch of a program in partnership with Udacity to offer Android Nanodegrees in India?
(a) Facebook
(b) Yahoo
(c)Google*
(d) None of the above
Q3.Who among the following has been conferred with prestigious 24th Vyaas Samman founded by K.K. Birla Foundation for 2014?
(a)Dr Kamal Kishore Goenka
(b)MakhanlalChaturvedi
(c)Nawal Kishore Dhawal
(d) Vijay Kumar Roy
Q4.Union Cabinet has cleared setting up of Indian Sign Language Research and Training Centre(ISLRTC) on 22 September, 2015. It will be initially set up at…
(a) Jaipur
(b) Agra
(c) Kolkata
(d) New Delhi
Q5.Who among the following is the present chairperson of the Food Safety and Standards Authority of India (FSSAI)?
(a)HemantShesh
(b)AshishBahuguna
(c) Anil Verma
(d)Ashok Chakradhar
Q6.Who among the following has become the first African-American to win the Best Actress Emmy Award -2015?
(a)Viola Davis
(b)Angela Bassett
(c)Dorothy Dandridge
(d)Pam Grier
Q7.Who among the following has been appointed as the new Managing Director (MD) of US cult bike maker Harley-Davidson of its India operations?
(a) A. M Naik
(b)ShantanuNarayen
(c)Vikram Pawah
(d)Anant Gupta
Q8.Name the two business tycoons, who have been presented with the Global Leadership Award by US India Business Council (USIBC) in September, 2015.
(a)IndraNooyi and ShobhanaBharatia
(b)MukeshAmbani and DilipShanghvi
(c)AzimPremji and Shiv Nadar
(d) Priya Paul and Swati Piramal
 
Q9.Which among the following new Office suite has released by Microsoft Corporation worldwide on 22 September 2015?
(a)Office 2015
(b)Office 2016
(c)Office 2017
(d)Office 2018
Q10.Which among the following IT companies has been awarded the contract worth Rs 1,380 crore for building goods and services tax network (GSTN)?
(a) HCL Technologies
(b)Accel Frontline
(c)Infosys
(d) ITC Infotech
Answer Key
(b)
(c)
(a)
(d)
(b)
(a)
(c)
(a)
(b)
(c)
Happy Reading!!
All The Best !
Team CL