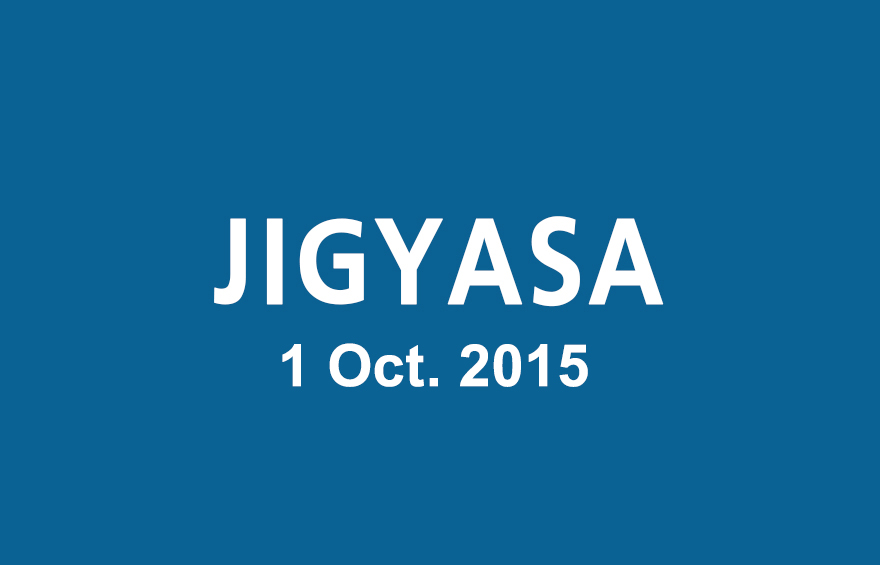 Dear Aspirants,
Here is the JIGYASA: Daily Current Affairs Quiz of November 26, 2015 for you!

First Constitution Day was observed on…
26th January , 1950
26th November, 2015
26th November, 1950
27th November, 2015
Answer: 2
Which of the following states has ratified a bill in November, 2015 that envisages district-level regulatory authorities to fix the prices of food items in hotels?
Odisha
Kerala
Telangana
Maharashtra
Answer: 2
Name the Indian Origin to be appointed as the Prime-Minister of Portugal in November, 2015.
Leo Pinto
Jack Britto
Antonio Costa
Seraphino Antao
Answer: 3
Further broadening its innovative e-catering facility 'Food on Track', IRCTC in November, 2015 has tied up with one of the following online delivery firm enabling consumers to order from a variety of cuisine options. Identify it from the given options.
Dominos
Instacart
Food Panda
AmazonFresh
Answer: 3
Who among the following has been appointed as the new president of Associated Chamber of Commerce and Industry of India (Assocham) on 25th November, 2015?
Sunil Mittal
Rana Kapoor
Sunil Kanoria
Rana Chaudhary
Answer: 3
The Ascendas Group are expanding their existing technology parks in Pune, Bangalore and Hyderabad. The leading IT group is operating in India for the past over 20 years with assets over 1 billion dollars. The Company belongs to…
USA
Japan
China
Singapore
Answer: 4
Country's largest software service firm Tata Consultancy Services (TCS) has partnered with one of the following in November, 2015 to collaborate on smart cities projects in France. Identify it from the given options.
Oracle
BGC Investors
Gfi Informatique
Mannai Corporation
Answer: 3
Which of the following companies has agreed to increase its stake in Reliance Life Insurance (RLIC), part of Reliance Capital of the Anil Ambani group, from the existing 26 per cent to 49 per cent at a cost of Rs 2,265 crore in November, 2015.
HDFC
State Bank of India
Nippon Life Insurance (NLI)
National Stock Exchange of India Ltd
Answer: 3
Sports Authority of India signed MoU with one of the following organization on 24th November, 2015 to establish a SAI Gopichand National Badminton Academy at Gachibowli, Hyderabad. Identify it.
Satellite Badminton Club
JC Badminton Foundation
Badminton World Federation
Pullela Gopichand Badminton Foundation
Answer: 4
Every Year International Day for the Elimination of Violence Against Women (IDEVAW) is observed across the world on…
22th November
23th November
24th November
25th November
Answer: 4
Happy reading!
TEAM CL