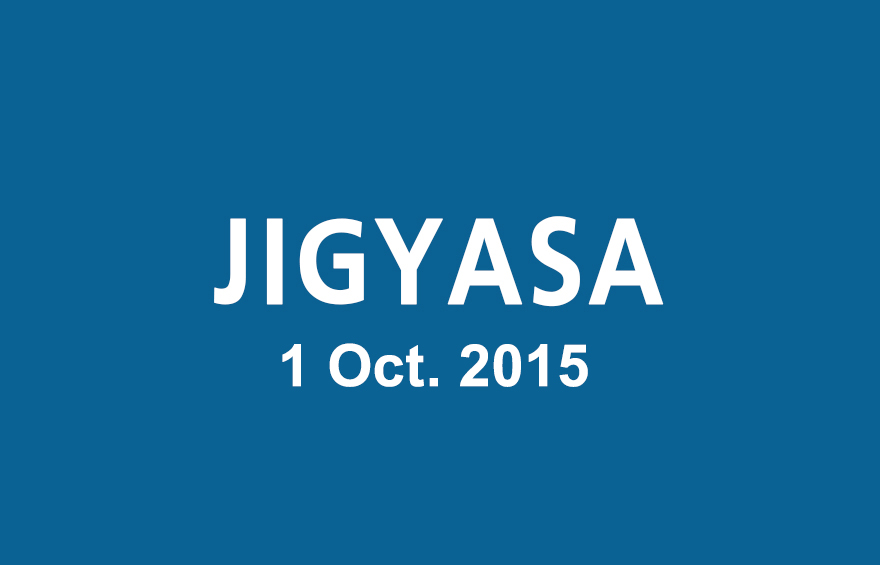 Dear Aspirants ,
Here is the JIGYASA: Daily Current Affairs Quiz of November 27, 2015 for you!
Name the most sophisticated malware that has been identified by leading technical analysis firm iSight Partners on November 25, 2015 and is largely undetectable by current antivirus scans.
Answer: 4
Name the Skill Training project launched by the government of India entailing World Bank assistance worth USD 1 billion to provide skill training to over 5 million people.
Vocational Education training programme
Skill Training for Employment and Livelihood
Vocational Training and Livelihood Providing Partnership
Skill Training for Employability Leveraging Public Private Partnership
Answer: 4
Which of the following countries celebrates its Independence Day on 25th November?
Peru
Suriname
Colombia
Argentina
Answer: 2
Name the online quiz program launched for the Indian Diaspora on 25th November 2015?
Bharat Gyan
Bharat ka Itihas
Bharat Bharman
Bharat Ko Janiye
Answer: 4
Name the Indian sportswoman who has been appointed as chairperson of the Target Olympic Podium Scheme on 24th November 2015?
T. Usha
Mary Kom
Sania Mirza
Anju Bobby George
Answer: 4
Which of the following countries has launched its first dedicated commercial satellite on 23rd November 2015?
Answer: 3
November 26 is celebrated as India's National Milk Day. The day marks the birth anniversary of India's most successful dairy entrepreneur…
L. Agarwal
Rajesh Agarwal
Nagarajan
Varghese Kurien
Answer: 4
8.With which of the following credit card companies, the Swatch Group chief executive Nick Hayek has signed a contract in November, 2015 in connection with the Swiss firm's new watch that enables wearers to make payments?
Visa Inc
Citi Cards
Capital One®
American Express
Answer: 1
Aimed to reduce lengthy proceedings and time taken in litigation, the Income Tax department has activated a PAN-based online system which enables the taxman to access cases in their jurisdiction on a click, amongst a building database of over 5 lakh appeals and 1.50 lakh judgements. The new facility is part of the …
Income Tax Reference System
National Judicial Justice System
National Justice Reference system
National Judicial Reference System
Answer: 2
10 India on 24th November, 2015 successfully test-fired its indigenously developed nuclear capable …..missile, which has a strike range of 350 km, as part of a user trial by the Army.
Prithvi-I
Prithvi-II
Prithvi-III
Prithvi-IV
Answer: 2
Happy reading!
TEAM CL