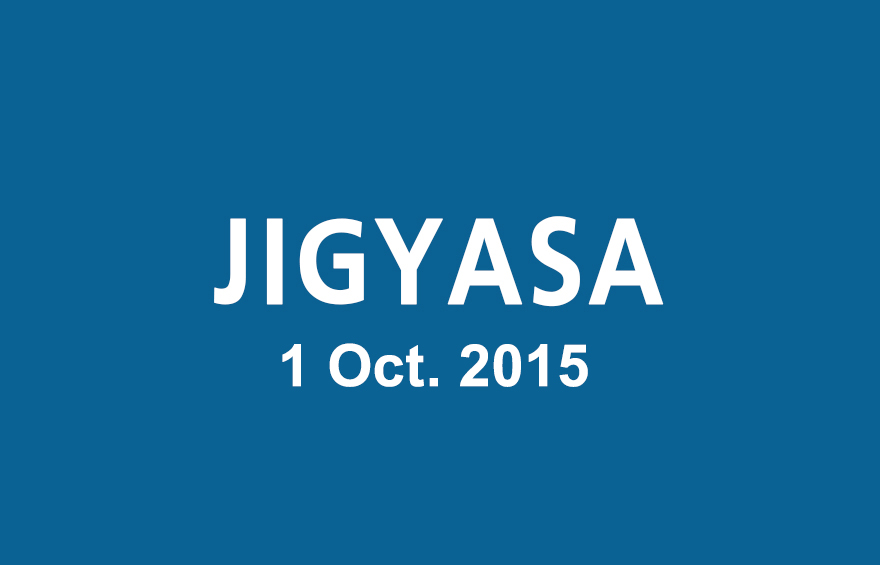 Dear Aspirants,
Here is the JIGYASA: Daily Current Affairs Quiz of January7, 2016 for you!!
Name the Social activist and Magsaysay awardee who has been sacked by the Banaras Hindu University on charges of being a "Naxalite", engaging in "anti-national" activities and screening a banned documentary on the campus in Januaryt, 2016.
C. Tripathi
Rajeev Sangal
Sandeep Pandey
Dhananjay Pandey
Answer: 3
The Union Cabinet on 6th January, 2016 approved the signing of a memorandum of understanding between India and one of the following country on cooperation in the field of civil aviation. Identify the country.
China
Malaysia
Belgium
Singapore
Answer: 4
The Centre has approved an assistance of over …. rupees to three drought-hit states Odisha, Andhra Pradesh and Uttar Pradesh from the National Disaster Relief Fund in January, 2016.
1,550 crore
2,550 crore
3,550 crore
4,550 crore
Answer: 2
United Nations Security Council (UNSC) has agreed to prepare further unspecified measures against one of the following countries after it claimed to have carried out fourth nuclear test on 6th January, 2016.
Japan
Pakistan
North Korea
South Korea
Answer: 3
Name the Jamaat-e-Islami Chief and former Minister who has been upheld the death sentence for war crimes during 1971 Liberation War by the Supreme Court of Bangladesh in January, 2016.
Ayub Khan
Ziaur Rahman
Motiur Rahman Nizami
Syed Ab'ul Ala Maududi
Answer: 3
With which of the following companies KIOCL Ltd (formerly Kudremukh Iron Ore Company Ltd) has signed a memorandum of understanding (MoU) in January, 2016 to develop a joint curriculum for skill development in mining and steel sector under the Centre's 'Skill India' programme.
Quess Corp Ltd
Seo India Solution
Zinavo Technologies
FuGenX Technologies
Answer: 1
Name the Indian shooter who shot 211.2 to set a new world record in women's 10 metre air rifle at Swedish Cup Grand Prix in January, 2016.
Anjali Bhagwat
Apurvi Chandela
Shweta Chaudhary
Shagun Chowdhary
Answer: 2
"Show me the man and I will show you the rule," BJP leader Shatrughan Sinha is quoted as saying in the context of politics within the party in his biography released in January, 2016. Name the biography.
Khamosh
Anything But Khamosh
Life of Shatrughan Sinha
Shatrughan Sinha and politics
Answer: 2
Name the Bollywood superstar who will no longer be the mascot for the government's 'Incredible India' tourism campaign as declared by the McCann Worldwide agency who has hired him for the job in January, 2016.
Aamir Khan
Shahrukh Khan
Amitabh Bachchan
Abhishek Bachchan
Answer: 1
Who among the following has been given the honour of leading Indian Blind cricket team in the Asia Cup T-20 cricket championship to be held in Kochi from January 17 to 24 in a rare honour for a Telugu cricketer in January, 2016?
Naman Ojha
Wriddhiman Saha
Ajay Kumar Reddy
Lakshmipathy Balaji
Answer: 3
Happy learning!
TEAM CL