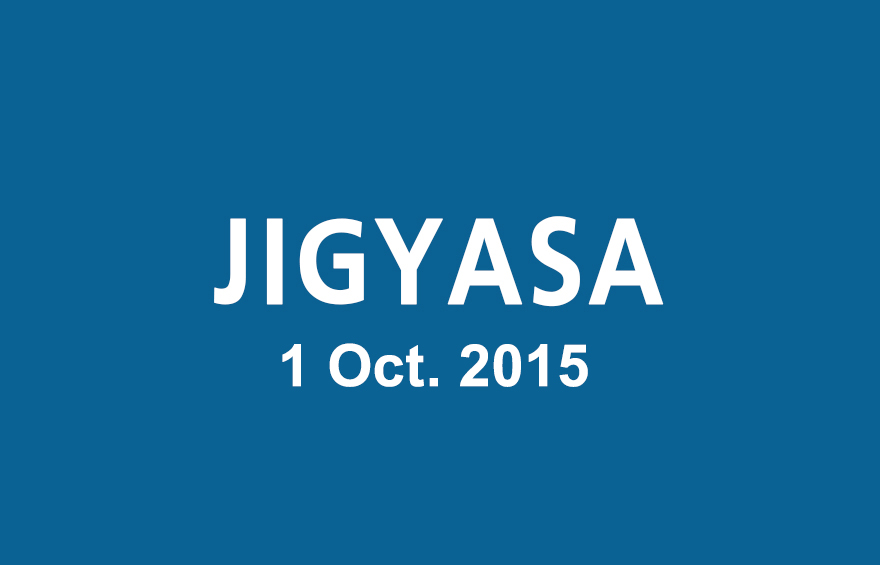 Dear Aspirants ,
Here is the JIGYASA: Daily Current Affairs of January 8, 2016 for you!!
India and France will begin their eight-day counter-terrorism and counter-insurgency joint exercise Shakti-2016 on 8th January, 2016 in…
Haryana
Rajasthan
Telangana
New Delhi
Answer: 2
Centre will set up three state-of-the-art centres in three states to provide special training and support to sportsmen who are differently-abled as declared in January, 2016 by the Government. Identify the state in which state-of-the-art centre will not be set up.
Punjab
Uttar Pradesh
Madhya Pradesh
Andhra Pradesh
Answer: 2
Who among the following has been appointed as Technical Advisor to Odisha government?
Sam Pitroda
Arvind Acharya
Mohan Kumar
Vandana Kumari Jena
Answer: 1
In a first of its kind of initiative, the Union Government on 6th January, 2016 launched a River Information System (RIS) that will facilitate safe and accurate navigation on National Waterway – 1 on….
River Ganga
Barak River
River Godavari
Brahmaputra River
Answer: 1
Who among the following has been appointed as the as the Chairman and Managing Director of the state-run Madras Fertilizers for a five-year term by the Centre?
A B Khare
S. Awasthi
Rakesh Kapur
Ravindra Raju
Answer: 1
The country's largest sugar firm, Bajaj Hindusthan, on 7th January, 2016 has appointed … as nominee director of public lender PNB on its board.
Vipul kumar
Sanjit Kumar
Binod Kumar
Shirish kumar
Answer: 3
The World Bank has projected a robust ….percent growth for the Indian economy in the current year, 2016.
Answer: 3
FINO PayTech has partner with one of the following banks to foray into the payments bank space on 7th January, 2016. Identify it from the given options.
ICICI Bank
State Bank of India
Punjab National Bank
Kotak Mahindra Bank
Answer: 1
Who among the following Actress has won the 'Favourite Actress in a New TV series' award at the People's Choice Awards 2016 in Los Angeles.
Emma Roberts
Priyanka Chopra
Jamie Lee Curtis
Marcia Gay Harden
Answer: 2
Which of the following bollywood actor has been appointed as the new spokesperson of the government's famous Incredible India campaign to market the country to tourists abroad by the government of India in January, 2016.
Aamir Khan
Anupam Kher
Shahrukh Khan
Amitabh Bachchan
Answer: 4
Happy learning!
TEAM CL