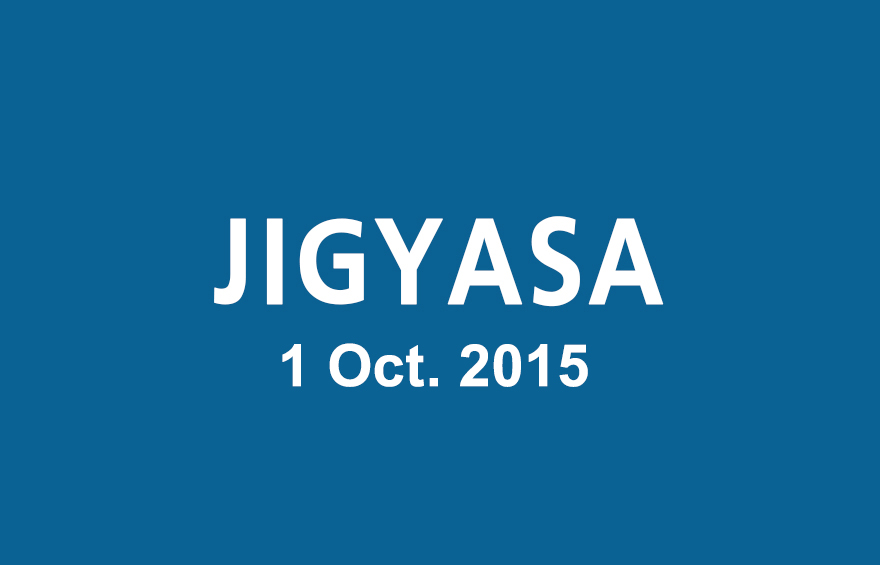 Dear Aspirants,
Here is the JIGYASA: Daily Current Affairs Quiz of January29, 2016 for you!
Which of the following cities has topped in the list of 20 cities that are to be developed into Smart Cities of India as announced by the Minister of Urban Development on 28th January, 2016?
Pune
Chennai
Ahmedabad
Bhubaneswar
Answer:4
"The Turbulent Years – 1980-1996" was released on January 28, 2016, it's a memoir of …
Monika Gnadhi
Manmohan Singh
Pranab Mukherjee
Atal Bihari Vajpayee
Answer:3
To what percent India's voting rights has been increased from the current 2.3 per cent according to a report by International Monetary Fund released on 27th January, 2016?
5 per cent
6 per cent
7 per cent
8 per cent
Answer:2
Who among the following civil servants from Uttar Pradesh became the first to scale the Mount Vinson Massif, the highest peak in Antarctica in January, 2016?
Sandhya
Vimla Mehra
Aparajita Rai
Aparna Kumar
Answer:4
Tourism Minister Mahesh Sharma on 28th January, 2016 released a Rs 150 commemorative coin on the occasion of the 150th birth anniversary of one of the following freedom fighter. Identify it from the given options.
Lala Lajpat Rai
Bipin Chandra Pal
Bal Gangadhar Tilak
Subhas Chandra Bose
Answer:1
Name the lawyer and human rights defender who will be awarded the 8th Human Rights Award by Amnesty International Germany, 2016.
Henri Tiphagne
Triveni Acharya
ichael Fernandes
Rajeev John George
Answer:1
Who among the following filmmakers has been honoured with the V. Shantaram Lifetime Achievement Award as the 14th edition of the Mumbai International Festival on 28th January, 2016?
Puneet Sira
Naresh Bedi
Sudhir Mishra
V. Chandran
Answer:2
How many nations has signed a data-sharing agreement that will see multinational companies' financial reports shared widely, the better to understand their global financial contortions on 28th January, 2016?
Answer:2
India on 28th January, 2016 test fired its indigenously-developed surface-to-air Akash missile as part of a user trial from the Integrated Test Range (ITR) at …
Mainapur
Midnapur
Chandipur
Chandrapur
Answer:3
Any individual will not be able to book more than …online in a month from IRCTC website from his/her user ID implementing from 15th of February, 2016.
Five tickets
Six tickets
Seven tickets
Eight tickets
Answer: 2
Happy learning!
TEAM CL