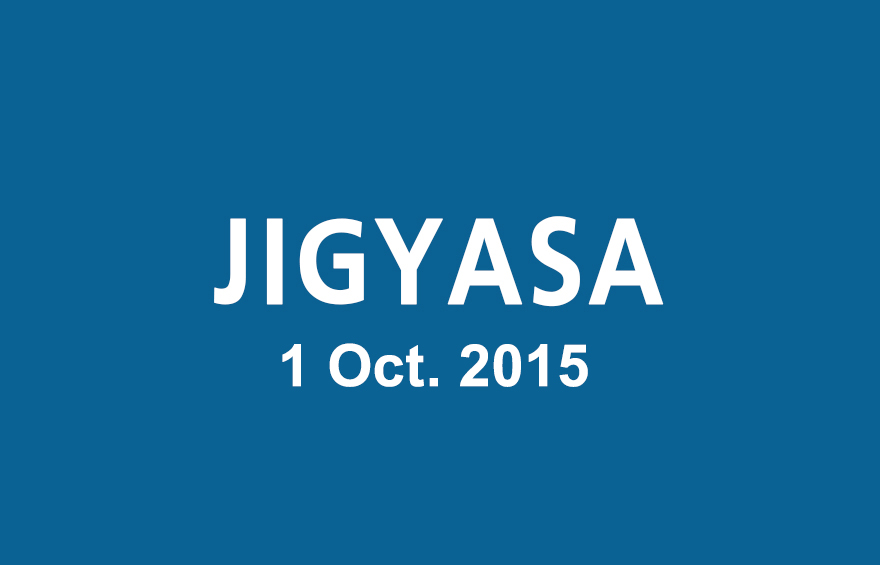 Dear Aspirants,
Here is the JIGYASA: Daily Current Affairs Quiz of January 20, 2016 for you!
For which of the following states Union Government has sanctioned Rs. 33,000 crore for infrastructure projects including construction of Rail-Over-Bridges (ROB), upgradation of state highways into National Highways and major bridges, on 19th January, 2016?
Odisha
Kerala
Tamil Nadu
Andhra Pradesh
Answer: 3
To understand better and possibly predict earthquakes, the Indian Institute of Geomagnetism (IIG) has opened its third regional centre in ….In January, 2016.
Sikkim
Silchar
Shillong
Guwahati
Answer: 3
In an effort to improve ease of doing business and making tax administration non-adversarial, an expert committee has made a slew of recommendations to simplify the Income Tax Act, 1961, in January, 2016, including tax relief for new businesses in the first year of operations, doubling the eligibility for the presumptive income scheme for small businesses and rationalisation of tax deducted at source. Name the Committee.
P. Shah committee
RV Easwar committee
K. Singh committee
K. Bhasin committee
Answer: 2
Which of the following Clean energy firm Ventures on 19th January, 2016 announced the commissioning of 40 MW wind power project in Karnataka.
Lanco
Greenko
ReNew Power
Welspun Energy
Answer: 3
India with one of the following countries on 19th January, 2016 have agreed to strengthen their economic cooperation in infrastructure and financial services as they vowed to address cross-border tax evasion and avoidance. Identify the country from the given options.
Answer: 1
Indian Railway Catering and Tourism Corporation, IRCTC has taken a slew of measures to facilitate hassle-free booking by genuine ticket seekers. Now it will not be possible to book ticket online before … seconds mandatory wait, which will stop faster bookings by touts using certain automated softwares.
15 seconds
30 seconds
35 seconds
60 seconds
Answer: 3
According to the Indian Sugar Mills Association India's sugar production has risen by what percent till 15th January 2016?
Answer: 3
Name the Sahara Force India Academy racer who on 16th January 2016 has won one of New Zealand's most prestigious events, the Lady Wigram Trophy.
Yash Aradhya
Jehan Daruvala
Rahul Raj Mayer
Ameya Vaidyanathan
Answer: 2
The canyon, more than 1000 kilometres' long, 1500 metres deep, and 26.5 kilometres wide at the top, is the largest canyon discovered on earth in Jnauary, 2016. It was has been spotted by the scientists of….
Answer: 4
The Indian Space Research Organization ISRO has successfully launched the fifth satellite of its regional navigation system on 20th January, 2016. Identify it from the given options.
The IRNSS 1A
The IRNSS 1B
The IRNSS 1D
The IRNSS 1E
Answer: 4
Happy learning !
TEAM CL