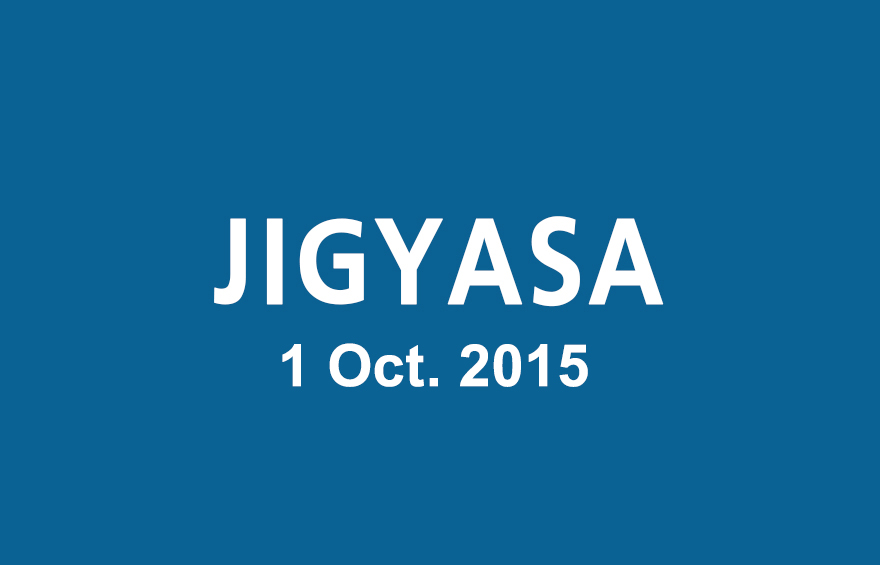 Dear Aspirants ,
Here is the  JIGYASA: Daily Current Affairs Quiz of January 17, 2016 for you!
Which of the following schemes has been released by PM Narendra Modi on 17th January 2016?
Start Up India
Make in India
Digital India
None of the above
Answer: 1
Name the poet, novelist and children's writer who has won The Hindu Prize, 2015, for her novel When the River Sleeps in January, 2016.
Anuradha Roy
Easterine Kire
Amitav Ghosh
Amit Chaudhuri
Answer: 2
The data from the Bengaluru Traffic Police released in January, 2016shows that for two consecutive years, 2014 and 2015, the most number of accidents were recorded on
Sundays
Mondays
Wednesdays
Saturdays
Answer:3
Name one of the convicts in the Rajiv Gandhi assassination case serving a life sentence in Tamil Nadu who has sought to know the grounds for Bollywood actor Sanjay Dutt's premature release from prison in January, 2016.
V Sriharan
T Suthendraraja
G. Perarivalan
None of the above
Answer: 3
Who among the following has won the DSC prize for South Asian Literature 2016 in January, 2016 for the novel Sleeping on Jupiter which deals with violence against women?
Asisa Roy
Aradhya Roy
Anuradha Roy
Arundhati Roy
Answer: 3
Who among the following has won Taiwan's presidential election in January, 2016 after the defeat of the ruling party?
Tsai Ing-wen
Tnai Ink-wen
Ma ying-jeou
Huang Kun-huei
Answer: 1
Which of the following oil companies has/have introduced refill bookings for cooking gas with online payments in Telangana for the past two months as reported in January, 2016.
Indian Oil
Bharat Petroleum
Hindustan Petroleum
All of the above
Answer: 4
Name the China-led Bank which was formally opened for business on 17th January, 2016, signalling the steady revamp of the global financial architecture, which will also soon incorporate the New Development Bank of the Brazil-Russia-India-China-South Africa (BRICS) grouping.
Bank of East Asia
Standard Bank Asia
United Overseas Bank
Asian Infrastructure Investment Bank
Answer: 4
Name the Chairman and CEO of SoftBank who in January, 2016 has said that India may become the world's largest economy in the next 25-30 years.
Nikesh Arora
Ken Miyauchi
Masayoshi Son
Ronald D. Fisher
Answer: 3
President of India Shri Pranab Mukherjee has condoled the passing away Pf. Shri. V. Rama Rao on 17th January, 2016. He was the former Governor of…?
Assam
Sikkim
Nagaland
Meghalaya
Answer: 2
Happy learning!
TEAM CL