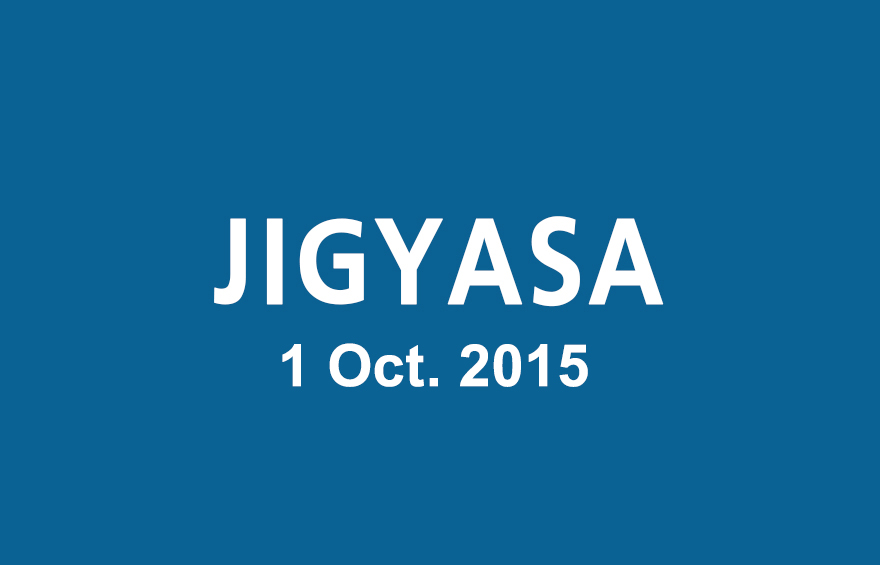 Dear Aspirants ,
Here is the JIGYASA: Daily Current Affairs Quiz of January 18, 2016 for you!
Which of the following banks in January, 2016 has funded the seven million dollars for restoration and development as a world-class international ecological park Indira Gandhi Zoological Park in Visakhapatnam?
UNESCO
World Bank
Asian Development Bank
International Monetary Fund
Answer: 2
Who among the following will participate in World Economic Forum annual summit in Davos to be held from January 20th to 23rd, 2016?
Oommen Chandy
J.JayaLalithaa
K Chandrasekhar Rao
N Chandrababu Naidu
Answer: 4
The Department of Posts (DoP) plans to open …ATMs and bring all 25 thousand departmental post offices under core banking system by March, 2016.
One hundred
Five hundred
Six hundred
One thousand
Answer: 4
Which of the following teams has clinched the Premier Badminton League title, 2016 in January, 2016?
Delhi Acers
Mumbai Rockets
Chennai Smashers
Hyderabad Hunters
Answer: 1
Who among the following Indian runners has/ have been qualified for the Rio Olympics in January.,2 016.
Gopi T
Kheta Ram
Both A and B
None of the Above
Answer: 3
Who among the following is the present Governor of Maharashtra (January, 2016)?
C. Jamir
M. Krishna
Kateekal Sankaranarayanan
Chennamaneni Vidyasagar Rao
Answer: 4
Name the rocket was launched by SpaceX from California's Vandenberg Air Force Base with the Jason-3 ocean monitoring satellite, NASA broadcast on 17th January, 2016.
Falcon 6
Falcon 7
Falcon 8
Falcon 9
Answer: 4
In Himachal Pradesh, nearly one lakh migratory birds have reached in January, 2016 in manmade Lake or Pong Dam, located in Nagrota Surian Sub Division of Kangra District. Identify the lake from the given options.
Suraj Tal
Renuka Lake
Manimahesh Lake
Maharana Pratap Sagar
Answer: 4
Which of the following African countries has launched a project in January, 2016 to build a 300-megawatt (MW) solar power plant and is planning a 60 MW wind farm as part of an initiative to generate all the tiny nation's power from renewables within five years.
Somalia
Djibouti
Comoros
Seychelles
Answer: 2
In which of the following states , the prestigious state-organised theater festival, 'Nandi Natakotsavam' is orgainised in January, 2016?
Kerala
Telangana
Tamilnadu
Andhra Pradesh
Answer: 4
Happy learning!
TEAM CL