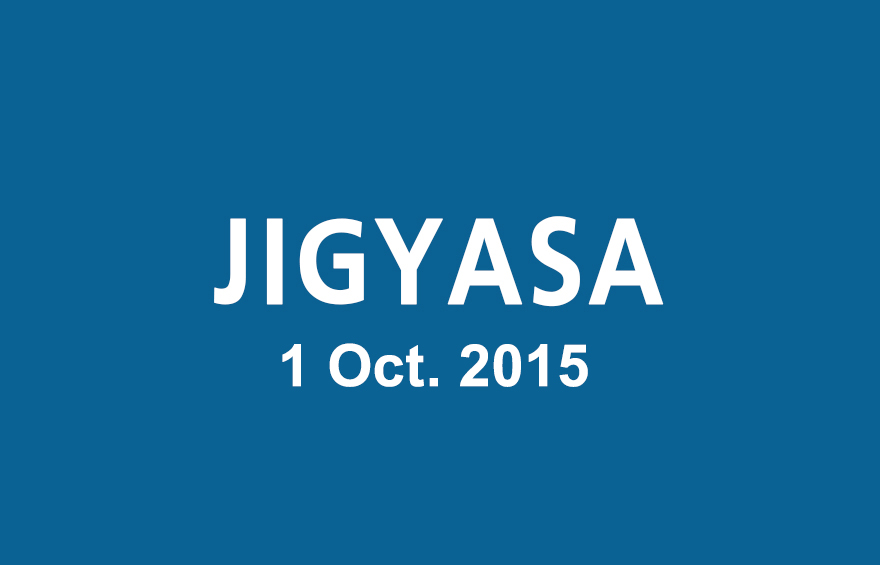 Dear Aspirants,
Here is the JIGYASA: Daily Current Affairs Quiz of February 7, 2016 for you!
Who among the following union ministers recently suggested making pre-natal sex determination compulsory to check female foeticide?
(1) Sushma Swaraj
(2) Uma Bharati
(3) Najma Heptulla
(4) Maneka Gandhi
Answer: 4
According to recent data, published by the Central Pollution Control Board of India, which of the following cities recorded the poorest air quality in December, 2015?
(1) Kanpur
(2) Lucknow
(3) Muzzaffarpur
(4) Varanasi
Answer: 3
Indian Railway Catering and Tourism Corporation has launched 'Bharat Darshan' special packages for travellers from Delhi to:
(1) Arunachal Pradesh
(2) Goa
(3) Jammu and Kashmir
(4) Rajasthan
Answer: 2
The first country to ban supermarkets from throwing away or spoiling perfectly good food is:
(1) France
(2) Germany
(3) Norway
(4) Sweden
Answer: 1
To provide personal accident death coverage to its savings bank account holders which of the following banks recently entered into a memorandum of understanding with Universal Sompo General Insurance Co., Ltd?
(1) Canara Bank
(2) Corporation Bank
(3) Dena Bank
(4) Indian Bank
Answer: 2
Indian Union Minister of Health and Family Welfare recently launched Project Sunrise at Imphal. The project is associated with:
(1) National AIDS Control Programme
(2) National Skill Development Programme
(3) National Poverty Eradication Programme
(4) National Health Programme
Answer: 1
Vishal Mehta, an Indian-origin person, has been appointed as the president of the newly-formed International Grown Diamond Association. He is based in:
(1) Canada
(2) Australia
(3) Singapore
(4) Netherlands
Answer: 3
Which of the following institutes has become India's first fully solar-powered educational institute?
(1) Indian Institute of Technology, Kharagpur
(2) Indian Institute of Science, Bangalore
(3) Tata Institute of Social Science, Mumbai
(4) Sri Aurobindo International Centre for Education, Puducherry
Answer: 4
Gururaja won gold medal in 12th South Asian Games. He is associated with:
(1) Discuss throw
(2) 100m race
(3) Gymnastic
(4) Weightlifting
Answer: 4
Sudhir Tailang recently passed away. He was a:
(1) Cartoonist
(2) Politician
(3) Musician
(4) Scientist
Answer: 1
Happy learning!
TEAM CL