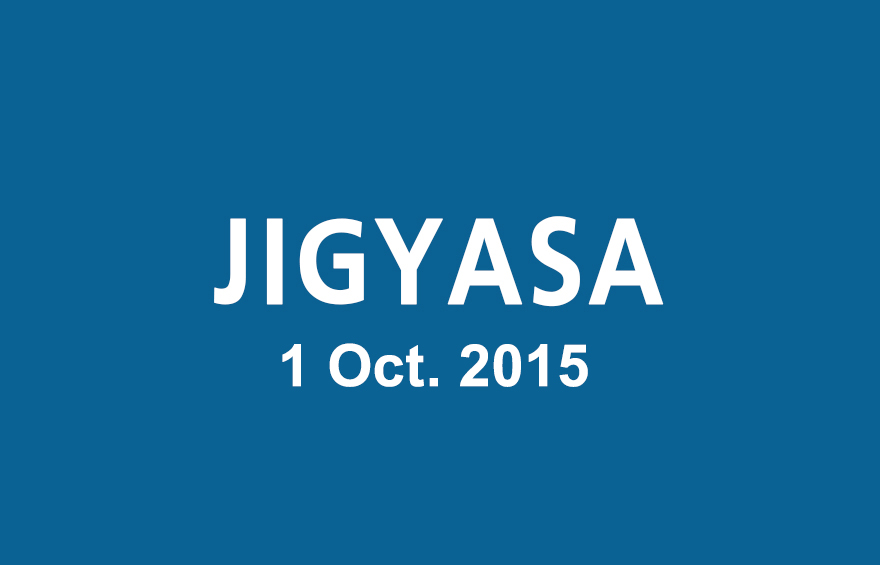 Dear Aspirants,
Here is the JIGYASA: Daily Current Affairs Quiz of February 13, 2016 for you!
Name the Indian-origin lawyer in Singapore who has been named as vice-chairman of the Paris-based International Chamber of Commerce Commission, a private sector world business organisation with a central role in global trade and commerce in February, 2016?
Davinder Singh
Dhirendra Singh
Dhananjay Singh
Dharmendra Singh
Answer:1
of the Indian states has won gold at the m-governance awards at the fourth World Government Summit in Dubai on 10th February, 2016 for its flagship mobile-one governance project? identify the state from the given options.
Kerala
Karnataka
Telangana
Andhra Pradesh
Answer:2
Who among the following has been appointed as the Director of Indian Institute of Millets Research (IIMR), Rajendranagar in February, 2016?
S S Rao
C V Ratnavathi
Vilas A. Tonapi
T G Nageshwara Rao
Answer:3
Which of the following countires has ranked first in the U.S. Chamber of Commerce-International Intellectual Property Index released on 10th February, 2016?
Answer:1
Who among the following has been appointed as the chairman of The Energy and Resources Institute (TERI) in February, 2016?
RK Chawla
RK Pachauri
Ashok Chawla
Ashok Pachauri
Answer:2
The Supreme Court on 12th February,2016 directed Karnataka, Maharashtra, Andhra Pradesh and other states and Union Territories (UT) to implement strictly the Centre's advisory to check "undesired and unhealthy" practice of …
Shechita
Tantrism
Santhara
Devadasis
Answer:4
Who among the following film producer has been chosen for the Dr. Rajkumar award for 2014 as announced on 12th February, 2016?
Sanchari Vijay
Puttanna Kanagal
Basant Kumar Patil
Lakshmi Gopalaswamy
Answer:3
Name the Indian-origin scientist who in February, 2016 has developed a smart chip that can be paired with neural implants for efficient wireless transmission of brain signals — thus alleviating the debilitating symptoms of Parkinson's disease or giving paraplegic people the ability to move prosthetic limbs.
Arnab Ghosh
Arindam Basu
Anirban Basu
Anirudha Ghosh
Answer:2
Name the Pakistani umpire who was on 12th February, 2016 banned for five years by the BCCI after its disciplinary committee found him guilty of corrupt practices and bringing the game into disrepute.
Aleem Dar
Asad Rauf
Ahsan Raza
Shakoor Rana
Answer:2
World Radio Day is observed every year on…
11th February
12th February
13th February
14th February
Answer: 3
Happy learning!
TEAM CL