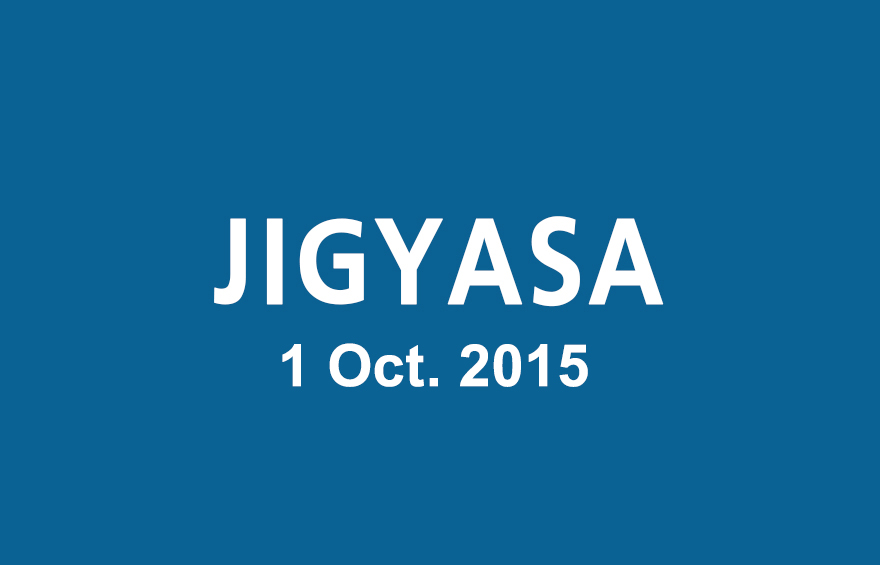 Dear Aspirants,
Here is the JIGYASA: Daily Current Affairs Quiz of December 8, 2015 for you!!
1.In how many rivers have been identified based on bio-chemical oxygen demand levels, a key indicator of organic pollution in India?
1) 106
2) 178
3) 275
4) 367
Answer:3
In December 2015, Environment Minister of India informed that 347 new plant species and 424 new animal species have been discovered during the year 2013-2014. Who is the Present Environment Minister of India?
1) Rajiv Pratap Rudi
2) Rao Virendra Singh
3) Dr. Harshavardhan
4) Prakash Javadekar
Answer:4
Which Indian state government has decided to conduct 'appathon' to use mobile tech for better governance in December 2015?
1) Kerala
2) Tamil Nadu
3) Karnataka
4) Andhra Pradesh
Answer:3
Recently the Indian Government has undertaken a pilot project on aquifer mapping in parts of five states. Which among the following states is not included in the list?
1) Bihar
2) Maharashtra
3) Karnataka
4) Uttar Pradesh
Answer:4
Recently which Indian state government has decided to launch boat ambulances for remote islands?
1) Gujarat
2) Goa
3) West Bengal
4) Tamil Nadu
Answer:3
In December 2015 India announced a programme to open how many new ecological observatories to study the effects of climate change?
1) Six
2) Seven
3) Eight
4) Twelve
Answer:3
Recently India is set to open to 'non-binding' discussions on new issues such as environment and labour that the rich world wants to initiate at the World Trade Organization's (WTO).The 10th WTO Ministerial meet 2015 is going to be held in:
1) Manila
2) Johannesburg
3) Nairobi
4) Ottawa
Answer:3
 
In December 2015 IDFC Bank has selected which IT company for core banking, a move that will enable it to offer next generation banking services that are more personalized, convenient and faster?
1) Infosys
2) HCL
3) TCS
4) HP
Answer:3
 
Recently in December 2015 According to the analysis of the Council on Energy, Environment and Water (CEEW), about 1,000 gigatonnes of carbon dioxide equivalent (GtCO2eq) is left for the world between 2015 and 2100, of which at least 28 per cent would be occupied by three nations/ organization.Which among the following is not included among the three?
1) India
2) China
3) US
4) European Union
Answer:1
 
Recently India created a history in test cricket by its highest win in terms of run over which among the following cricket team in December 2015?
1) England
2) South Africa
3) Australia
4) Pakistan
Answer:2
Happy learning!
TEAM CL