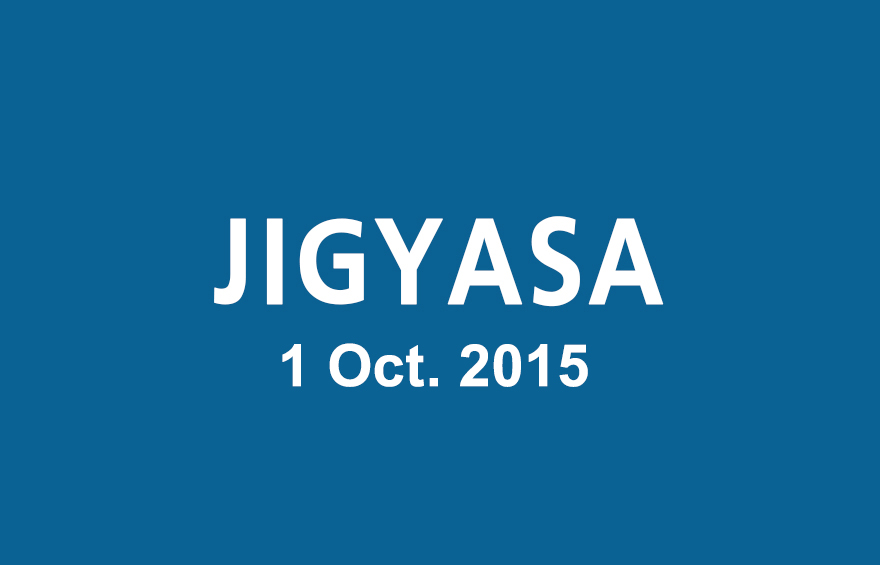 Dear Aspirants,
Here is the JIGYASA: Daily Current Affairs Quiz of December9, 2015 for you!!
Who among the following has won gold in the women's air pistol in the 59th National shooting championship in December?
Shweta Singh
Sarita Devi
Bharati Bhanu
Arun Goswami
Answer:1
The controversial Mullaperiyar Dam is located in which of the following states of India?
Andhra Pradesh
Maharashtra
Jharkhand
Kerala
Answer:4
Name the Karnataka Lokayukta, who quitted to avoid removal recently.
Shekhar Dutt
L. Joshi
Bhaskar Rao
R. Bhardwaj
Answer:3
Who among the following will be appointed as the country's new Ambassador to Russia?
Harsh Vardhan Shringla
Pankaj Saran
Devanand Konwar
Pankaj Jain
Answer:2
Justice Brijesh Kumar tribunal set up by the government of India to resolve the disputes of which of the following?
Krishna water
Cauvery Water
Narmada Water
Brahmaputra Water
Answer:1
6. China has $2 billion deal for 24 advanced Sukhoi Su-35 fighters in December, 2015 with which of the following countries?
Answer:1
Which of the following countries is not a member of the BASIC Group?
Brazil
South Africa
Argentina
India
Answer:3
Which of the following is not a agencies of UNO?
Answer:4
Which of the following countries is not a partner of the TAPI natural gas pipeline?
Turkmenistan
Iran
Afghanistan
Pakistan
Answer:2
As per the report of UNCTAD, India's total merchandise export for 2014 was valued at
$321 billion
$421 billion
$521 billion
$381 billion
Answer:1
Happy learning!
TEAM CL