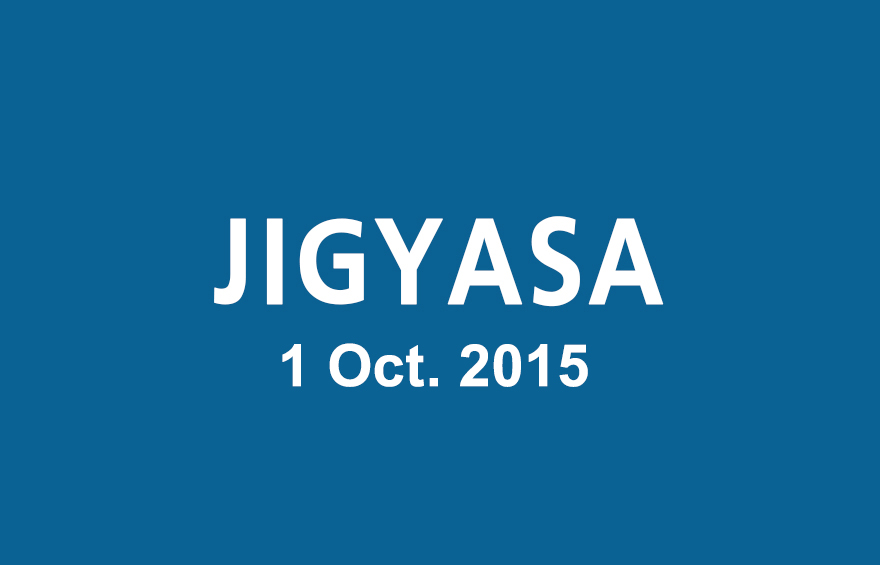 Dear Aspirants,
Here is the JIGYASA: Daily Current Affairs of January 23, 2016 for you!
In January 2016, newly discovered Himalayan bird is named after:
(1)Â Â Â Â Â Â Â Â Â  Salim Ali
(2)Â Â Â Â Â Â Â Â Â  APJ Abdul Kalam
(3)Â Â Â Â Â Â Â Â Â  Sachin Tendulkar
(4) Â Â Â Â Â Â Â Â  Subhash Chandra Bose
Answer:1
Recently in January 2016, Deposits in Jan Dhan accounts crossed the mark of Rupees:
(1)Â Â Â Â Â Â Â Â Â  20,000 Crore
(2)Â Â Â Â Â Â Â Â Â  25,000 Crore
(3)Â Â Â Â Â Â Â Â Â  30,000 Crore
(4)Â Â Â Â Â Â Â Â Â  40,000 Crore
Answer:3
In January 2016, Young Entrepreneurs Academy decided to launch its first programme in India in August 2016. This academy belongs to:
(1)Â Â Â Â Â Â Â Â Â  UK
(2)Â Â Â Â Â Â Â Â Â  USA
(3)Â Â Â Â Â Â Â Â Â  France
(4)Â Â Â Â Â Â Â Â Â  Germany
Answer:2
Maharashtra submits proposals worth Rs 29,647 crore for its 'Smart City' plan in January 2016. The number of cities included in smart city project from Maharashtra is:
(1)Â Â Â Â Â Â Â Â Â  8
(2)Â Â Â Â Â Â Â Â Â  10
(3)Â Â Â Â Â Â Â Â Â  12
(4)Â Â Â Â Â Â Â Â Â  15
Answer: 2
Name of the bilateral naval exercise conducted between India and Oman in January 2016 ?
(1)Â Â Â Â Â Â Â Â Â  Salam Al Asher
(2)Â Â Â Â Â Â Â Â Â  Naseem Al Bahr
(3)Â Â Â Â Â Â Â Â Â  Al Bahar
(4)Â Â Â Â Â Â Â Â Â  Shamas Al Daher
Answer: 2
In January 2016, which among the following South Asian country topped in human development?
(1)Â Â Â Â Â Â Â Â Â  Sri Lanka
(2)Â Â Â Â Â Â Â Â Â  Pakistan
(3)Â Â Â Â Â Â Â Â Â  India
(4)Â Â Â Â Â Â Â Â Â  Bangladesh
Answer:1
Recently which Indian state government has reverted the name of its flagship scheme 'Dr Verghese Kurien Self Employment Scheme' to its original name 'Chief Minister's Rojgar Yojana (CMRY)'?
(1)Â Â Â Â Â Â Â Â Â  Madhya Pradesh
(2)Â Â Â Â Â Â Â Â Â  Gujarat
(3)Â Â Â Â Â Â Â Â Â  Punjab
(4)Â Â Â Â Â Â Â Â Â  Goa
Answer: 4
Prime Minister Narendra Modi flagged off a new train …….. Connecting Varanasi and New Delhi through Lucknow in January 2016?
(1)Â Â Â Â Â Â Â Â Â  Atal Express
(2)Â Â Â Â Â Â Â Â Â  Mahamana Express
(3)Â Â Â Â Â Â Â Â Â  Shyama Prasad Express
(4)Â Â Â Â Â Â Â Â Â  Sardar Express
Answer: 2
Which among the following is not among the themes for the Republic Day tableaux of 2016?
(1)Â Â Â Â Â Â Â Â Â  Asiatic lions in Gir, white tiger safari
(2)Â Â Â Â Â Â Â Â Â  A giant statue of B R Ambedkar
(3)Â Â Â Â Â Â Â Â Â  Jan Dhan Yojana
(4)Â Â Â Â Â Â Â Â Â  Digital India
Answer: 3
In January 2016 which country submitted its first Biennial Update Report (BUR) to the United Nations Framework Convention on Climate Change (UNFCCC)?
(1)Â Â Â Â Â Â Â Â Â  UK
(2)Â Â Â Â Â Â Â Â Â  India
(3)Â Â Â Â Â Â Â Â Â  Germany
(4)Â Â Â Â Â Â Â Â Â  Italy
Answer:2
Happy learning!
TEAM CL