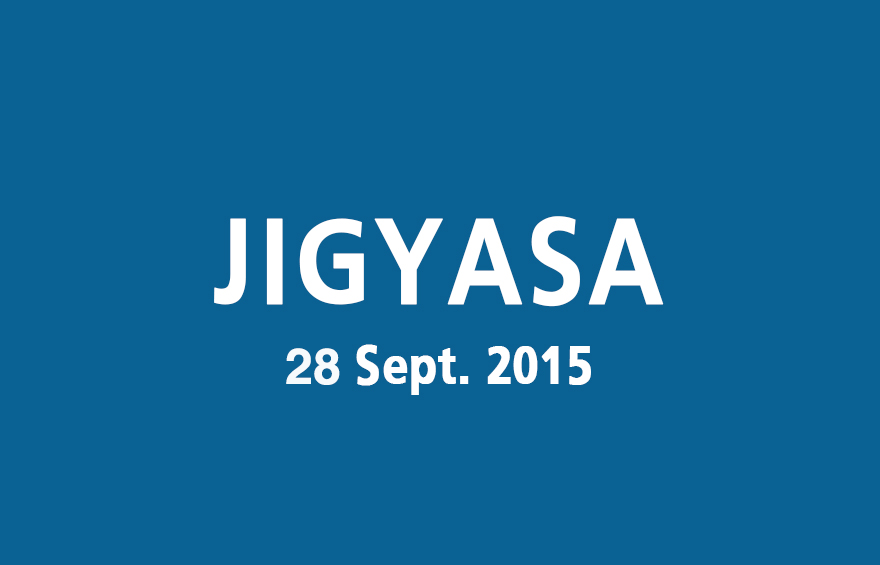 Dear Aspirants ,
Here is the Jigyasa: Daily Current Affairs Quiz of September 28, 2015 for you!
Name the Indian origin Singapore doctor to become the first woman to receive the Tabla! The Community Champion Award in September, 2015?
Uma Rajan
Anita Rajan
Sarita Rajan
Usha Rajan
Answer: 4
Name the noted environmentalist who played a crucial role in planting mangroves in various parts of Kerala, died in September, 2015.
Anadish Pal
Kallen Pokkudan
Chandi Prasad Bhatt
John C. Jacob
Answer: 2
Who among the following will be awarded the 2015 SASTRA Ramanujan Prize?
Jacob Tsimerman
Douglas Cardinal
Ernest Cormier
J. Diamond
Answer: 1
The World Tourism Day is celebrated on…
September 24
September 25
September 27
September 29
Answer: 3
Syed Ahmed passed away at Mumbai's Lilavati Hospital in September, 2015. He was the Governor of which of the following states?
Manipur
Mizoram
Sikkim
Assam
Answer: 1
The World Health Organisation (WHO) has taken one of the following African countries off the list of polio-endemic countries in September 2015. Identify the country among the given options.
South Africa
Nigeria
Angola
Algeria
Answer: 2
PM Modi attended a town hall meeting with which of the following American entrepreneur on 26th September 2015 during his visit to the US?
Sean Parker
Sundar Pichai
Jack Dorsey
Mark Zuckerberg
Answer: 4
Who among the following shooters has clinched the gold medal in the men's 10m Air Rifle event of the Asian Air Gun Championships on 27th September, 2015?
Gagan Narang
Chain Singh
Abhinav Bindra
Faiz Anazi Ali
Answer: 3
Who among the following Billiards Champions has won the IBSF (International Billiards and Snooker Federation) World Billiards Championship on 27th September, 2015?
Peter Gilchrist
Pankaj Advani
Yan Bingtao
Henry Chetcuti
Answer: 2
Volkswagen is a famous automobile company which hails from….
Austria
France
Germany
U.K.
Answer: 3
Happy Reading!!
TEAM CL