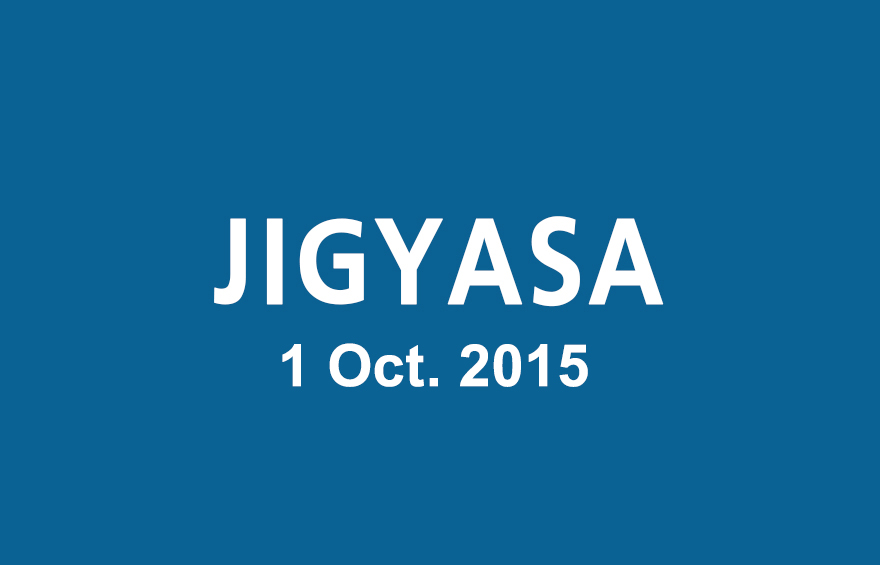 Dear Aspirants,
Here is the Jigyasa: Daily Current Affairs of Oct.10,2015 for you!
Named the renowned scientist who has been appointed as Atomic Energy Secretary and Chairman of Atomic Energy Commission on 9th October, 2015.
 
Shekhar Basu
Ranjit Basu
Nirmal Mitra
Shekhar Mitra
Answer: 1
In which of the following states India's first community reserve to protect the endangered Gangetic river dolphins will be formed?
Odisha
Kerala
West Bengal
Maharashtra
Answer: 3
In which year the endangered Gangetic river dolphin was declared as the National Aquatic Animal of India?
Answer: 2
The Kerala government has launched a programme to trace, rescue and reunite the little ones with their family. The programme is titled as…
"Operation Valaka"
"Operation Vabhav"
"Operation Valsalya"
"Operation Bachpan Bachao"
Answer: 3
The Indo-China Combined Military Training Exercise HAND-IN-HAND 2015 will be conducted from 12 to 23 October 2015 at Kunming Military Academy, Yunnan, China. This will be the fifth exercise in the Hand-in-Hand series which started in the year…
Answer: 2
 
Name the Emirati human rights activist who has been named the winner of Martin Ennals award, 2015 often dubbed as the Nobel prize for human rights.
Ahmed Mansoor
Ahmed Nasir
Mohammad Mansoor
Mohammad Nasir
Answer: 1
 
World Post Day is celebrated on…
7th October
8th October
9th October
10th October
Answer: 3
Who among the following has been appointed Liverpool's F.C.new manager on a three-year deal in October, 2015?
 
Jurgen Klopp
Tom Werner
John Houlding
Rafael Benítez
Answer: 1
Finance ministers from a number of countries most launched a group on 8th October, 2015, to pool resources for their fight against the impact of global warming. the group ios known as…
Answer: 2
Scientists from the University of Liverpool have used new data which indicates that the Earth's inner core was formed ….billion years ago.
1 billion
1– 0.5 billion
1 — 1.5 bilion
7 billion
Answer :3
Happy reading!!
TEAM CL