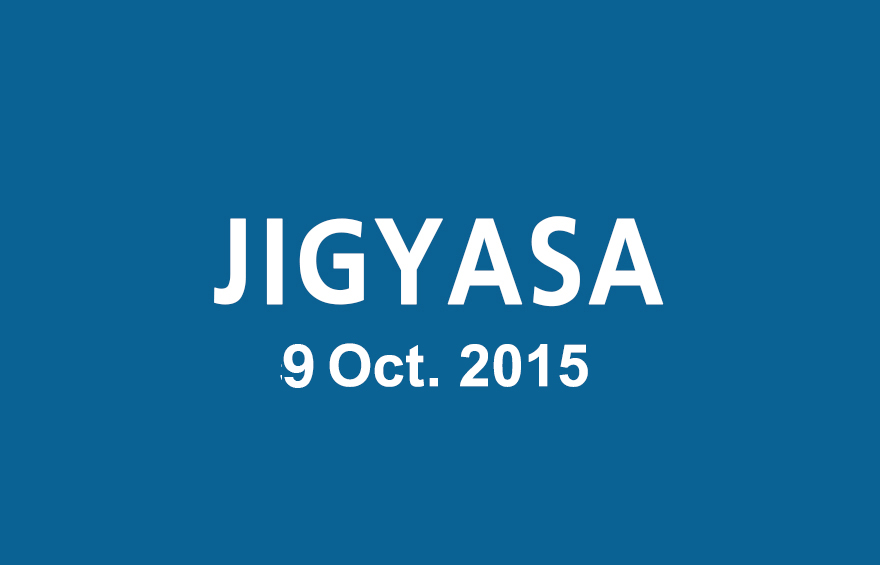 Dear Aspirants,
Here is the Jigyasa: Daily Current Affairs Quiz of Oct.9, 2015 for you!
Who among the following has been awarded The Nobel Prize, 2015, in Literature?
Peter Ware Higgs
Paul L. Modrich
Aziz Sancar
Svetlana Alexievich
Answer: 4
The Indian 'Air Force day' is celebrated on…
8th October
September
9th October8th
10th October
Answer: 1
Name the person, who was elected on 6th October, 2015 as the head of the Inter-governmental Panel for Climate Change at its 42nd session underway in Dubrovnik, Croatia?
K. Pachauri
Hoesung Lee
Raymond S. "Ray" Bradley
Michael E. Mann
Answer: 2
Name the Indian cyclist, who created history by winning five medals, including gold at the Taiwan Cup Track International Classic event.
Mahitha Mohan
Jankidas Mehra
Deborah
Piloo Sarkari
Answer: 3
Who among the following Bollywood actors has been named the first Indian ambassador for Tourism New Zealand?
Sidharth Malhotra
Amitabh Harivansh Bachchan
Hrithik Roshan
Shah Rukh Khan
Answer: 1
Which of the following countries has launched "Jilin-1" satellites on 7th October, 2015?
Answer: 4
Which of the following Indian company has won a prestigious award for the first time in the field of nano biotechnology at the Climate CoLab of Massachusetts Institute of Technology, Cambridge?
Nanoshel
Nualgi
Nanobio chemicals
Velbionanotech
Answer: 2
Who among the following business group family has topped FORBES' Inaugural List of Asia's Richest Families?
Reliance's Ambani family
Sun Hung Kai's Kwok family
Samsung's Lee Family
Henderson's Lee Shau Kee's family
Answer: 3
Who among the following has been named as the Cultural Ambassador for Seychelles?
R. Rahman
Anil Kapoor
Amitabh Bachchan
Aishwarya Rai Bachchan
Answer: 1
To create irrigation infrastructure at the ground level, the Cabinet Committee on Economic Affairs (CCEA) approved a World Bank supported National Watershed Management project on 9th October, 2015. It is named as…
Neernan
Neerchal
Nelanchal
Neeranchal
Answer: 4
Happy Reading!
TEAM CL