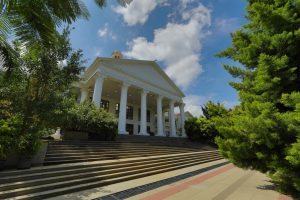 Down through the last few centuries, the civilizational advance has been fuelled by radical changes brought about by intellectual pursuits of mankind. What we learn from our past is that those who understand the changes and adapt, Thrive and those who stumble and delay, Struggle. We are living in a new world with new opportunities that demands new talent to drive Digital transformation across industries.
In an era where technology is rapidly changing the way we live and work, Alliance University recognizes the need for its students to be equipped with the skills and knowledge to thrive in a digital world.
At Alliance, we've bridged the gaps and brought down the silos between business management and technology and thus MBA in Digital Transformation has been created specifically in the context of accepting, understanding, and adapting the new reality of businesses governed by cutting-edge technologies like AI, Big Data, ML, Robotics etc. The programme is offered in collaboration with ABB Robotics, Siemens, Systema (SAP), Adroitec Engineering Solutions (PTC Gold Partner) under the aegis of Advance Mechanical Services Pvt. Ltd.
The Programme will build your capacity to develop winning technological strategies and drive digital transformation, and tech-based innovation.  You will build your foundation in cutting-edge technologies and, analytical tools like Cloud Computing, Internet of Things (IoT), Artificial Intelligence, AR/VR and Big Data & Analytics in Digital Innovation.
One of the key features of the MBA in Digital Transformation at Alliance University is its focus on practical, hands-on learning. Students have the opportunity to work on real-world projects and case studies, allowing them to apply the concepts they have learned to real-life business scenarios. The program also includes guest lectures and industry visits, giving students the chance to learn from experts in the field and gain valuable insights into the latest trends and developments in digital transformation.
Key skills that a student will gain during the programme are as follows:
Digital Leadership
the ability to lead and manage digital transformation initiatives within an organization. It involves developing and implementing strategies for leveraging digital technologies to achieve business objectives, as well as leading and inspiring teams through the process of change.
Strategic Thinking
The ability to analyse business problems and develop strategies for addressing them through the use of digital technologies. This will involve identifying opportunities for innovation, assessing the potential impact of different technologies, and developing plans for implementing change.
Analytical Thinking
The ability to be the effective problem-solvers and decision-makers and understand the impact of different technologies and strategies on business operations to implement change.
Technical skills
Essential skills in areas such as cloud computing, artificial intelligence, and machine learning, depending on the focus of the program.
 Innovation
The ability to foster an innovative culture and how to identify and pursue new opportunities for growth and innovation.
Communication
 The ability to communicate effectively with stakeholders and how to present ideas and proposals in a clear and compelling manner.
Project Management
The ability to lead teams, set clear objectives, develop, and manage budgets, and ensure that projects are completed on time and within scope.
In addition to its strong academic focus, the MBA in Digital Transformation at Alliance University also places a strong emphasis on personal and professional development. Students have access to a range of support services, including career counselling and mentorship, to help them succeed in their careers.
The MBA in Digital Transformation at Alliance University is a unique program that prepares students for the digital world of tomorrow. With a focus on practical learning and personal and professional development, it equips students with the skills and knowledge they need to thrive in the digital age.