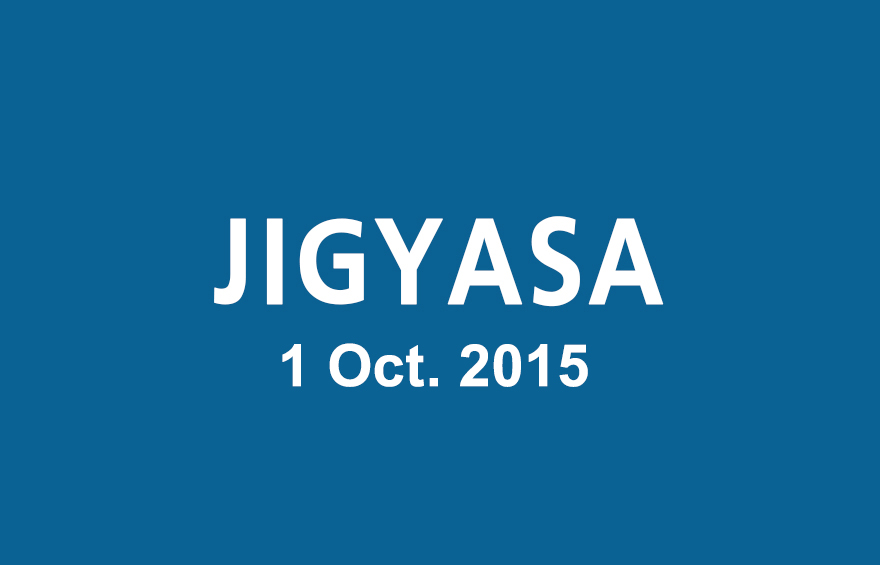 Dear Aspirants,
Here is the JIGYASA: Daily Current Affairs Quiz of November 24, 2015 for you!!
President Pranab Mukherjee on 23rd November, 2015 paid tributes to 9th Sikh Guru on his martyrdom day. He was publicly beheaded in 1675 on the orders of Mughal Emperor Aurangzeb in Delhi for refusing to convert to Islam. Identify him from the given options.
Guru Ram Das
Guru Amar Das
Guru Teg Bahdur
Guru Har Krishan
Answer: 3
2.One of the following state High Courts has ordered temple authority to destroy the used leftover contents and other puja items of the pilgrims so that the leftovers would not be brought back or recycled for further use. identify it from the given options.
Kerala
Assam
Odisha
Telangana
Answer: 1
3.Which of the following state/ Union Territories Assembly Passes Bill Proposing Amendments in Code of Criminal Procedure on 23rd November, 2015?
Delhi
Assam
Puducherry
Chattishgarh
Answer: 1
Which of the following global marketing research firm has launched India's first digital advertisement measurement system that will help marketers in the country to find out the return on investment of their campaigns on the internet and mobile platforms in November, 2015?
Nielsen
NPD Group
Kantar Group
RNB Research
Answer: 1
5.Lanco Solar Private Ltd has signed an agreement with one of the following states in November, 2015 for setting up a 100 MW solar cell manufacturing plant?
Chhattisgarh
Uttar Pradesh
Andhra Pradesh
Madhya Pradesh
Answer: 1
Which of the following Indian states has got Rs 4,000-crore assistance from World Bank on 23rd November, 2015 for power sector?
Assam
Bihar
Uttar Pradesh
Andhra Pradesh
Answer: 4
The government on 20th November, 2015 has appointed three non-official part-time directors on the board of the nation's biggest oil and gas producer, Oil and Natural Gas Corp (ONGC). Who among the following is not one among them?
R K Singh
Ajai Malhotra
K M Padmanabhan
Shireesh Balwant Kedare
Answer: 1
Which of the following country won the Junior Men's Asia Cup hockey tournament on 22nd November, 2015?
India
Pakistan
Sri Lanka
Bangladesh
Answer: 1
Award
Name the noted Marathi actor who will be conferred with the Master Dinanath Mangeshkar Award, 2015 for outstanding contribution in the field of theatre, film and music.
Atul Kulkarni
Sandeep Patil
Prashant Damle
Mangesh Kadam
Answer: 3
Name the Present Union Urban Development Minister (November, 2015).
Shri Ananthkumar
Harsh Vardhan
M Venkaiah Naidu
Shri D.V. Sadananda Gowda
Answer: 4
Happy reading!!
TEAM CL